Hi all,
so i am beginning to plan a new campaign and decided to do something completely different by copying something already written and made.
I am in the process of editing maps and story to bring the SNES classic "The legend of Zelda: A Link to the past" to D&D 5e via a bit of photoshop, various image sources and Roll20. the beginnings of which look something like this;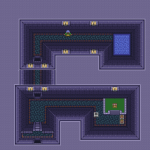 So anyway I wanted to come on here and share my ideas and see if anyone had any ideas for my campaign.
i want to stay as true to the original game story as possible but also want it to be set frimly in the D&D universe not the Zelda universe, meaning i wont be using the various homebrew zelda guidebooks that our out there, i want to bring zelda to me not go to her if you get my meaning.
So obviously i will need to change a few key things, notably a party of 4 or so instead of a lone hero, some puzzles and other parts of the game too will have to be altered.
i am thinking of having the party start out in one of two ways;
1. they are a group of orphans living in an orphanage on the outskirts of town
OR
2. they are a group sent by the harpers or some other organisation and first stop is to meet the local contact at link's house only to discover he has gone off on his own....
mechanically i will be using milestones for levelling basically following every time a heart container is found in game players gain a level (its a magical device that brings out latent powers)
i will also be using heart pieces as a means for the players to increase levels outside of the main dungeons (need to find 4 to level up once) this means my dungeons and encounters will need to remain pretty fluid so that PC's areA hitting things at the right level.
I would love some thoughts from others as to what i can do for some of the puzzles and keep the story making sense with a party.