A Rock and A Hard Place: A Warden Handbook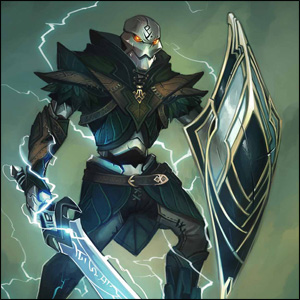 See this here mountain? This is my mountain. All upon it is mine: the trees, the stones, the snow. Everything that makes up this mountain is under my grasp. The mountain belongs to me, and I to it. You have no place here. But now that you've arrived, I can't have you leaving. No sir, the mountain wouldn't want that. In fact, it wants you to stay forever, and I'm going to see to it that its wishes are fulfilled.
​
Nature's Calling: Why be a Warden
While not as sticky as the Fighter or attack drawing as the Paladin, Wardens make very effective Defenders in combat. Much like a barrier reef keeps ships off coasts, Wardens are treacherous if you get close, and once they've got you in their clutches, you might have an easier time escaping quicksand. If any of these strengths appeals to you, perhaps Warden is the right calling for you:
Be the toughest SOB you can be - That's right, no other class can claim to be as hard to take down as a Warden. The ability to save against affects at both the beginning
and
end of their turn, bonuses to their Second Wind, and a whole slew of Utility powers that are designed to keep you standing make you extremely durable. Which is good, since you'll probably have several enemies trying to test you.
Meet a lot of new people - The stickiness of the Warden comes not from your reaction to enemy attacks. While you do get to interrupt attacks of adjacent marks with a swipe of your own, your ability to keep enemies close instead comes from your powers. Through the creation of difficult terrain in bursts, the judicious ability to slow, immobilize and restrain, etc., enemies want to leave, but they simply can't. Ever see anyone escape from a pool of swamp mud while an alligator has their leg? Neither have I.
Feel nature flowing through you - Wardens have the ability to channel the primal forces of nature, transforming themselves in the process. Feel your toes root into the ground, grasping at the legs of your enemies. Sprout wings and soar above your allies. Harden your skin into stone and watch as weapon strikes just slide off you.
This Handbook will use the following system for ratings:

Red
- Garbage, or completely overshadowed by another option.
Purple
- Situationally useful, but overall pretty meh.
Black - OK. You could do worse than pick this.
Blue
- Good stuff. You probably want this.
Sky Blue
- You want this. Period.
Gold
- Why haven't you taken this yet? A defining choice for a build, or even the whole class.
This Handbook covers the following sources:
AP - Arcane Power
AV - Adventurer's Vault
AV 2 - Adventurer's Vault 2
D XXX - Dragon Magazine, issue XXX
DMA 2009 - Dragon Magazine Annual 2009
DP - Divine Power
DSCS
- Dark Sun Campaign Setting
FRPG - Forgotten Realms Player's Guide
HoS
- Heroes of Shadow
HotEC
- Heroes of the Elemental Chaos
HotF
- Heroes of the Feywild

HotFL
- Heroes of the Fallen Lands
HotFK
- Heroes of the Forgotten Kingdoms
MM - Monster Manual
MMX - Monster Manual X
MME
- Mordenkainen's Magical Emporium
MOTP - Manual of the Planes
MP - Martial Power
MP2 - Martial Power 2
PHB - Player's Handbook
PHX - Player's Handbook X
PHH X - Player's Handbook Heroes: Series X
PHR XXX - Player's Handbook Races: XXX
PP - Primal Power
PsP
- Psionic Power
SAC - Seekers of the Ashen Crown Adventure Module
Special Thanks To:
LordDuskblade, creator of this format, which I will be borrowing judiciously.
LordOfLeapin, for all the work he did on his awesome guide
IRC Channel ##4e over on Freenode. Come find us!(x)
Everyone who posts
Art:
Norwood Ranger
by
Wayne Reynolds
Last edited: