https://www.kickstarter.com/projects/2000633882/aaron-allstons-strike-force
I am in no way associated with this Kickstarter. I am just a fan of Aaron's. I saw this on theforce.net and wanted to spread.the word
[h=3]About this project[/h]
A superhero setting like no other. A role-playing game campaign book that includes techniques and lessons from over 22 years of play. A tribute to one of the greatest creators in the RPG industry, created using Champions 6th Edition.


[h=1]This is STRIKE FORCE.[/h]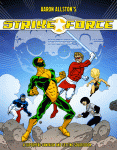 One of the most important overall supplements in the history of roleplaying games." -- Steven S. Long, Champions Villains


In 1988, Aaron Allston released Strike Force, a supplement detailing the first eight years of his superhero campaign. Noted for its extensive and highly-influential advice to gamemasters on how to run a long-term campaign, Strike Force was a landmark RPG publication.
We are now working to release an updated version of this classic book for the 21st Century. Aaron himself was designing this new edition of Strike Force before his untimely death, and we want to bring his work to life as a monument to Aaron's lasting influence on the RPG hobby. This updated Strike Force sourcebook includes never-before-seen material detailing Aaron's multiversal superhero setting, compelling characters and villains, and updated and expanded advice from Superhero RPG veterans like Steve Kenson and Sean Patrick Fannon for how to run a campaign using "the Strike Force method."
WHY YOU NEED THIS BOOK: Strike Force was the first superhero campaign guide. It provided game masters with information on how to run a memorable and long-lasting campaign using all the great themes and tropes of comic book's best and most classic storylines. This new edition builds on that success, including advice from superhero RPG guru Steve Kenson! Aaron Allston's Strike Force is the resource to create unforgettable stories in your own superhero RPG campaign.
Principal writing has been completed and a WIP draft will be immediately available to backers! Preliminary artwork has been received, and we're in the process of laying out the book. However, we'd really like to be able to upgrade the artwork that is going into the project. We've got top-tier artists lined up to work with us, and we want to compensate them to the best of our ability--and that is why we need your help to reach our funding goal.
As things currently stand, High Rock Press and Evil Beagle Games cannot afford to purchase enough artwork to bring this up to the quality that we think is necessary for a historic RPG setting of this caliber. With a successful crowd funding campaign, we can use our artistic contacts to make a world-class product--worthy of Aaron Allston's talent.The initial funding goal includes the costs for artwork, graphic design, promotional materials, and assorted miscellaneous fees.
We plan to produce the core book as a PDF and as a limited print run. Aaron Allston's Strike Force is a 200-page, 8.5" x 11" book and will feature attractive page design and great illustrations. The PDF document will make use of PDF layer functionality so that graphic elements can be turned off to print more economically.
Aaron Allston's Strike Force presents the characters and villains of the setting in the Hero System, but we also have packages available to present these heroes and enemies in other rulesets such as Mutants and Masterminds, ICONS, and Savage Worlds.
"It's a bit hard to explain to a modern audience, with the wealth of gaming knowledge and advice available today, precisely how important and vital Strike Force was when it came out in the dark days of 1988. I've occasionally resorted to a musical metaphor: Brian Eno once said of the seminal album, The Velvet Underground & Nico, 'only thirty thousand people bought a copy of that album in its first five years. But, every one of those thirty thousand started their own band.'" --Darren Watts, Galactic Champions


Luster, daughter of the Overlord!
Last edited: