Chapter 1: Pushing Daisies
You awaken groggily. Looking around, you remember your accommodations and shiver. Comfortable but small, you are in what amounts to an Inn's room but without windows and only one door, slightly ajar. Glancing at your room, it becomes clear that all of your items are still where they should be. There are sounds coming from outside and light in the hallway. On the small table lies ale and a plate of food, mostly dried meat and potatoes beneath a sconce which is magically lit. A bowl of clean water and a towel lies behind your food allowing you the ability to wash up.
A large gong sounds and the rustling from outside becomes greater. Clearly it is time to see your next steps into this horrid endeavour. Glancing out the door you see several others walking down the long hallway to an open antechamber with a higher ceiling which is dimly lit with the same magical sconces along the walls. The flooring is made of stone and there is a damp feel to the air, likely due to being underground. Looking up there is no actual ceiling but a darkness with dim lights. The "almost" star patterns you see are clearly magical but help take away the cramped feeling one might associate with these poor accommodations.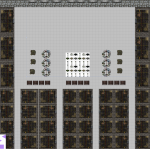 View attachment 64517
OOC: This is where we'll begin once you have characters. Once we have them ready to go you can begin introductions and start asking questions and we can begin interaction for the next steps. The first portion of this is ready as soon as the PC's are completed.
Things you can do:
1) Persuasion (DC 10) will allow you to garner some general information from the other participants.
2) Peruse the weapons and armor racks.
3) Join a card game at one of the tables. Roll either perception (count the cards), deception (Bluff your opponents), sleight of hand (cheat don't get caught), or insight (figure out if other players are bluffing) at a DC 15. Success will you to garner information and potentially make an ally.
4) Join the throng gathered in front of the large double doors awaiting the next steps.