So the question is, what direction should art and the general look of 5e take? I realize that art is very subjective and what one person is looking for in art may not necessarily be what another person is looking for. Still, I am curious what the ENWorlders here are looking for when it comes to art in the next edition.
For me, the quintessential D&D art is something like Larry Elmore's style (although not necessarily the cheesecake 'chain mail bikini' costumes that were prevalent in some of the art of the era). The picture that exemplifies the D&D experience for me is :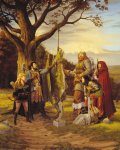 The painting that appears in the second edition PHB shows a fairly "realistic" style and invokes the scene of an adventuring party after a fierce battle. I remember flipping through the PHB back in the day and seeing the image and thinking about what the party had just been through in their fight with the dragon.
On the other hand, art that I don't care too much for is this image from the 3e PHD: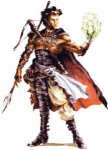 The art is fairly well done, but it seems way too "dungeon-punk" for my liking. I know that D&D has never been a realistic simulation of the middle ages, but with the spikes, the leather, the tattoos, and the redundant buckles, it looks like Hennet is trying a little too hard to look bad@$$. The image seems more like something that you would find in a 90s 'anti-hero' comic book than a fantasy rpg. Moreover, there's no background in the image to give a sense of story. The image just consists of Hennet trying to do a 'cool' pose.
Anyway, I know art is subjective, so I'm interested in what types of styles that you want to see in D&D 5e.