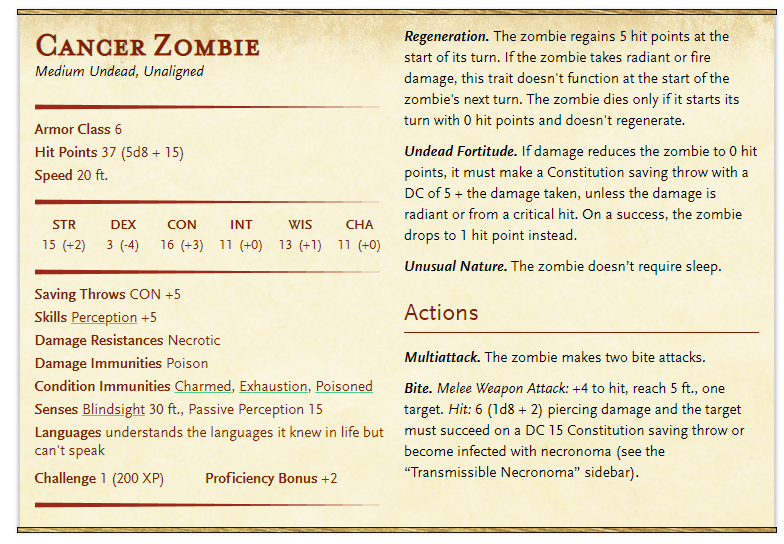 Cancer Zombie​
Unlike typical zombies, cancer zombies are the result of a magical and cancerous tumor developing in a humanoid creature and taking control of the body in order to seek out other humanoids and try to spread their tumors to them, which creates more cancer zombies. Due to this, cancer zombies can lead to outbreaks of undead-creating plagues that can quickly spread and decimate communities.
Additionally, a person that becomes a cancer zombie is remains conscious and aware of their surroundings after they die, becoming a passenger to a body they no longer control.
Necronoma Clot​
A necronoma clot is created when the necronomatous tumors in a cancer zombie grow to completely engulf its entire body to the point that it becomes a amalgam of misshapen and disgusting humanoid limbs, teeth, eyes, and other body parts. Due to this, the necronoma clot has become unrecognizable from the humanoid creature it used to be, beyond the revolting mass of shambling body parts that makes up its new form.
Transmissible Necronoma
This disease targets humanoids. While afflicted with necronoma, a victim grows grotesque tumors all across their body. This disease is carried by cancerous undead, and victims most often acquire it through wounds caused by infected creatures.
The disease's tumors manifest in 1d4 hours, causing the victim to gain one exhaustion. Exhaustion caused by this disease cannot be removed until this disease is cured. This is quickly followed by a fever, extreme fatigue, and severe pain in the victim's limbs and head. An infected creature is vulnerable to radiant damage.
At the end of each long rest, an infected creature makes a DC 15 Constitution saving throw. On a success, the victim can remove one exhaustion inflicted by this disease through this long rest. If the infected creature regains is rid of all exhaustion this way, it is cured. Other effects that remove exhaustion do not cure the disease. On a failed saving throw, the victim gains another exhaustion as the tumors create necrogenic neoplasm. A creature that dies while inflicted with this disease rises as a cancer zombie 1 minute later.