The new edition of
Masks of Nyarlathotep
is a complete revision and updating of this epic multi-part
Call of Cthulhu
campaign. Set in 1925, the steadfast investigators must unravel secrets and battle the minions of darkness in an attempt to stop world-shattering events from destroying humanity.
The new edition of
Masks of Nyarlathotep
has won the following awards:
2019 Dragon Con Awards - Masks of Nyarlathotep - Best Science Fiction or Fantasy Miniatures/Collectible Card/Role Playing Game
2019 ENnie Awards - Masks of Nyarlathotep - Best Adventure (Gold)
Available now from Chaosium:
— 666 page
Hardback Slipcase
edition - $129.00
— Special
leatherette
edition, shown above
-
$249.99
now $199.99 (save $50.00)
— Both come with
PDF
included.
The Slipcase Set includes:
The Masks of Nyarlathotep Campaign in two hardback volumes. 666 pages of Adventure!
A three part Keeper Screen designed for the campaign
A tuckbox set with every player handout
11"x17" world map
Individual Maps for every campaign location
10 Pre-Generated Characters with Character and Background Sheets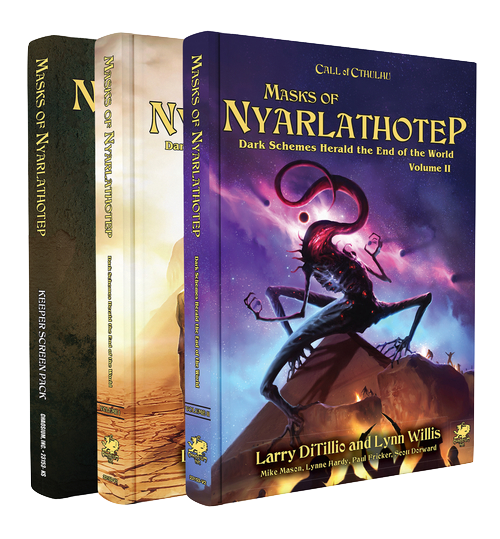 — Also available in PDF from
DriveThruRPG
- $59.99
Download the FREE 96 page
Masks of Nyarlathotep Handouts Pack
from the Chaosium itch.io page.
Already regarded as "one of the best RPG adventures ever made" (
Gizmodo
) and "...a milestone for
Call of Cthulhu
and for RPG campaigns (that) expanded our ideas of what roleplaying game adventures could be" (
The New York Review of Science Fiction
), here's what
Call of Cthulhu
fans have said about the new edition: