After a few days of teasing,
Eberron
creator Keith Baker has announced his new book --
Chronicles of Eberron!
By Keith and Imogen Gingell, the 200-page book will be available on DMs Guild in December.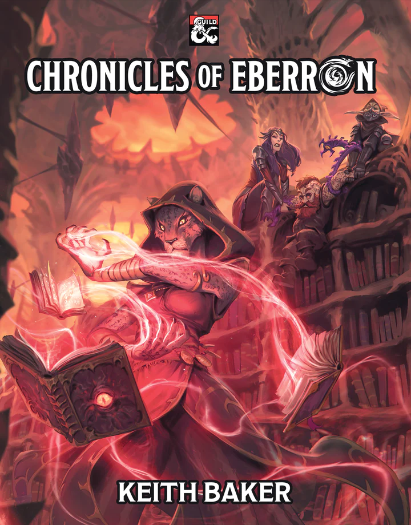 ​
Hektula is the Scribe of Sul Khatesh, the Keeper of the Library of Ashtakala, and the Chronicler of the Lords of Dust. Her treasured tomes hold arcane secrets still hidden from human and dragon alike. What lies beneath the Barren Sea? What powers does Mordain the Fleshweaver wield within Blackroot? Who are the Grim Lords of the Bloodsail Principality? All these secrets and many more can be found in the Chronicles of Eberron…
Chronicles of Eberron is a new 5E sourcebook from Eberron creator Keith Baker and designer Imogen Gingell.
This book explores a diverse range of topics, including lore and advice for both players and DMs, along with new monsters, treasures, spells and character options.
Chronicles of Eberron will be available on the DMs Guild as a PDF and print-on-demand.
But that's not all! There is a collaboration with Hero Forge and new T-Shirts!
Last edited by a moderator: