Several game publishers, including
Bat in the Attic
, have said that they will no longer do business with Judges Guild after its owner posted a number of racist and anti-semitic statements. They don't need to be repeated here; but there are several examples.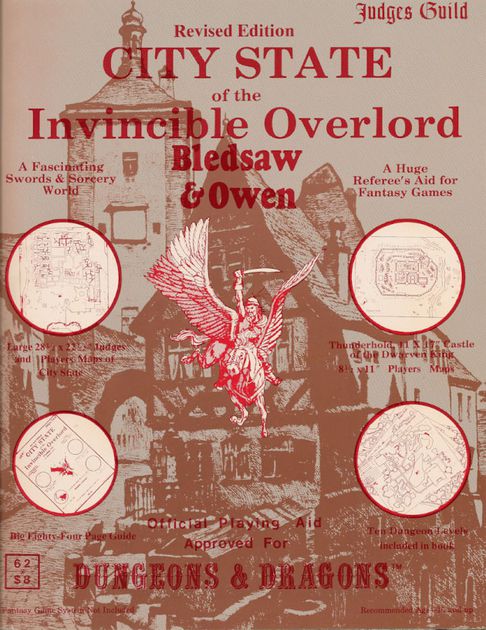 Judges Guild
has been around since 1976, producing products compatible with
Dungeons & Dragons
; the current owner, Bob Bledsaw II, is the son of its co-founder, Bob Bledsaw, and has run the company since 2008. The company is well known for 1976's
City State of the Invincible Overlord
, amongst other classics. Bat in the Attic and Frog God Games both license Judges' Guild properties.
Rob Conley of Bat in the Attic stated yesterday that the company would no longer do business with Judges Guild, or its properties. "Sunday evening, I called Robert Bledsaw II and discussed the issue. I notified him that I will no longer be doing future Judges' Guild projects and will only continue to sell what I have currently listed. I stated that I will be calling the other Judges Guild licensee and inform them of the situation and of my decision."
Frog God Games, which has been working with Judges Guild for nearly 20 years, followed suit. "Recently the owner of Judges Guild made a series of racist and anti-semitic posts on Facebook. We will not reproduce them here; they are shown on Rob Conley's Bat in the Attic blog, and we are convinced of their authenticity. Rob wrote his post because, as a licensee of Judges Guild property, he felt he needed to state clearly that he would not be doing business with Judges Guild in the future. We have also licensed property from Judges Guild in the past, and we are seconding Rob's example by cutting off all future business with Judges Guild. The posts made on Facebook were completely unacceptable."
UPDATE — DriveThruRPG has severed ties. "The Judges Guild publisher account has been closed and they are no longer available on DriveThruRPG."
A few years ago, Judges Guild
ran a Kickstarter
to bring back
City State of the Invincible Overlord
, with nearly a thousand backers raising $85K. The Kickstarter has not yet been fulfilled. The
latest update
was in October 2019.
Last edited: