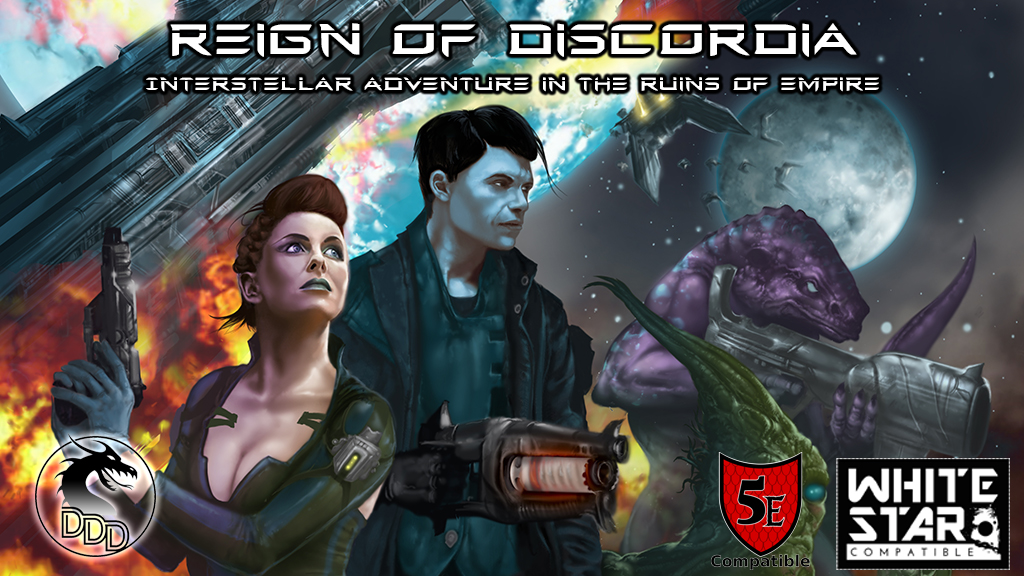 In 2008, Reality Deviant Publications (now Gun Metal Games) and I teamed up to released Reign of Discordia for the True20 system. Although it was well received, Dave Jarvis decided to focus the majority of his efforts on Interface Zero for Savage Worlds, and he very graciously turned all the rights and assets of Reign of Discordia back over to me. Although it has been sitting dormant for a number of years, it has not been forgotten, and now I've teamed up with Owen K. C. Stephens to bring you two versions of a second edition of the setting, fully compatible with 5E and White Star.
We are currently Kickstarting this
here.
What can you expect in this project?
A full 5E compatible class system for space opera games.
Psionics rules (Reign of Discordia is a no-magic setting).
A variety of playable alien species, which includes updates to the ones featured in the original products as well as a number of new ones.
Scifi Equipment for 5E.
Space combat rules.
A variety of starships, which will include all the ones from the original product and more.
Rules to customize your starships.
A host of setting specific information that includes history, 50+ original worlds, organizations, the space station Rover's Beacon, and an introductory adventure.
Timeline advancement. We've moved the timeline forward five years, but if you preferred the original, there's no need to worry, we support multiple eras of play.
Reign of Discordia in Brief:
What happens after the evil empire falls but nobody is there to pick up the pieces? Who will resolve interstellar conflicts and bring peace? Who will protect the former member worlds? How do we grow beyond the sins of our past?
Reign of Discordia is a science fiction space opera setting by veteran RPG author Darrin Drader, published by Owen K.C. Stephens. Inspired by the retro-futurism of the 1970s and 80s, such as the original Star Wars trilogy, Battlestar Galactica, and Starblazers, Reign of Discordiais a setting where heroes are needed,and opportunities are growing. Laid low by the reptilian R'Tillek, the Stellar Imperium is no more. While many see this as a good thing, the R'Tillek have not gone, and they have not forgotten who their enemies are.
The Stellar Imperium's Fall is your chance to Rise.
Last edited: