Gaming is fun, and fun is for everyone
Hello! The inception of this thread, was when a friend recently asked me, "Would you ever consider making your own megadungeon?"
My initial response was, "No." And this isn't because I don't like megadungeons, I do! Who doesn't like a huge multi-level underground complex, filled with elaborate traps, dangerous monsters, and few locations to rest or spend that gold?
Well, I suppose a lot of people don't like that actually, but I am ok with it for at least a handful of sessions.
For those who don't know what I'm talking about, I snapped up this definition of a megadungeon from 1d4chan;
A megadungeon is a really big dungeon designed for crawling.
OK, more details. Well a megadungeon IS a big dungeon, often spawning several floors, each floor containing several rooms. The dungeon itself usually has several entrances from the outside.
A megadungeon is not just a big dungeon in the sense that it come with more than a list of room and their content. You usually got a description of the surroundings, a history of the dungeon itself, a description of the different factions of monsters and their relations, etc. Since megadungeons are huge and are intended to last for more than a few sessions of play, the sandbox aspect is often emphasized more than in a regular dungeon.
So, why was my initial response to designing a megadungeon "No"? It isn't that it would be a ton of work (although it would), it's instead that the most famous megadungeons carry pretty common themes. They are obviously huge, underground complexes... which means that these had to be built or created in some way. It's not a coincidence that the most famous megadungeons (Castle Greyhawk and Undermountain) are both created by insane wizards. Because after all, who else but a nutty wizard has the ability, and the reason, to build such a mega-complex?
Other megadungeons, like Caverns of Thracia, are a bit more creative in why they are constructed, but they all carry the same theme; big, underground complex. So when I was asked if this is something I wanted to build, my gut said no, because this is a concept that has been explored pretty thoroughly.
But then, the nuttier part of my brain thought, "Well, yes, I would build a megadungeon... but it can't be a dungeon."
To illustrate my point, here are two maps from the very famous video game Dark Souls. One perhaps underappreciated part of this game's design is it's map/level design, for how non-linear, connected, and creative the pieces fit together. The map to the left is an artistic interpretation of the levels, the right is a more literal mapping of the game.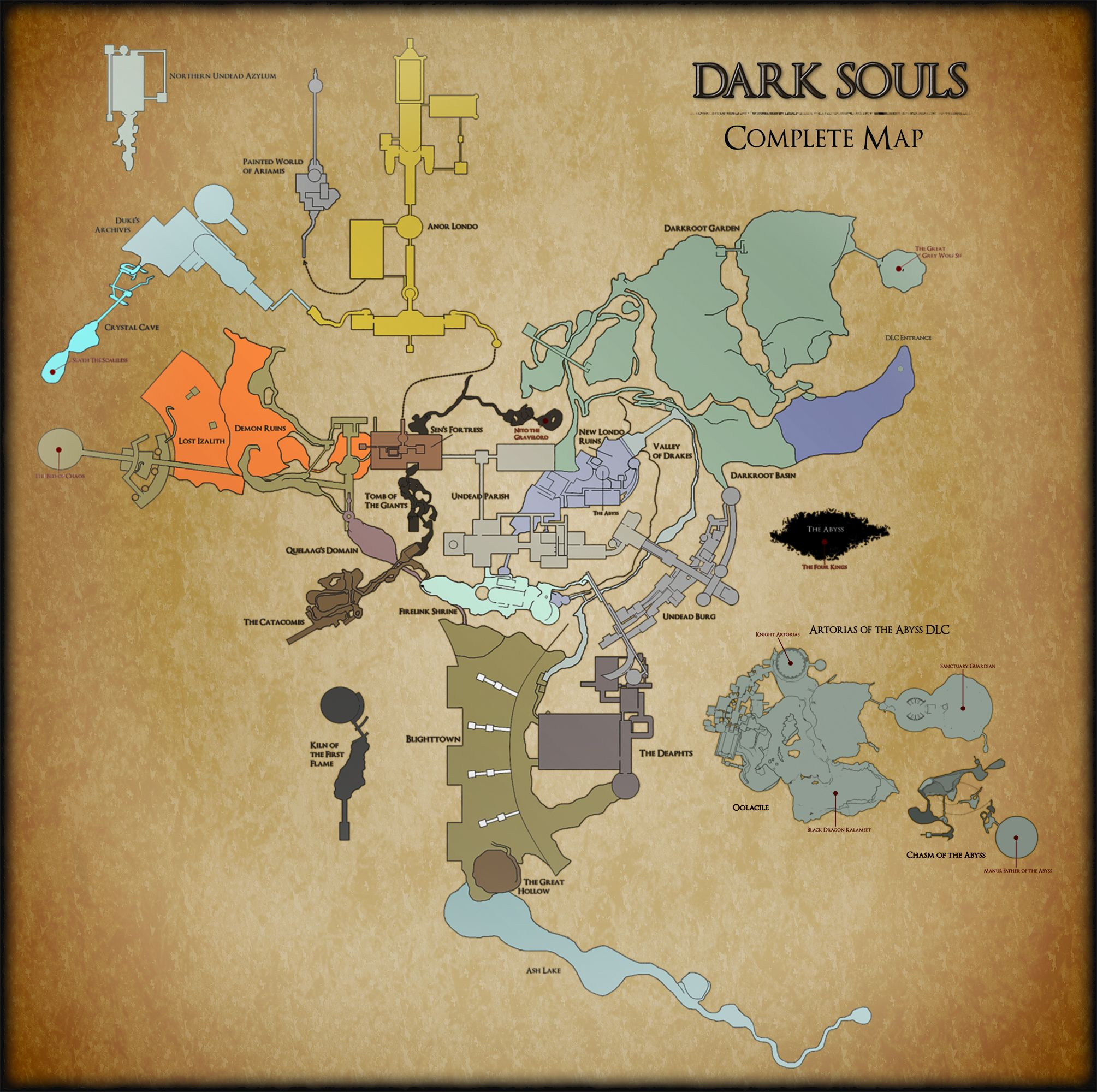 Looking at the literal map, it actually does look a lot like a megadungeon... if the different colored-levels were connected by going up or down (and they actually are in-game), this mapping is not so different than say Undermountain, although this map is not as sprawling. The left map does a great job of illustrating the verticality of Dark Souls, much like a dungeon complex.
But Dark Souls technically isn't a megadungeon; although many segments of it are indeed underground, many segments are very much not, and instead stretch up into the sky. The Demon Ruins under the earth feels very much like a creative level of a dungeon, but the open air of Anor Londo?
Despite this, Dark Souls very much feels like your playing a megadungeon, albeit alone instead of in a party of adventurers. There are a handful of spots where one can rest and level up, but the remainder of the game is filled with enemies, zones that will repopulate with monsters regardless of how many times they are defeated. Different levels have their own themes, but they are all interconnected in both design and story. In nearly all respects, Dark Souls is a megadungeon... except it's not entirely a dungeon at all.
So that leaves my question... can one design a megadungeon, that is not a dungeon? If you have an open-air space with map-design similar to dungeons, such as an abandoned open city, or a burned-out forest, or a mountain side, can these be "levels" of an open-air megadungeon? Or is this entirely different design, and the megadungeon must be and only can be underground?
I'm curious as to which way the replies tilt, as I'm unsure of the answer myself.