Later this week
EN5ider
releases its 500th issue, a megadungeon guided by our patrons and designed by over a dozen of our best writers: the
Vault of Splintered Souls
!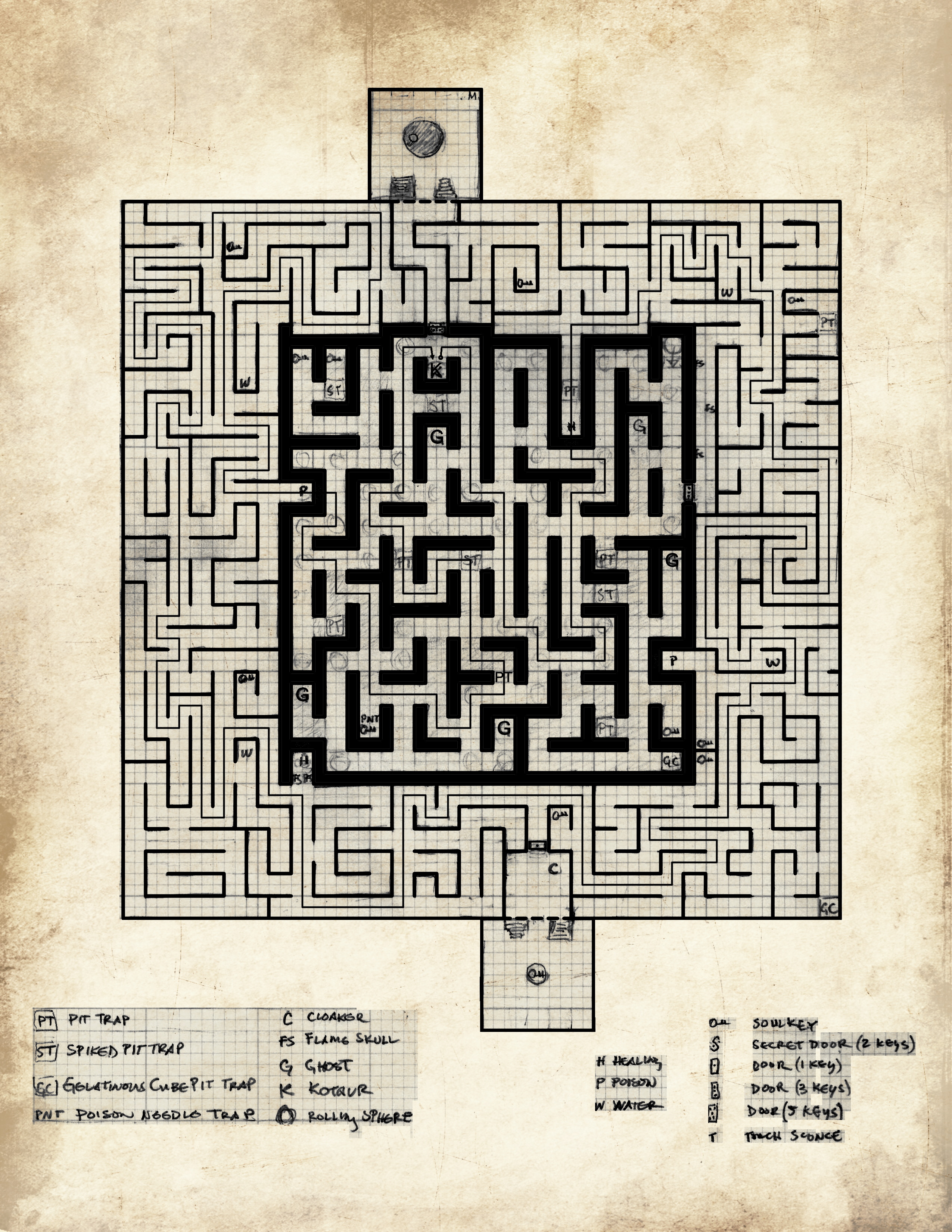 Update:
The Vault of Splintered Souls MEGADUNGEON is now available!
Anyone that follows me on Mastodon may have spotted some
early previews of the megadungeon and playtesting snapshots
, and there was also a
Q&A on the Random Worlds chatroom
, but we've got a few extras yet. For example the map above is an alternate for Level 4: Kotaur's Charge by Anthony Alipio. We ultimately used something simpler (and have advice on hand-drawing a map so GMs playing in person don't have a stroke
) but for the most thorough groups of adventurers we figured this might be of interest.
Dungeon Design​
Regular readers may remember that this megadungeon was built using guidance from surveys (
like this one
) which determined overall themes: ancient, reactive, uses a deck of cards, and a classic feel. Everyone nailed it—each floor of the dungeon fits with the rest while being distinct with its own cool thing going on. The action-filled logic puzzle of the Crusher on level 2, the strange effects of level 6's Weeping Lady, the amplifying battles around the Soul Engine on level 8, and all the rest are beautiful episodes in the greater epic that is the
Vault of Splintered Souls
(with plenty of interconnected bits [the Aqualevel! ♥♥♥], soulshards aside)
.
Speaking of cohesive fun designs, Anthony's level is
excellent
. In addition to hitting the central themes (you'll see Kotaur himself on the cover soon!) he wanted to have a delve with nostalgia for
Gauntlet
, the party exploring a labyrinth in search of secret keys to progress forward. He did not stop there however, and there's some
Marble Madness
love too with a rolling sphere because
the level tilts the further onward the PCs get
. A little GM tool is used to keep track of the tilt so no worries there, and of course when everything's suddenly on a 20° incline the pit traps and ooze fights get a touch more exciting!
Soulshards and Soulsheets​
One of the dungeon's reactive elements are soulshards, little nail-sized bits of magic that appear in the party's pockets after they leave (most) rooms in the megadungeon. They each have their own little benefit (recharging the use of class features, gaining temporary hit points, a burst of speed or regained spell slot, ending a condition, dealing extra weapon damage) in addition to a variety of unique uses in various levels, and dispensing knowledge from and about the dungeon. Maybe the most rewarding part about soulshards is how they set up pacing for dungeon exploration; as a GM you quickly get into a habit of seeing how many to roll for, and when you forget the party is quick to ask whether they find more on their persons (and not a room goes unexplored!) Our layout artist Frank did an excellent job making this tool more legible and usable, and I look forward to having it on hand whenever I run this again (rather than my admittedly
messy tally sheet
).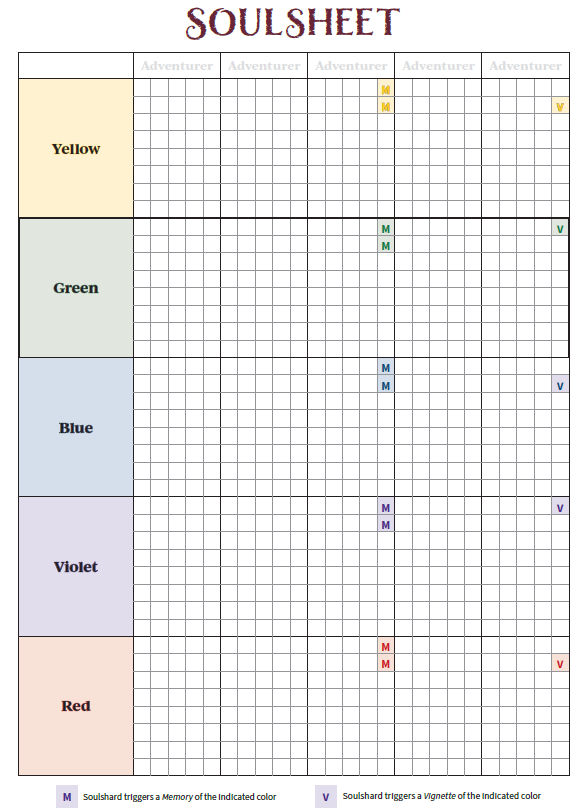 A Final Preview​
The names of each level and the excellent designers behind them!
Necromancer's Detritus (Mike Myler)
The Crushing Chorus (Andrew Engelbrite)
The Tangle (Will Gawned)
Aqualevel (Sarah Breyfogle; intentionally unnumbered)
Kotaur's Charge (Anthony Alipio)
Halls of Champions (Marc Kenobi)
Weeping Halls (Rachel Williamson)
Dug In (Peter Martin)
Soul Engine (Michael McCarthy)
Soul Laboratory (Levi Thompson)
Trials of the Storykeeper (Charlie Brooks)
Battle of Barvast Ridge (Tyler Omichinski)
The Faceless Feast (Savannah Broadway)
Final Floor (Mike Myler)
Also it would be remiss not to point out that Xanditz did a phenomenal job illustrating the maps for every floor of the megadungeon, Frank Michienzi's layout is beautiful, and I am super excited for eventually one day looking at Erik Davis-Heim's badass cover on my bookshelf. My thanks and admiration to everybody for their work—this thing is, I think the kids would say,
choice.
If you are not already a member of
EN5ider
you are simply missing out.
There are
5 new articles each month
(including an adventure!),
we are about to have an archive of 500 articles
, and you can
access them all as soon as you're a member
(which can be as cheap as
$5 a month
).
Last edited: