Beast-tamers, gunfighters, tinkerers, savants, and more! These new classes expand your 5th Edition game in exciting new ways! Coming to Kickstarter soon! In 2017 we produced
A TOUCH OF CLASS
, a softcover book containing seven new classes for your 5th Edition game. It was incredibly popular, with nearly 2,500 backers. Now we're bringing you the sequel: nine new player classes in
A TOUCH MORE CLASS
.
Here's how you get notified of the launch
!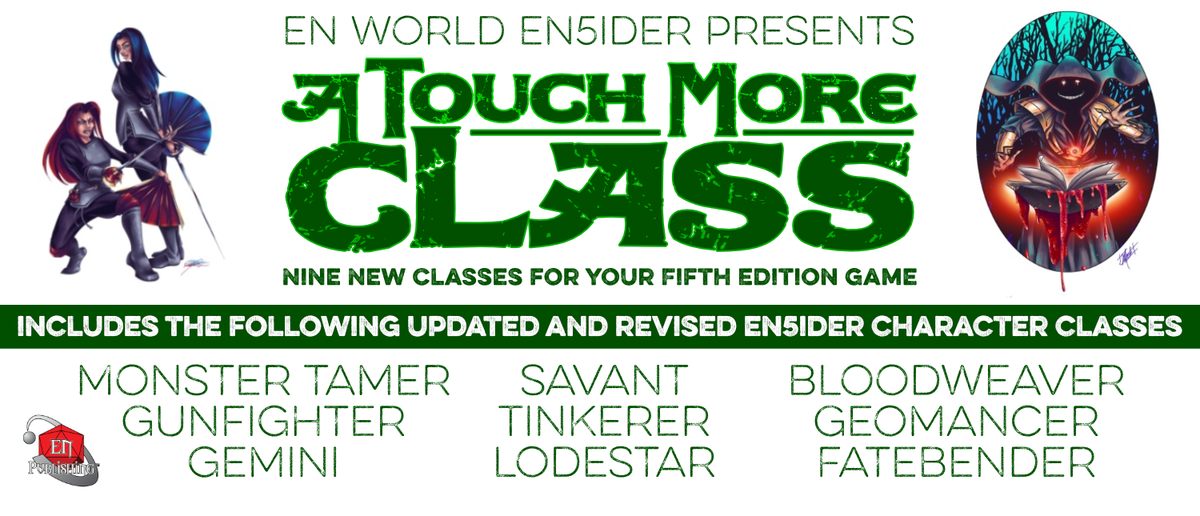 ​
We'll be launching in about a month, and we'll have early bird rewards, If you want us to email you and tell you when we launch,
click here and give us your email address!
We won't use it for anything else.
Not only that, but we're also revising the original A TOUCH OF CLASS. You can get that revised edition through this Kickstarter too (backers of the previous Kickstarter will get the revised PDF for free).
A TOUCH OF CLASS:
Alchemist, Cardcaster, Diabolist, Feywalker, Morph, Noble, Occultist.
A TOUCH MORE CLASS:
Bloodweaver, Fatebender, Gemini, Geomancer, Gunfighter, Lodestar, Monster Tamer, Savant, Tinkerer.
You can get either or both books from this Kickstarter.