13th Age
, Pelgrane Press' 'love letter to D&D' was released in 2013. It was designed by D&D 3E's Jonathan Tweet, and D&D 4E's Rob Heinsoo, and contains a number of innovations on the traditional ways that D&D works.
That bit's not the news, though. The news is that Pelgrane Press has just released a Quickstart for the game,
which you can download for free
!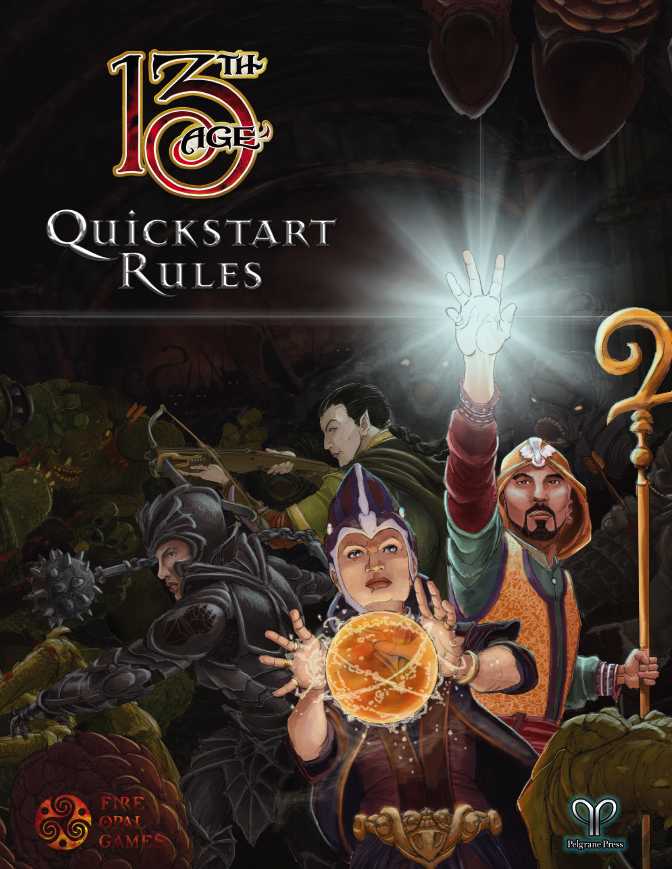 The Quickstart is a free 19-page PDF. It doesn't contain an adventure, but they do recommend the intro adventure
Crown of Axis
(£4.95) or the free
Make Your Own Luck
. There are also pre-generated characters and free adventures on the
13th Age resources page
.
This Quickstart introduces a couple of 13th Age's innovations (One Unique Thing, and Backgrounds -- which is their replacement for skills), information on the Icons (the powers that be in the game), and a brief introduction to combat, montages, and other sundries.
In other news, 13th Age is currently running a Humble Bundle, so you can pick up hundreds of dollars of 13th Age material for about $20. It's labelled as a 'software bundle' but it's a collection of PDFs, including the core rulebook, a ton of adventures, maps, and supplements.
Start your own tabletop RPG adventures with 13th Age, 13 True Ways, and more! Plus, pay what you want & support charity!
www.humblebundle.com