It's said there'll be some rules for scifi equipment in the DMG. So how about some "D&D Future" campaign settings?
Though it's sitting on a very dusty shelf, WotC already holds one intellectual property which would serve just fine as a "D&D Star Wars" campaign model--
The Galactos Barrier
published in 1993.
The
Galactos Barrier
was a "universe book" (campaign setting) for TSR's short-lived Amazing Engine rpg system. It is basically a TSR knock-off of Star Wars.
The Morione Domain = The Galactic Empire
The Resistance = The Rebel Alliance
The Music of the Spheres = The Force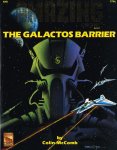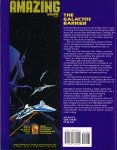 Besides the "universe book", there was one choose-your-own-adventure Endless Quest book:
Galactic Challenge (Endless Quest, #45; Amazing Engine) by Allen Varney
"Galactic adventurer Rogan Hayl has joined the Resistance to fight the evil Morione Domain. Now an alien life-form, the Subverter, has stolen Rogan's spaceship and made his friend a slave of the Domain. Rogan travels to the waterworld of Pellaj and the honeycombed caverns of the astroid Dvaad, facing aliens, hostile robots and the psychic magic called the Music of the Spheres."
This could serve as a fresh "D&D Future" setting with the ambiance of Star Wars, but without all the gigantic pre-established continuity and licensing hurdles.