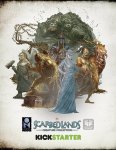 ​


The original monster book is coming back! Onyx Path Publishing and Handiwork Games are bringing the very best of the various Creature Collections for 3rd Edition to 5e with all new art and fully converted text.

In this free preview, you can get a glimpse into the world of Scarred Lands, and the adversaries that await!


Coming to Kickstarter in July 2019!