Hello folks! We're hearing lots of reports of UK folks receiving their
Level Up: Advanced 5th Edition
shipments this week, and we're seeing photos of shiny hardcover books appearing on social media! We do hope you are enjoying them! If you're in the UK and don't have yours yet, it's in the mail -- literally!
Those not in the UK, but not in North America have also had their rewards dispatched. They take a little longer to travel to you, but those are also en route. Keep an eye out!
Those in NA, your books are on a ship in the Atlantic right now. We'll update you as soon as that ship gets to port in the USA.
Gate Pass Gazette #2​
In other news, GPG #2 just hit the virtual newstands! If you are subscribed, you can download it right now. If not, you can
subscribe right here!
The Gate Pass Gazette is the official magazine for Level Up: Advanced 5th Edition material.
Avenging Archetypes.
When fate has dealt the world a dire hand and everything is on the table, only the most capable warriors can be relied upon to save the day. Features the Charging Shield fighter, the Dodger adept, the Hawk-Eyed ranger, and the Mutant warlock archetypes. By Mike Myler.
Well-Equipped: Steampunk Gadgets and Gear.
A collection of mundane and magical equipment with a Victorian feel, these items can be used either to supplement Adventures in ZEITGEIST or add some sepia-toned flair to any setting. By Peter N Martin.
Living at the Edge of Night.
A set of gothic horror-themed character options for any campaign, featuring the Cursed and Haunted backgrounds and the Slayer destiny. By Rachel Williamson.
"I Heard You Like Monsters".
A collection of clever encounters featuring the work of the wizard Fengbald, monster maker to the rich and tyrannical. Features 3 monsters, each with a twist, to add interest to any adventure. By Ryan Nock.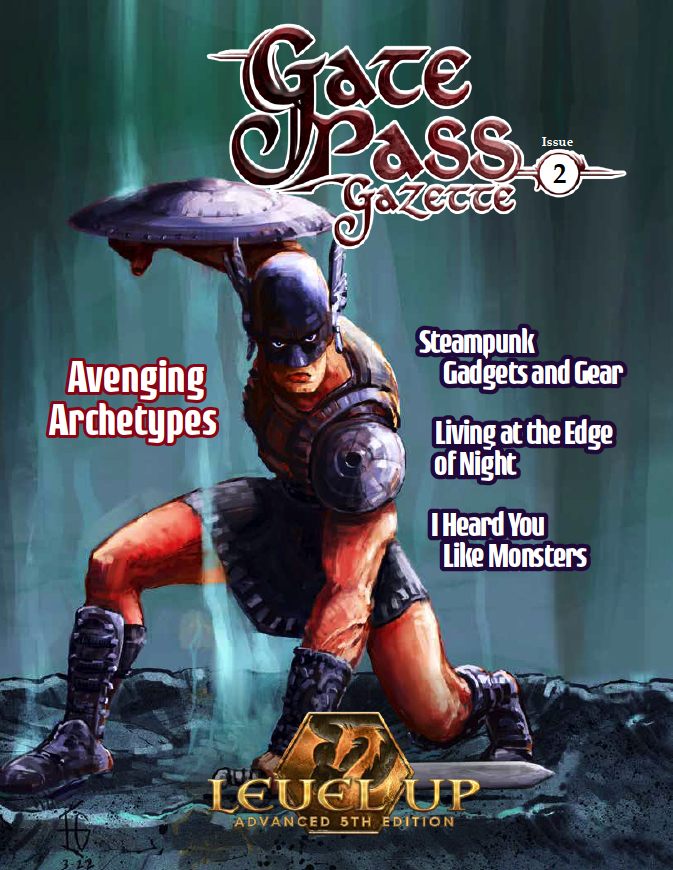 Last edited: