So Van Richtens Guide has expanded Ravenloft beyond Gothic Horror to include guidance across a number of Horror Genre. Having now scanned them I do appreciate that they do help to generate ideas for how some of the lesser domains can be used.
So considering the following blurbs for each Genre lets discuss your favourites, which Domains you can see them applying to and what adventures you might be inspired to create for these. Are there other genres that are missing? (
Also dont just confine it to Ravenloft setting, imc I' used Mordent for the bleak haunted moors and windswept coasts of my own world
)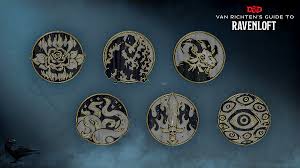 From the blurb:
1Gothic horror
is about the terror within, not without. It shatters the illusion of humanity in a poignant way by holding a mirror up to us and saying: look at what we truly are, and look at what we pretend to be. (
I'm not sure this description captures the emotional/romantic bleakness inherent in Gothic stories, but the mirror analogy might point to character introspection v dread
)
2Ghost stories
touch on the issues of human existence: the nature of the soul, the weighty fact of morality, and the burden of ancestry and history. Spirits represent supernatural justice, as well as grief and the need for closure. (
Personally I'm uncertain why Ghost stories were given special mention beyond Gothic or Psycological Horror, but I do love a good Ghost story
)
3Folk horror
explores fears of isolation, superstition, paranoia, and lost truths. Seemingly idyllic communities, rural reclusiveness, forgotten traditions, and naturalistic cults all frequently feature in folk horror adventures. (
I tend to use the idyllic rural community a lot, and dropping Cannibals and Murderous cults in the mix is always fun
)
4Cosmic horror
revolves around the fear of personal insignificance. The genre is predicated on the idea of entities so vast and so genuinely beyond our comprehension that we cannot fathom their simplest motivations.
5Dark fantasy
is as much a genre of fantasy as it is a genre of horror. Dark fantasy refers to fantasy worlds where grim themes, nihilistic plots, or horrifying elements inform a fantasy tale.
6Body horror
as a genre examines a universal fear: our own failing anatomies. We rarely think about what goes on beneath the skin.
Then the Subgenres -
7 Slasher Horror
where the focus is on surviving a single killer monster
8 Disaster Horror
where the focus is on enduring the havoc of a hostile environment
9 Psychological Horror
where the focus is on perception of what is true and what defines reality
10 Occult Detective
where the focus is on investigating the unknown or delving deeper into a mystery