At UK Games Expo last weekend, we ran about 15 one-hour demonstrations of our Judge Dredd & The Worlds of 2000 AD RPG. There were three of us doing the demos - myself, Andy Peregrine, and Al Bell. Each of us had our own little scenario. I ran either four or five sessions in total.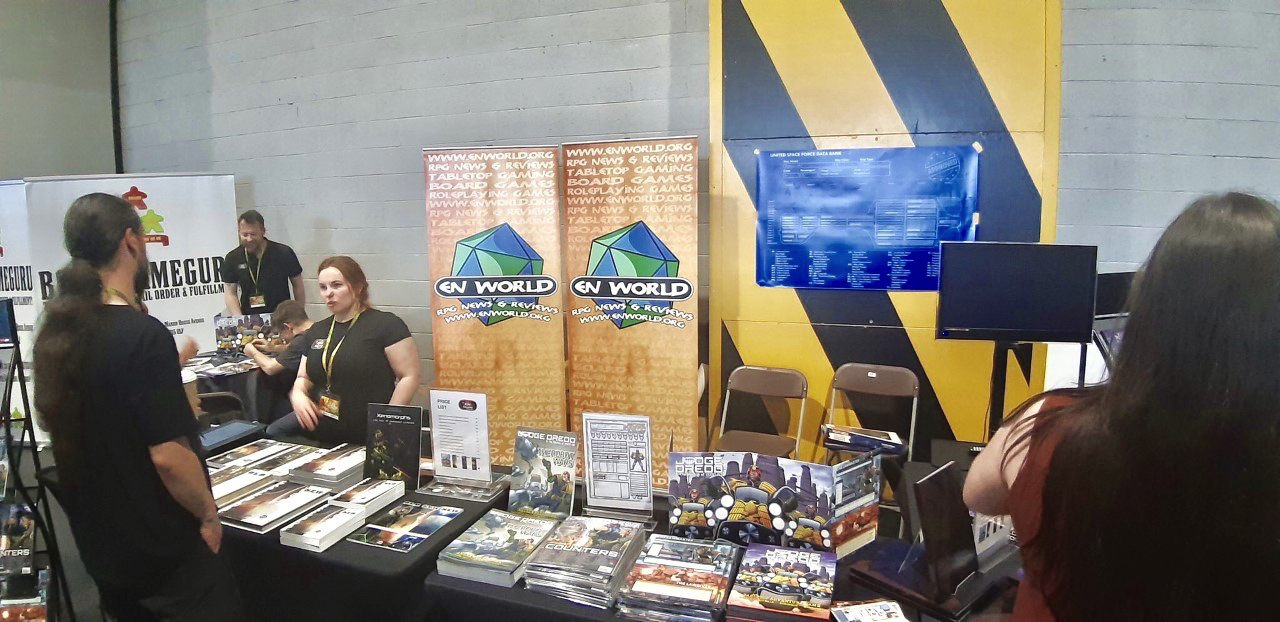 Our setup was a small round table at our booth with five chairs, a GM screen, and a bunch of pregenerated characters. You can just about see me on the left at the back of this picture of our UKGE stand, running a game.
In a short, one-hour demo you don't have much time. You have to introduce yourself, explain the game and how it works, and (sometimes) explain what an RPG is. That can eat into your hour, so you try to keep the infodumps to a bare minimum and only give the payers the info they need as they get to it. I was pretty much "Hi, my name is Russ. This is a short one-hour demo of the Judge Dredd RPG. Now, are you all familiar with Judge Dredd?"
I was lucky -- on all but one of my demos, the players were all familiar with Dredd and were keen roleplayers.
The convention hall was LOUD. A lot of the time it was hard to hear what quieter players were saying, and by the end of the second day my voice was shot from having to raise it over the din. It's actually quite tiring, too -- especially when you're demoing, you put your all into that one concentrated hour, and you can be quite drained afterwards.
My demo was short and to the point. Some sentient apes dressed like 1920s gangsters, wielding Tommy guns, had taken over a department store. The team of Judges were sent to to with them. I had each make an AGI (riding) check just to see who got there first and who got there last, and so they'd know what an attribute check looked like. They grasped that quickly.
I ran the same little scenario for each demo, but the players did different things with each. In one they went over the roofs and took out the rocket-launcher wielding gorilla on the roof before working their way down. In another, one rode his Lawmaster motorcycle into a freight lift, ascended to the third floor. Imagine the apes' surprise when the lift doors opened and there was an enormous Lawmaster, cannons primed. Another group broke into the underground parking garage and worked their way up.
Running a game at a convention is immense fun. It's high energy, and challenging because you have no idea who will be playing your game. If you do well, they might buy it, so the pressure is on!