Free League has announced the official
The Walking Dead Universe Roleplaying Game
.
The game will hit Kickstarterin Spring 2023, with a release in Fall of the same year. It includes a core rulebook, starter set, and other accessories, powered by Free League's
Year Zero
engine, which is behind games like
Mutant: Year Zero, Alien, Bladerunner,
and more.
Additionally, there will be a 'Liveplay' series.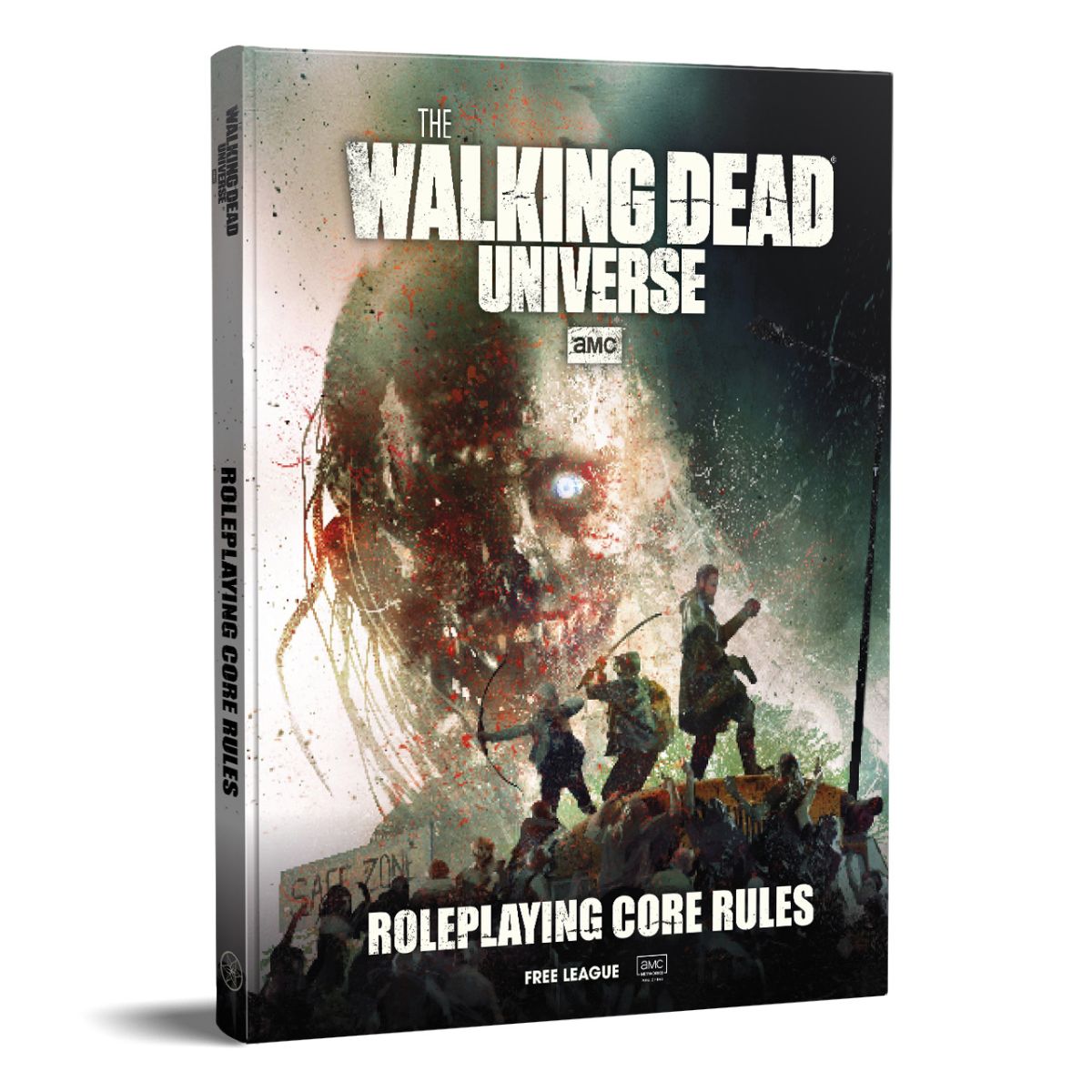 As the groundbreaking TV series The Walking Dead comes to its climactic conclusion, AMC Networks today announced a long-term alliance with Free League Publishing and Genuine Entertainment to continue expanding The Walking Dead Universe with The Walking Dead Universe Roleplaying Game, an official tabletop roleplaying game. The Walking Dead Universe Roleplaying Game will debut on Kickstarter in Spring 2023, offering early access to the Core Rulebook, a Starter Set, and other premium accessories and limited-run exclusives long before its Fall 2023 retail release.

For news and previews, visit thewalkingdead-rpg.com. Then follow Free League Publishing on Instagram, Twitter and Facebook, where fans can discover art and gameplay development ahead of the game's release.

A co-production between AMC Networks and the award-winning tabletop publisher, which is working closely with key forces behind the franchise, including Chief Content Officer of The Walking Dead Universe, Scott M. Gimple and Head of AMC Networks Publishing Mike Zagari, the ongoing RPG series will introduce new story elements while drawing inspiration from the current series and upcoming spin-offs.

"The Walking Dead has always been about characters – and audiences, by extension – facing impossible life and death choices," says Gimple. "Now, fans can face these choices head on, putting themselves in the world of the Walking Dead – at any time in the timeline, encountering familiar faces and places and brand-new ones and, within our apocalypse, making the biggest choice: Who are you going to be? We've seen a lot of stories in the Walking Dead Universe, now it's time to see yours."

The game is directed by Free League co-founders Tomas Härenstam (Alien RPG, Blade Runner RPG) and Nils Karlén, with Nils Hintze (Tales from the Loop RPG, Vaesen - Nordic Horror Roleplaying) as lead writer, Gustaf Ekelund (Twilight: 2000 RPG) and Martin Grip (Alien RPG, Blade Runner RPG) as lead artists, and Genuine Entertainment's Joe LeFavi (Alien RPG, Blade Runner RPG, Dune, The Dragon Prince) as producer and brand manager on the game series.

To immerse fans in this new extension of The Walking Dead Universe, AMC Networks, Free League, and Genuine Entertainment will also produce a limited Liveplay series, where real players will roll the dice at the game table and play an actual The Walking Dead Universe RPG campaign filmed in real-time. Featuring original events pulled from the series' writers' room, the Liveplay series will follow new characters who intersect with core story elements and cross paths with a familiar face or two. Kevin Dreyfuss, SVP of AMC Networks' Digital Content & Gaming Studio, and Genuine Entertainment's Joe LeFavi will serve as executive producers on the limited Liveplay series.

In The Walking Dead Universe Roleplaying Game, players are challenged to enter the unforgiving, post-apocalyptic sandbox and learn how to survive and thrive in this new world order.

"You can spend days just scavenging ruins and testing survival skills. Or blur it all into the background to focus upon the compelling human drama," says Härenstam. Fans of survival games may indeed lose themselves in fortifying strongholds alone. "The place you call home should become a rich, three-dimensional character with its own origins, attributes, and memories," says Hintze. Pushing the boundaries of the survival genre, each group can tailor their RPG experience to suit their own interests and play style. "Each session should feel like you're writing, directing, and starring in your own TWD episode," says AMC's Zagari. "Where it goes is up to you."

No matter what, expect the stress and stakes to be high. Boasting a new spin on Free League Publishing's award-winning Year Zero engine, players must not only hone their physical skills, but deeply explore what makes them tick – confronting how the hardships of this world naturally impact what they're capable of, in the best and worst of times.

"Just like the show, this game is not about killing walkers," asserts LeFavi. "It's not about losing health points and fighting to stay alive. It's about losing your humanity and fighting to find and protect what's worth living, killing, and dying for."

Last edited: