I love talking about my games, so I figured I would post a (long and rambling) update because I GMed the first session of Legacy of Fire yesterday! It was a bit of a rocky start because the game store was hosting an event and my map press got lost in the mix and we couldn't use our normal room but were instead stuck in the loud fishbowl up front and my throat still hurts from having to talk over everyone, but everyone had fun in the end.
So I made some modifications to the first book – I couldn't find any adventures that I liked and fit well within it, so I wrote my own based loosely (very loosely) on 'The Temple of Zanak Khan' from
Intruders: Encounters with the Abyss
with violence and xenophobia replacing sex and depravity. I also made the murder mystery in part one of the module an actual murder mystery – with the motive being the dreams from the temple. I kept it pretty simple and made suspect cards (an absolute necessity for any whodunit in my opinion) and it ran great (despite the noise from the other four games being run in the same room at the same time).
murder mysteries aren't complex until they're Mage: the Awakening murder mysteries. I love the game but I would spend weeks working out how everything happened and thinking of potential clues and solutions: yes you absolutely can go back in time and try to stop the murder from taking place (other players notice my evil smile and immediately think to check the Acanthus's gun against the bullets from the victim to make sure that they didn't commit the murder by going into the past to stop the murder that they themselves committed in a temporal paradox); and sure Death can just tell you who did it but she wants a favor from you in exchange (my evil smile betrays me again… though they later went back and took the deal!).
We ended it almost exactly where I thought we would despite me having seven players and things tending to take forever with that many. I did run two combats: a moderate with two low threat creatures and a hazard and a low with a single boss creature and they went very well and though the boss got swarmed as I expected, he took a couple of characters down with crits before he died. I love that in 2e, making fun, interesting, challenging fights takes me about 10-30 minutes (literally for the boss I copied an NPC's stats out of the book and swapped out two abilities for quick draw and double slice). In 1e I would have to spend hours on every fight to get much less satisfactory results.
Next time I get to run my first dream sequence – I am either going to go for a fast and dreamy chase rule inspired sequence or (since I have so many players), a team PVP camp infiltration/defense sequence, or a siege sequence depending on how much time I have to prepare for it.
Finally, I designed a new time wheel for Legacy of Fire. This time I used GIMP for better control of the wedges, and printed it out on glossy photopaper with borderless printing and used spray adhesive to adhere it to thin cardboard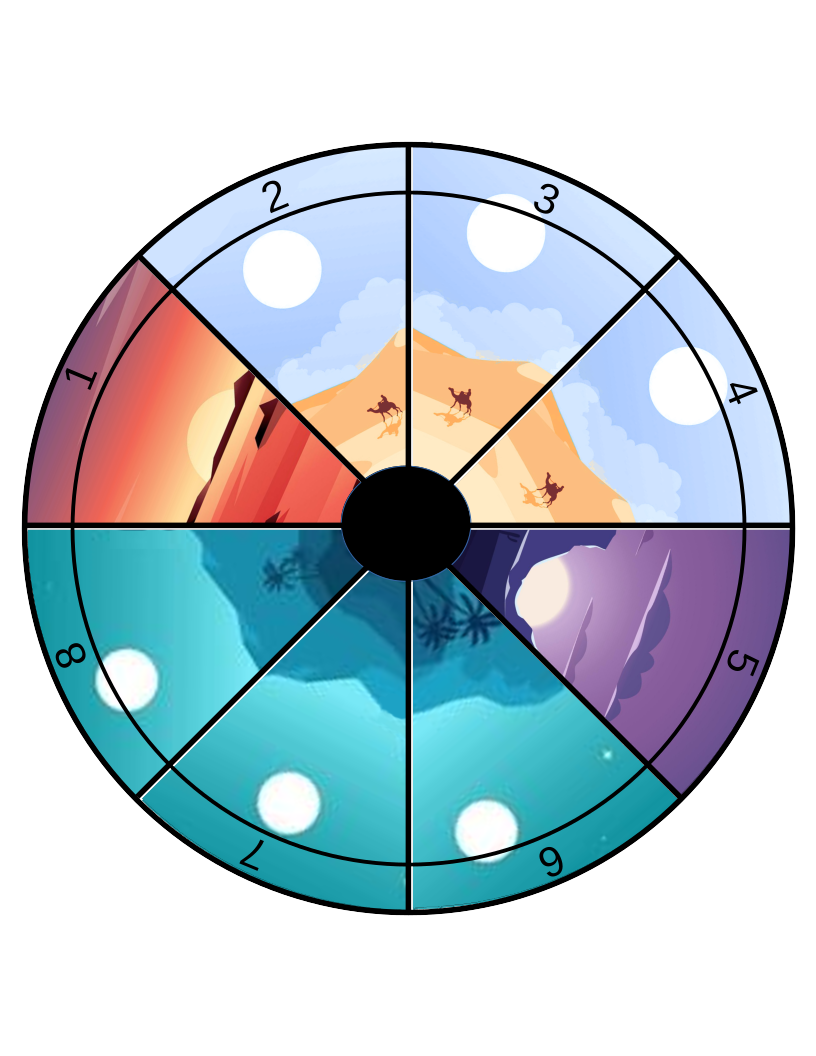 and it looks absolutely fantastic.