Well, that was fun
Staff member
I may be in need of a sci-fi fiction writer to write a bunch of short half-page snippets to scatter through my game. I'd rather do it all myself, but I struggle writing fiction. Not sure what to do about it. I wanted my game to be all me, but looks like I don't possess the full skill set! Quite the conundrum! Anyone got any advice?
(I've attached a list below - ideally I would like to include a short piece based on each of those concepts; they're unconnected - each is an idea for a different campaign or setting, some soft sci-fi, some hard sci-fi).
For example, the 'signals from Outer Reaches' idea could be a group of scientists stationed on the lonely Pluto Listening Post whose job it is to monitor the signal which was first heard 50 years before, and maybe it changes.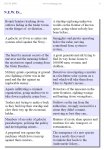 Last edited: