Greetings, eager intriguer! Be not beleaguered! For in these volumes we offer players and GMs an array of intriguing options to add variety, depth, and dimension to any game of
Honor + Intrigue
. Do not think of this as a book of rules… they're more like… guidelines on how to adapt your campaign in various ways. Each volume focuses on a different way to augment and enhance your Honor + Intrigue campaign.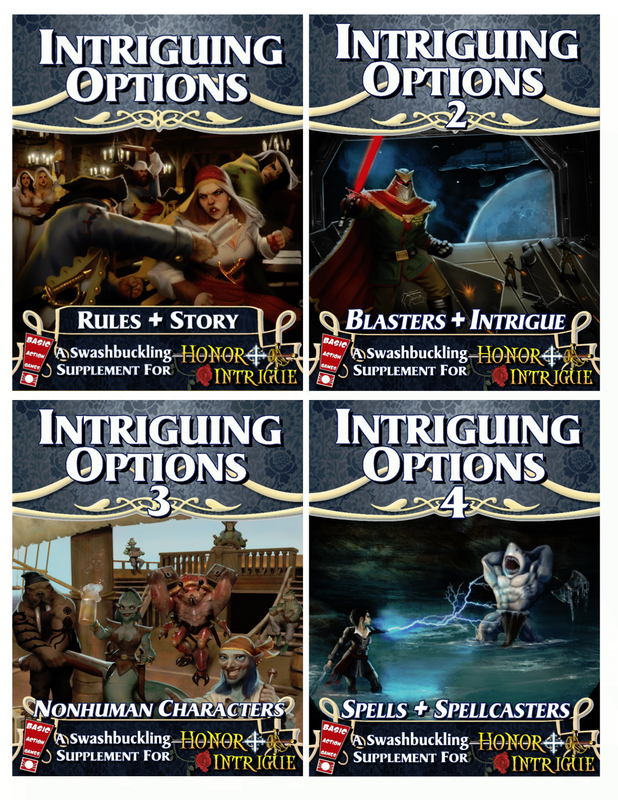 Volume 1: Rules + Story
gives lots of new optional and alternate rules to use with your campaign, as well as story ideas to insert into your campaign.
Volume 2: Blasters + Intrigue
focuses on taking your campaign to the stars. This section is a primer on running a swashbuckling campaign set in a space opera or other sci-fi setting.
Volume 3: Nonhuman Characters
focuses on expanding your available cast of characters for sci-fi and fantasy swashbuckling. It includes guidelines and tools to help you build your own fantasy and science fiction folk as well as over 50 sample PC ancestries.
Volume 4: Spells + Spellcasters
introduces an alternate high-fantasy magic system which brings wizards, paladins, druids, clerics, psionicists, and magic items to your campaign.