Greetings!
Even though in our group we have long since moved on from AD&D 2e, we still use that edition's cosmology as our default, as I understand several other groups do as well. I made this thing (which is an update of a previous one I did a couple of years ago, posted around here somewhere) with the purpose of cramming the three main groups of realms -Outer Planes, Inner Planes, and the crystal spheres of the Prime Material- into a single chart, trying to be as comprehensive as I could given the scope, with the purpose of making it easier to understand how all the different worlds relate to each other.
Hopefully this can be useful for DMs still using that cosmology or new ones thinking about doing so.
Feel free to use as you see fit!
(click on the image for the full-size version)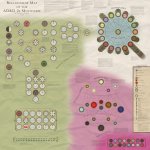 Interesting detail: There are 482 different realms that are canonically part of the cosmology (between worlds, planes, demiplanes, and crystal spheres).