UPDATES:: Adding a links to the latest models:
12/15/2018 -
Animals
07/01/2018 -
Gargantuan Necronaut
06/04/2018 -
Charnel Hound
05/27/2018 -
Greater Cadaver Collector
05/14/2018 -
Misc Males parts 4 & 5
05/12/2018-
Misc Males Part 3
03/27/2018 -
Misc Human Male PCs (part 1 & 2)
01/27/2018 -
Mashaaf / Great Worm / Old One
01/20/2018 -
Male Amoured Warriors
01/15/2018 -
Special Projects
12/30/2017 -
Various Undead
12/28/2017 - Sea monsters, bugbears, gnolls.
03/02/15 -
Colossal Skeletal Dragon
------------------------------------------------------
I have an old mini painting thread around here somewhere.. but there was not a lot in it. Since I recently received my Reaper's Bones Kickstarter set, I thought I would start a new one.
July 3rd: Received big box of bones (the ones down front are one that needed some hot/cold re-positioning):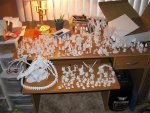 July 4th: Kids demand to paint, wife joins in. I pull out the zombie hunters and space marines, as I'm not likely to use them anytime soon, they are happy campers. A quick lesson in painting and basing, and ... (front row: 10 & 13 yr old daughters, middle: wife & 16 yr old son, back: mine):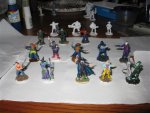 Not bad for their first attempts, and my first painting in couple of years.
Working on some townsfolk next, to get better warmed up. More to come!
Last edited: