Seriously inspired by the Athabasca Tar Sands Thread.
Don't think it's quite there yet, but open to any and all suggestions.
****************************************************
I was inspired by this pic.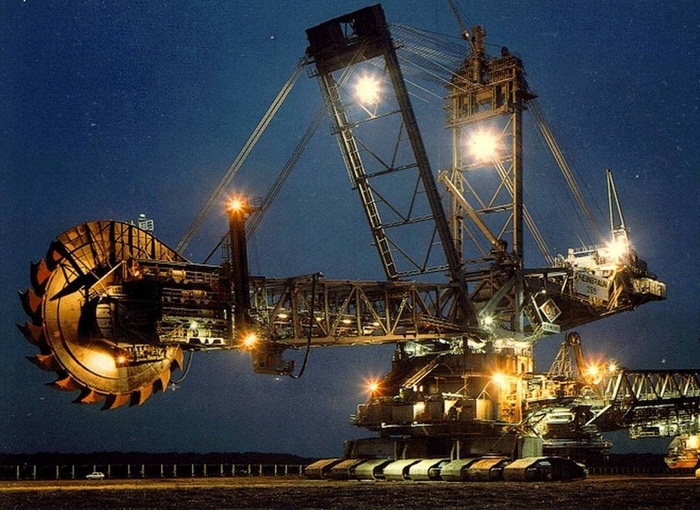 ************************
Old Scoopy
The size of what you are seeing dwarfs even skyscrapers. This is a massive Circular saw-like blade on a crane on massive treads.
Knowledge. Chemistry Tools, Computer Tools, Electronic Tools (Common DC 28, Unusual DC 30, Secret DC 32),
Born for Oil Processing. Old Scoopy is a machine of the far past, long before the Hodgepocalypse. In this ancient time, Old Scoopy was created to be a fully automated and AI assisted Fossil Fuel Extraction automation.
Lord of the Scoop. The strange dug out area that roughly corresponds to the ancient Athabasca Tar Sands is where this machine dwells. It is literally responsible for its slow, but constant increase of the hole. It is a fair Lord, willing to make deals with people in return for services, but it is a no go to interfere with its perpetual digging.
Secret Glitch (Secret Knowledge). While Old Scoopy is adamant about digging up the tar sands, it can be completely convinced to push towards a high yield area. This requires a DC 24 Chemical Tools check to do so. If successful, it will leave without causing a disturbance.
Old Scoopy
Gargantuan Construct, Lawful Neutral
Armor Class 17 (natural armor)
Hit Points 354 (24d20 + 102)
Speed 80 ft.
STR DEX CON INT WIS CHA
30 (+10) 10 (+0) 23 (+6) 18 (+4) 15 (+2) 19 (+4)
Saving Throws:
Str +16, Con +12,
Skills:
Investigation +10, Nature +10
Condition Immunities:
blinded, charmed, deafened, exhaustion, frightened, paralyzed, petrified, poisoned
Damage Immunities:
Necrotic, poison, psychic
Damage Resistances:
Cold, Fire
Senses:
Darkvision 120 ft, Tremorsense 300 ft. (ground penetrating ladar), passive Perception 12
Languages:
L33t; communicates via radio signal
Challenge:
20 (25,000 XP)
Prof.
+10
Damage Threshold.
Old Scoopy is very tough. It has immunity to all damage unless it takes an amount of 10 points or more, in which it takes damage as normal.
Immutable Form.
Old Scoopy is immune to any spell or effect that would alter its form.
Magical Resistance.
Old Scoopy has advantage on saving throw vs spells and other magical effects.
Nanite Repair System.
If Old Scoopy is reduced to 0 hit points, it covers itself in a coating of oil and nanites and sinks into the ground. It will return to the surface at full hit points within 72 hours.
Actions
Mulitattack. Old Scoopy makes a Bucket Chain Blade and a Crude Blast attack if it is available.
Bucket Chain Blade. Old Scoopy picks an area within 80 feet of it and dig its bucket chain in a 40-foot line that is 15 feet wide. Each creature in that line must make a DC 23 Dexterity saving throw, taking 88 (16d10) slashing damage on a failed save, or half as much damage on a successful one.
Crude Blast (Recharge 5-6). Old Scoopy exhales a virulent crude Oil in a 120-foot line that is 10 feet wide. Each creature in that line must make a DC 22 Dexterity saving throw, taking 45(10d8) necrotic damage on a failed save, or half as much damage on a successful one.
Bonus Actions
Trembling Strike (Recharge 5-6). Old Scoopy strikes the ground with its bucket chain blade, triggering an earth tremor. All other creatures on the ground within 60 feet of Old Scoopy must succeed on a DC 25 Strength saving throw or be knocked prone.
Reactions
Tank the Hit (Recharge 5-6). On a successful hit, Old Scoopy takes no damage.
Last edited: