Hello everyone, Darryl here with this week's gaming news! The Mountain Goats making a D&D concept album, teases for future D&D products, Gen Con asks the internet to name their new mascot, Robotech RPG news, and more!
Indie folk rock mainstays The Mountain Goats unexpectedly announced a collaboration with Wizards of the Coast to record an entire album based on Dungeons & Dragons titled In League with Dragons for release this April
. For those unfamiliar, The Mountain Goats is an acoustic-focused band with a slight punk rock feel that's been active since 1991. While they've been well-known on the indie scene, they're mostly unknown in the mainstream (partially because "punk-influenced indie lo-fi folk rock" isn't a musical genre that tends to tear up the charts), though you may better recognize drummer Jon Wurster's other band, Superchunk.
The announcement came shortly before a concert streamed on the official D&D Twitch channel
. The first single, "Younger", is available currently on
YouTube
,
Spotify
,
Bandcamp
, and other music outlets. If you'd like more information about the band itself,
Nash from Radio Dead Air put together an introduction to the band in 2010 for his video series, Musical Chairs
.
Amazon gave us a sneak peek at a new Dungeons & Dragons product, the Bestiary Notebook Set
. The product hasn't shown up yet on Wizards of the Coast's product page, but this set is listed as from the company on Amazon. The set includes eight pocket-sized notebooks in a slipcase, each featuring a different monster with stats and history along with a "new, modern design" (though a bit ambiguous, the description on Amazon leans a bit more to artwork than to actual game design). The product is set for release on October 1, 2019, with a retail price of $19.99.
In more teasing,
Chris Perkins released a couple of map sketches with hints that they may be for a future book
. Labeled as "Dragon Barrow", "Catacombs", and "Tower of Storms", the two images were posted to Perkins's Twitter account with the message
"Here are a couple of map sketches I did for what may or may not be an upcoming D&D product #wotcstaff"
. Continuing with the teasing of fans, EN World user Jacob Lewis already noticed that one image bears a striking resemblance to a Spelljammer Dragonship, reigniting speculation that's been ongoing for over a year that we'll be seeing giant space hamsters soon.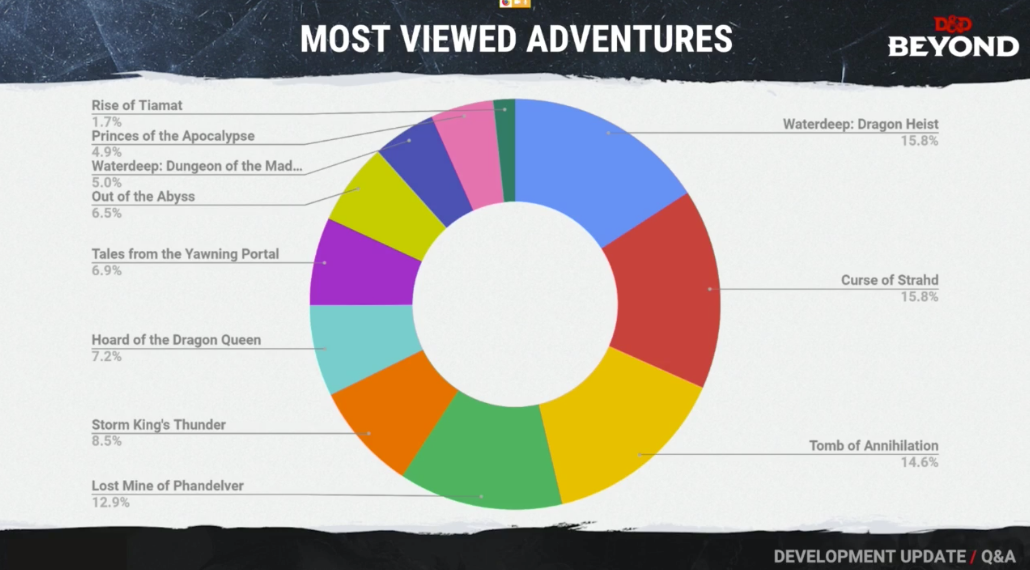 The D&D Beyond team released statistics on the most-viewed adventures on the platform
. Tied down to a decimal point are
Waterdeep: Dragon Heist
and
Curse of Strahd
, with
Tomb of Annihilation
in third place and the Starter Set adventure
Lost Mines of Phandelver
at fourth. They also released the most-viewed adventure chapters and, as you might expect with the "sourcebook and adventure combo" format, the highest ranked are descriptive chapters of the settings. The Land of Chult is the top, followed by Phandalin (the setting town of
Lost Mines of Phandelver
), A Friend in Need (the first chapter of
Waterdeep: Dragon Heist
), the introduction chapter to
Waterdeep: Dragon Heist
, and Port Nyanzaru (the first location in Chult). The full list of stats (along with the EN World ratings for each adventure for comparison) is available at the link above.
Gen Con debuted their new mascot on Twitter, pictured above, along with a request for a permanent name
. If you'd like to make your voice heard in naming the mascot, reply to the tweet linked above with the hashtag #namedragon before noon Pacific time on Monday, February 4. The tweet with the most likes will be chosen, though Gen Con has wisely declared this is subject to their approval so my entry of "Draco McFireface" probably won't make the cut. There's also a prize attached, two 4-day passes to Gen Con drawn randomly from all entrants (so your entry doesn't need to win the naming contest in order to win the passes). More details are available in the Twitter thread linked above.
Battlefield Press announced a new roleplaying game based on Robotech using the Savage Worlds rules system
. This campaign sourcebook will require the
Savage Worlds
core rulebook and, according to the feature
"stats for notable characters, background events that are happening during the setting (along with current information), and spaceships and gear all done in Savage Worlds game information."
The announcement comes in cooperation with Harmony Gold (who has the distribution rights to the
Macross
anime until 2021 and co-owns the copyright to
Robotech
with Big West Media) and Strange Machine Games, who obtained the
Robotech
tabletop license from Harmony Gold last year. Strange Machine Games will also have their own RPG system,
currently in alpha playtest with no release date yet
. The
Savage Worlds Robotech
book is set for release in April 2019.
We now have firm details about FnordCon, the first convention run by Steve Jackson Games
. Taking place from April 6-7 at the TCEA Conference Center in Austin, TX, the convention will be limited to 250 people because
"we want to give our attendees a really memorable experience."
Passes are $40 and include admission to all events plus
"a swag bag that returns to the days where you were excited about what was in a swag bag"
. Pre-release events are scheduled for
Munchkin Warhammer 40,000, Munchkin Steampunk: Girl Genius, Car Wars 6th Edition,
and others yet to be announced as well as events for
Ogre, Illuminati, Blob Lobber,
and
The Fantasy Trip
.
As of the time of writing, passes are still available but most likely won't last long
.
EN World head honcho Morrus has another of his polls up looking for your feedback, this time on the biggest RPG crimes
. Not crime games or, you know, literal breaking-the-law crimes, but more the "breaking the social contract" style crimes. Dice-touching, GM railroading, playing a Kender or Malkavian like a Looney Toons character, that sort of thing. While Morrus hasn't stated the purpose of this yet, the last few requests like this have ended up in a site-wide poll for EN World readers to vote on so if you have a pet peeve in gaming, head over to the thread and let us know!
There's less than a week left in the Numenera Bundle on Humble Bundle, benefitting the charity It Gets Better
. The base tier bundle for only $1 includes DRM-free PDFs of the updated core rulebooks for
Numenera
along with six other books. The $8 level adds nine more books including
Numenera Player's Guide
and
Torment: Tides of Numenera Explorer's Guide
while the top-tier level for $15 adds eleven more books for a total of twenty-eight with a retail price of $260. This bundle is available until Wednesday, February 6.
It's not surprising that Dread creator Epidiah Ravachol would create something just as unique for his next game, and Wolfspell is a very unique game
. The game "plays like a proggy metal concept album" and the theme certainly supports that claim, as you take on the roles of humans who have been magically transformed into wolves. Your actions are guided by either your human blood or your wolf instinct as you roll a die for each, with the higher roll deciding which determines your action. But be warned, while giving into your wolf instincts will give you advantages, you'll slowly lose your humanity as your feral side grows strong. And in case the game itself wasn't an interesting enough concept for you, the rules will be printed on a trifold LP-size album cover. The game is available for a $30 pledge or you can add on the entire back catalog of
Worlds Without Master
(the zine where
Wolfspell
originated) for $55. This project is fully funded and runs until Sunday, February 3 so get in fast!
In addition to their new convention, Steve Jackson Games has
two
Kickstarters going right now.
The first is for the Pocket Box Games
. A bit of a history lesson, in the early dates of what we now call hobbyist gaming, print runs for huge boxed sets like most board games were out of the question for anyone but big publishers like Avalon Hill, so many games were distributed in small envelopes or tiny plastic pencil-case sized boxes that included folded-up maps, small rules pamphlets, and punch-out cardboard tokens called "chits". And the Pocket Box game line from Steve Jackson Games was one of these and how the company got on the map. The Pocket Box line features everything you need to play in a box that can fit in your jacket pocket with a list of games available:
Illuminati, OGRE, G.E.V., Battlesuit, Car Wars, Truck Stop,
and
Crash City
(with
Undead
and
Necromancer
as stretch goals with more to come). These are the same classic versions of all of these games with the original rules with only a "2019 Reproduction" stamp and slight upgrades to the components. The games are available for a $20 pledge each, though there are price breaks once you get to four games for $75, and there are add-ons as well. This Kickstarter is just shy of its $50,000 goal but also only recently launched as it runs until Friday, March 1.
While not directly Steve Jackson Games,
the Munchkin Dungeon Kickstarter from Cool Mini or Not is obviously in association with the company and their marquee title
. An abstract dungeon crawl game based on the
Munchkin
card game, you and your friends take on adventurers trying to make it to through the dungeon and escape with all the loot. And yes, the various backstabbing mechanics are on full display as well. And of course, since this is a CMON game, you know there are a variety of add-ons, stretch goals, expansions, and more planned. Oh, and if you're not interested in the game itself, you're also getting a large collection of miniatures based on the designs of artist John Kovalic. The base game is available for a $60 pledge, or the first Side Quest expansion for $90. This Kickstarter is also recently launched but already well past its $200,000 goal as it runs until Monday, Feburary 18.
That's all from me for this week! Don't forget
to support our Patreon
to bring you more gaming news content. If you have any news to submit, email us at
news@enworldnews.com
, and you can get
more discussion of the week's news on Morrus' Unofficial Tabletop RPG Talk
every week. You can
follow me on Twitter @Abstruse
where I've been talking about some insider secrets of the tabletop industry,
follow me on Twitch where I'll be streaming random BattleTech stuff for next month's video,
subscribe to
Gamer's Tavern on YouTube featuring videos on gaming history and gaming Let's Plays
, or you can listen to
the archives of the Gamer's Tavern podcast
. Until next time, may all your hits be crits!
Note: Links to Amazon, Humble Store, Humble Bundle, and/or DriveThru may contain affiliate links with the proceeds going to the author of this column.