Hello everyone, Darryl here with this week's gaming news! Planescape confirmed, Dragonlance details, D&D playtest, new virtual tabletop, Asmodee's parent company buys Lord of the Rings, and more!
For a quick summary of the week's news, Jessica Hancock will bring you up to speed with
EN Live's This Week in TTRPG every Friday
.
Don't forget, you can keep up with all the week's gaming news in detail with
Morrus' Unofficial Tabletop RPG Talk
. This week, Morrus, Peter, and Jessica talk about the 2022 ENnie Awards!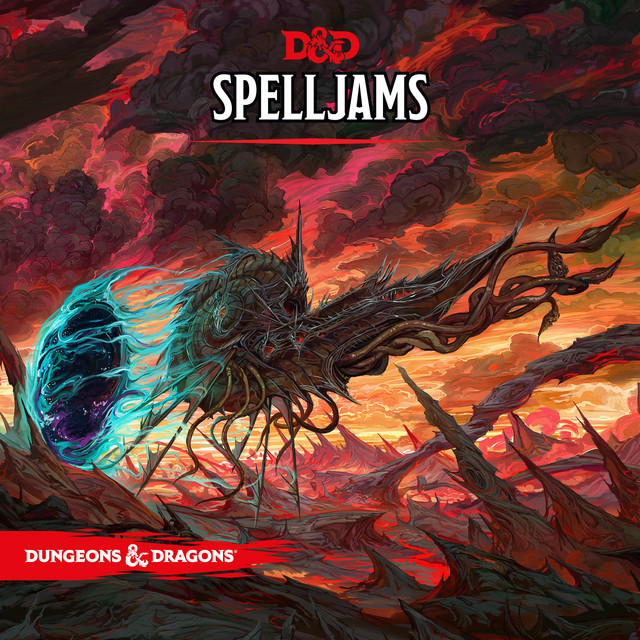 In case you missed it elsewhere on EN World this week: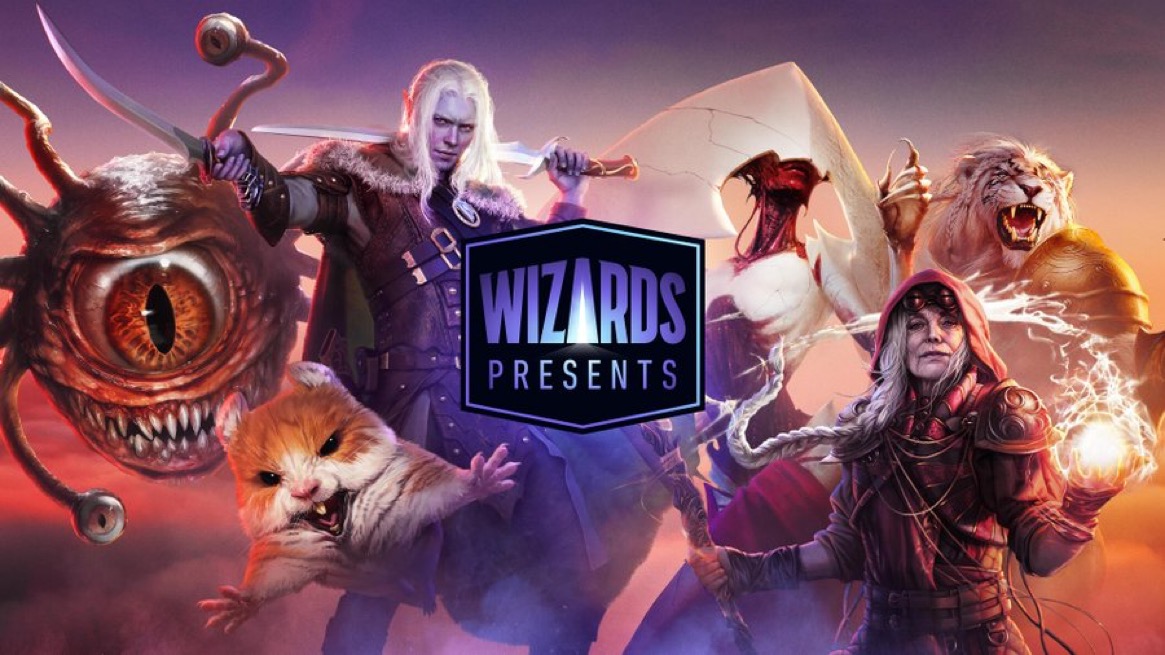 Well we certainly had a day of announcements on Thursday with Wizards Presents.
I covered the stream live here on EN World if you're looking for a more detailed and comprehensive summary of the event
. The first of the big announcements was the "One D&D" initiative which will define the design philosophy of
Dungeons & Dragons
. The stream described this as three pillars:
D&D Rules. This takes what we love about fifth edition and updates the rules of the game to reflect the feedback we have heard from players and where the game is today.
D&D Beyond. This will be the platform for your digital D&D collection, content, and tools.
D&D Digital Play Experience. In early development, D&D Digital will offer an immersive player experience, rich creation tools for Dungeon Masters, and a connected space for DMs and players to get together and play D&D.
The main part of the D&D Rules section of the program was to reassure players that this is not going to be a new edition. While the core rulebooks are being rewritten and reprinted, the rules will mostly stay the same and all previous releases including adventures and sourcebooks will be completely compatible. The first playtest document is
live on D&D Beyond now starting with Character Origins, which gives the playtest rules for race and background
. The rules included in the playtest line up with changes that have been made in previously published 5e products, such as making ability score increase assignments player's choice rather than determined by race and making backgrounds fully customizable. A survey will be posted about two weeks after the release of each playtest packet and be open for about two weeks for playtesters to provide feedback.
D&D Beyond will now include digital and physical bundles for products
starting with Dragonlance: Shadow of the Dragon Queen coming in December
. So far, this will only include purchases on
the official D&D online store
and will not include digital versions for those purchased in local game stores or mass market outlets. This is considered a "test" phase for the project both for customer interest and in the distribution methods. When the service rolls out to previously-published products, it will not include a discount for those who previously purchased the products on D&D Beyond.
The D&D Digital Play Experience is a virtual tabletop built in Unreal Engine 5 specifically to create the feel of playing on a tabletop using 3D models that look like miniatures and terrain that looks like miniature terrain through the use of tilt camera effects. The current intention is to sell ready-to-play adventures with terrain, miniatures, and everything else needed but that can also be "disassembled" and the components remixed and rearranged to create customer adventures. The footage shown was of the "pre-alpha", meaning the software is in a very early stage of development.
You can read more about One D&D in this breakdown by Beth Rimmels
.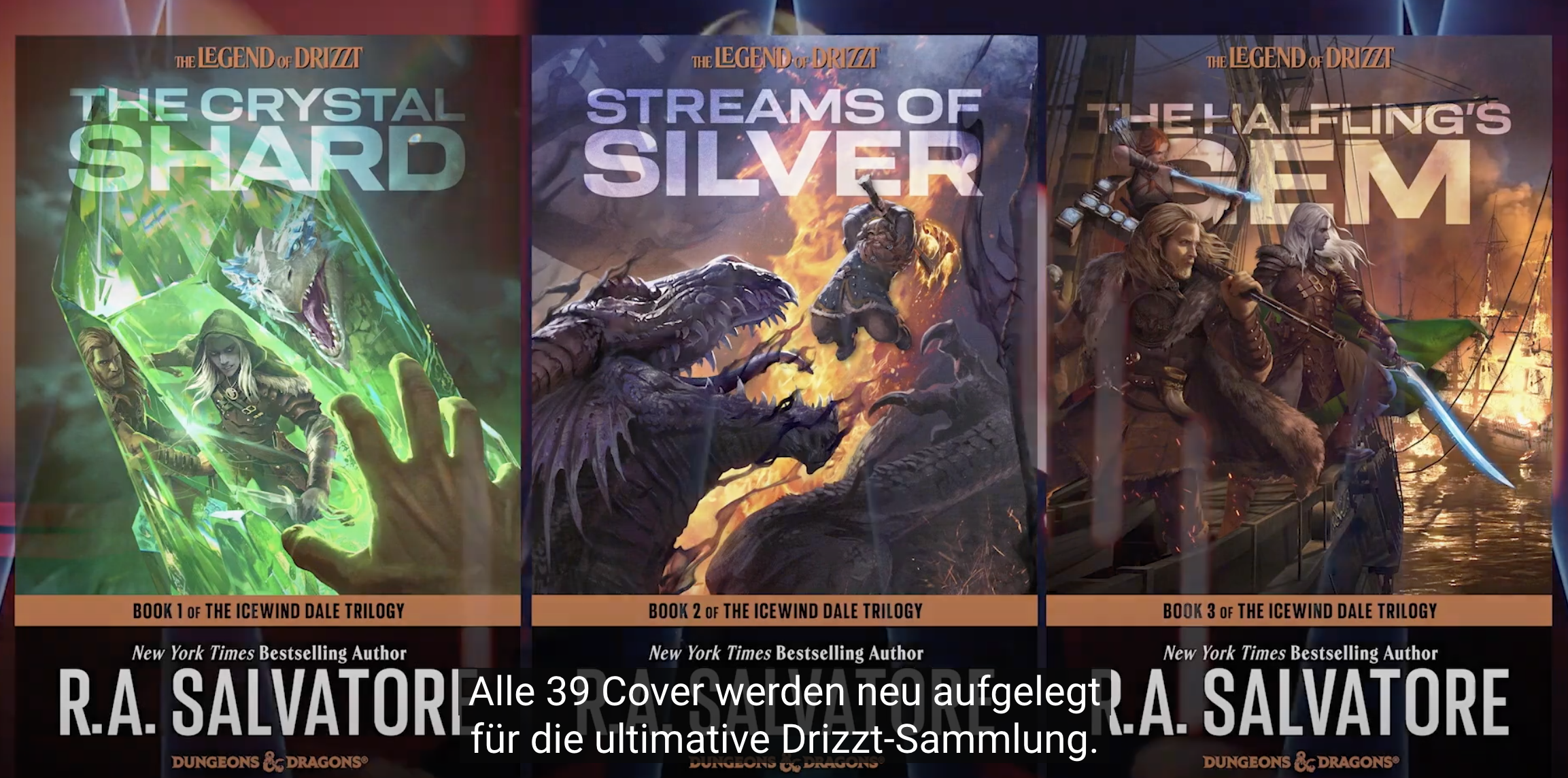 The other big news was the new product announcements. First, for the 35th anniversary of the Legend of Drizzt franchise, all 39 books in the series will be reprinted (both physically reprinted and "reprinted" digitally) with all-new covers. A new webcomic is coming soon on Webtoons featuring Briennelle Zaharina, the daughter of Drizzt and Catti-brie, following her adventures after she takes Drizzt's magic sword Twinkle and sets out on adventure to prove herself just as much a hero as her parents. Finally, March 7, 2023, will see the release of
a new "visual dictionary" book full of art and lore from the R.A. Salvatore novels
:
A visually stunning exploration of a legendary fantasy world

The Forgotten Realms offer D&D players an endless array of secrets to uncover, foes to fight, and treasures to be taken. But there is one name that has always stood out from the rest: Drizzt. Drizzt Do'urden.

This legendary drow elf ranger has been adventuring across the Forgotten Realms for decades, whether through New York Times bestselling fantasy novels or award-winning video games. Now Drizzt will take readers on a spectacular journey through his world.

This book showcases Drizzt and his travels through the Forgotten Realms in never-before-seen detail, with the glorious artwork produced by Wizards of the Coast put center stage. From the glaciers of Icewind Dale to the teeming cities of the Sword Coast, and the sinister shadows of the Underdark to the chambers of Mithral Hall, fans can explore the Realms through Drizzt's eyes as never before with this immersive, extraordinary guide to their favorite fantasy setting.
We also got
a nice animated trailer for Spelljammer: Adventures in Space
along with a trailer for
a new starter set to be released in Japan
.
The next big release was announced (
well, technically it was announced back in April but now we have more details
),
Dragonlance: Shadow of the Dragon Queen
and
Dragonlance: Warriors of Krynn
. The first of those will be a 228-page adventure and campaign setting book like previous releases with the adventure taking characters from 1st to 11th level. The adventure will take place during the War of the Lance focusing on other parts of that conflict that weren't documented in the novels, really focusing on the "world at war" aspect of the setting. Rules will be included for kender, Knights of Solamnia, the Tower of High Sorcery, and an updated version of Draconians that will distinguish them from other humanoid reptilian races like dragonborn and lizardfolk.
The hardcover will release on December 6, 2022, with a retail price of $49.95
or $59.94 if purchased through D&D Beyond as part of the physical/digital bundle.
Also coming at the same time is
Dragonlance: Warriors of Krynn
, a stand-alone boardgame simulating mass fantasy battles. The board game can also be used in conjunction with a
Dungeons & Dragons
campaign using the RPG rules for small skirmishes and the
Warriors of Krynn
rules for large battles, a feature which will be designed into
Shadow of the Dragon Queen
as an option. No price has been announced yet, though
a Deluxe Bundle is available on the D&D Store for $154.98
including both the adventure, board game, and digital copies which points to a retail price of around $100.
Beth Rimmels also went into further detail about these announcements as well
.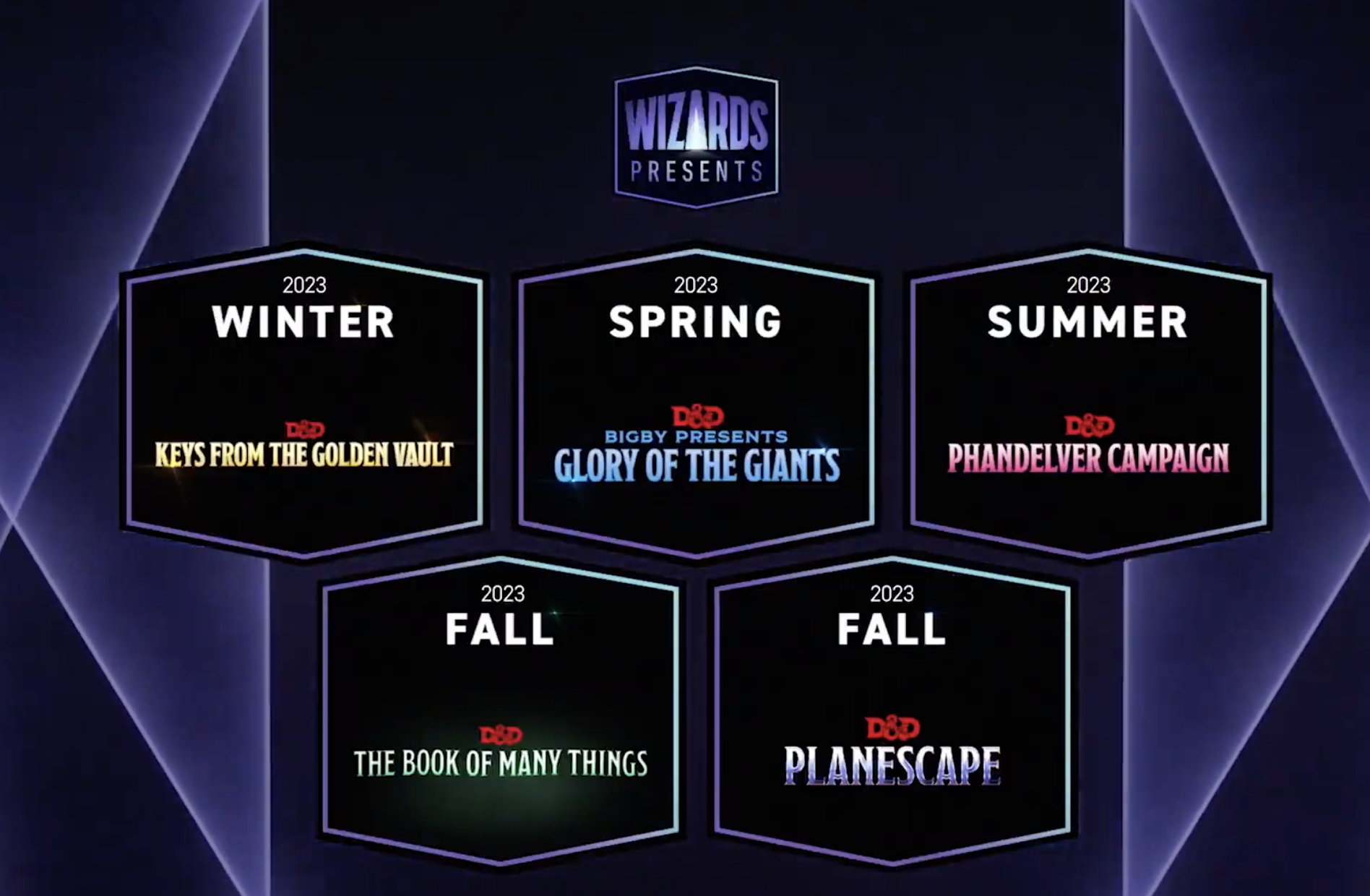 To close out the D&D portion of the live stream, we got five product announcements spread across the entire year for 2023. The first coming in Winter 2023 is
Keys from the Golden Vault
, an anthology adventure collection each one a heist. In Spring 2023, we have
Bigby Presents: Glory of the Giants
which is described as "Your definitive guide for giant gameplay for D&D". In Summer 2023 we have what seems to be a placeholder name for
Phandelver Campaign
which will build on the adventures in the D&D Starter Set adventure
Lost Minds of Phandelver
into a full campaign tinged with cosmic horror. Also coming in Summer 2023 is
The Book of Many Things
which starts with the iconic Deck of Many Things and uses it to explore new options for both DMs and players. And finally, the big announcement…

PLANESCAPE CONFIRMED! Okay, I know it wasn't a meme like
Spelljammer
was, but I've been waiting for
Planescape
to get an update for 5e. Coming in Fall 2023, the new setting book will allow players to explore Sigil and the multiverse beyond. Also like
Spelljammer
, this will get a three book slipcover box set release featuring a setting book, a bestiary, and an adventure (though whether or not a DM screen will be included has not yet been announced).
And you can read more once again from Beth Rimmels about these five upcoming releases
.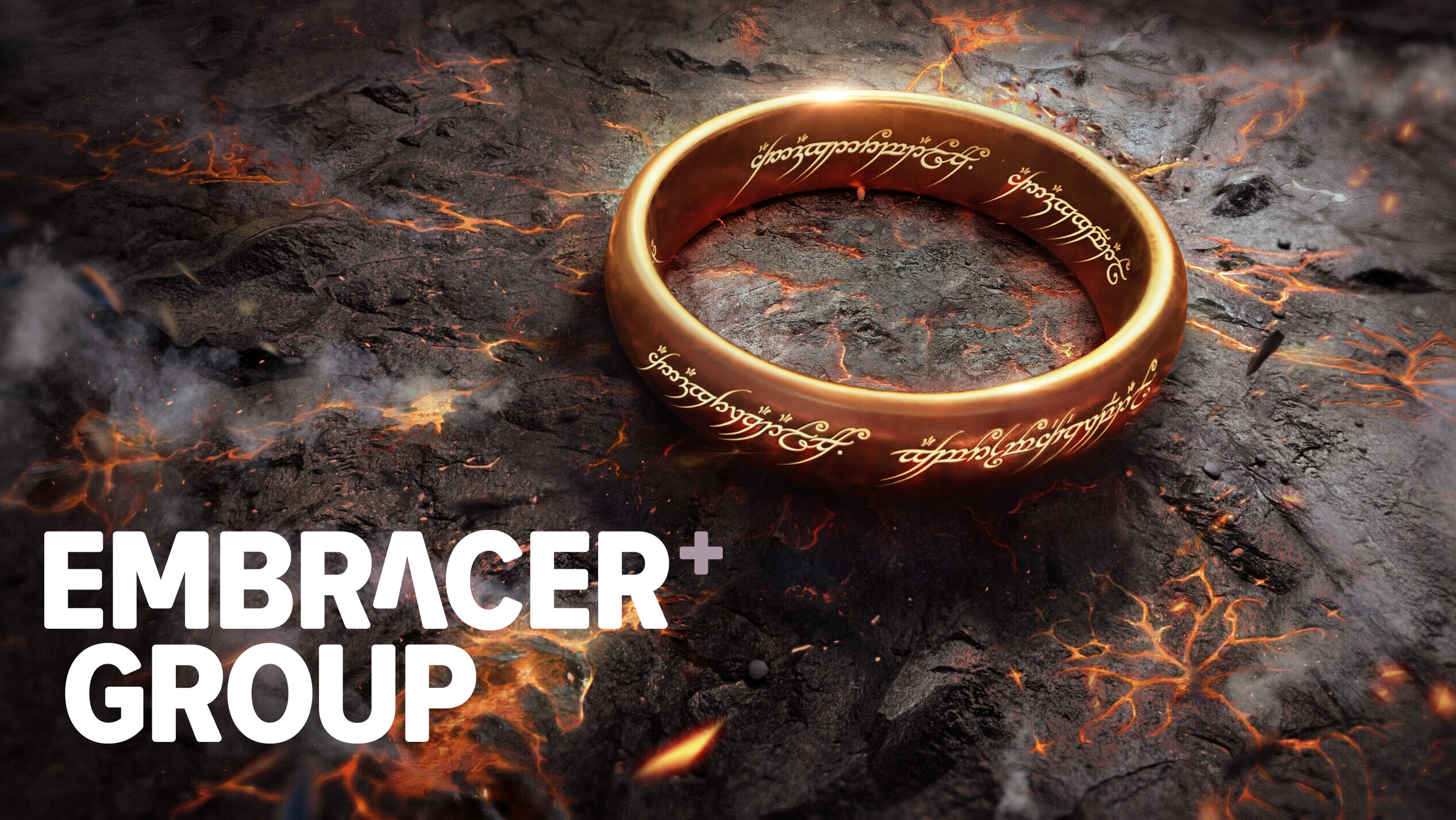 Embracer Group announced the acquisition of Middle-earth Enterprises, purchasing the rights to Lord of the Rings and The Hobbit
. Embracer Group is the entertainment conglomerate that owns Asmodee, Gearbox Entertainment/2K Games, Dark Horse Media, and earlier this year announced the acquisition of several Square Enix studios that included the rights to
Tomb Raider/Lara Croft, Deus Ex, Thief
, and other video game properties. The purchase of Middle-earth Enterprises gives the company ownership of all movie, video game, tabletop game, merchandising, and other associated rights to the novels of J.R.R. Tolkien
The Hobbit
and
The Lord of the Rings
and matching rights to any other literary works in Middle-earth authorized by the Tolkien Estate. Embracer CEO Lars Wingefors said that future plans included both use of the rights by companies within Embracer Group as well as external licenses. While this will not end licensing agreements in place already such as Free League's license for
The One Ring
and
Lord of the Rings RPG
, it does bring into question the long-term status of the license with Embracer Group owning the RPG company Edge Studios through their ownership of Asmodee.
That's all from me for this week! Don't forget
to support our Patreon
to bring you more gaming news content. If you have any news to submit, email us at
news@enpublishingrpg.com
, and you can get
more discussion of the week's news on Morrus' Unofficial Tabletop RPG Talk
every week. You can
follow me on Twitch to get notifications when I go live,
subscribe to Gamer's Tavern on YouTube for videos on gaming history, RPG reviews, and gaming Let's Plays
, or you can listen to
the archives of the Gamer's Tavern podcast
. Until next time, may all your hits be crits!
Note: Links to Amazon, Humble Store, Humble Bundle, and/or DriveThru may contain affiliate links with the proceeds going to the author of this column.