Hello everyone, Darryl here with this week's gaming news! New Eberron book announced for D&D, content creator banned from Patreon for pirating DM's Guild and third party books, more information about the 5e based video game Solasta, Hasbro buys Entertainment One, and more!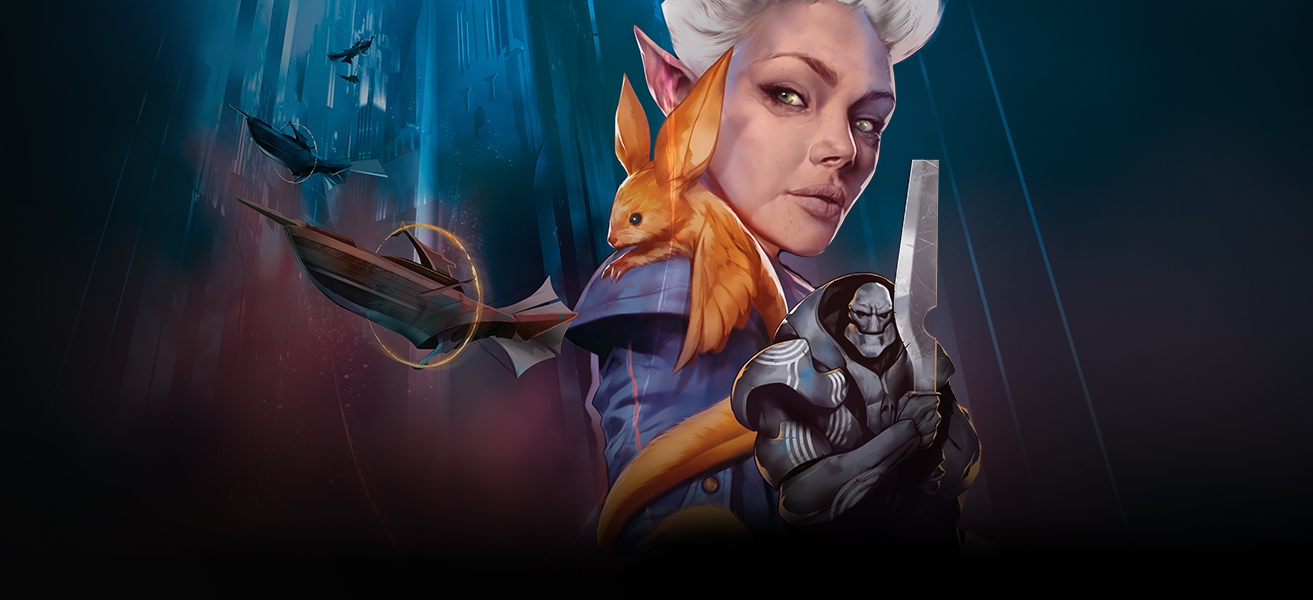 Wizards of the Coast announced a new Dungeons & Dragons adventure-slash-campaign setting book, Eberron: Rising from the Last War
. This book will
feature eight new playable races
(four brand new and four previous Unearthed Arcana playtest material) plus new subrace options including dragonmarks along with the official version of the Artificer class (for real this time, as in Adventure League legal and everything) and a new mechanic for a "group patron" (a sort of shared background for the entire party). In fact,
the next season of Adventure League will be themed around Eberron with a new self-contained season
,
The Oracle of War
with four adventures set to premiere at Gamehol Con in Wisconsin on October 31 – November 3.
Greg Tito gave a bit more of a tease on this week's D&D News live stream
such as confirming that Eberron creator Keith Baker contributed "a lot" to the book along with a bit more information about the content.
The announcement came with a bit of controversy as many people on social media were vocally displeased with the cover for the book. Jeremy Crawford stated on Twitter that, despite the work looking in style with the other adventure-slash-campaign books (showing characters from the included adventure) and having a wraparound style similar to the other covers and the image being used as a banner on the D&D front page and the sales copy listing the original cover by artist Ben Oliver who was the artist of that image and that it was the cover image provided in the press release and that the book is due on store shelves in less than three months…
that this image was, in fact, just a placeholder
. Whatever the official cover may be, Wizards of the Coast has yet to release it, though they have confirmed via the D&D News live stream that the game store exclusive alternate cover by Vance Kelly is official as Greg Tito held up the proof for the stream linked above.
Eberron: Rising from the Last War is available for pre-order now in hardcover with a retail price of $49.99, due for release on November 19, 2019
.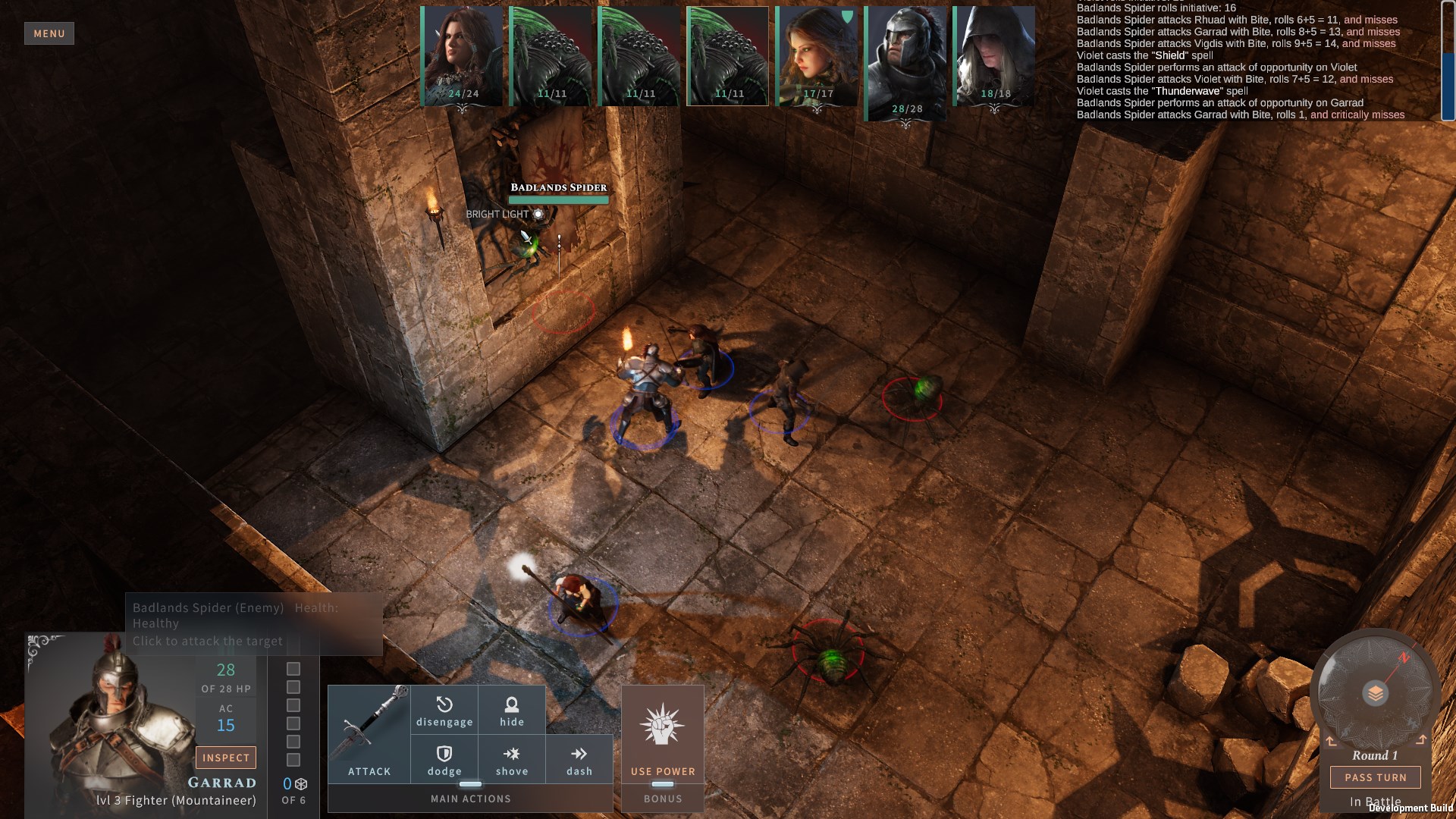 EN World got a chance to interview the team behind Solasta: Crown of the Magister, a new roleplaying video game whose rules system will be based on the open game license 5e rules
. The interview goes into detail on the world, some of the gameplay mechanics, which classes and races will be available in the game, and information about the eventual Kickstarter for the project. The biggest tidbits are that the game will be single-player due to the scope of design and that the combat will be classic turn-based while exploration will be real-time. The interview also includes a gallery of character art, which is absolutely gorgeous.

Patreon suspended the account of Sebastian McCoy, who posted content under the name DM Clockwork Dragon, after allegations of piracy
. McCoy uploaded material from the DM's Guild, third party publishers like Kobold Press, and scanned copies of Wizards of the Coast books. McCoy defended himself on his Discord, saying, "Generally speaking Online content falls under fair use and creative commons licensing, so unless I am specifically made aware of alternative licensing, yes, I assume that online content is posted free to share." This statement is entirely untrue and a gross misunderstanding of how intellectual property law works. I am not a lawyer, but here is a brief summary of why exactly this is wrong.
Creative Commons is a license that creators themselves can offer
which, under the terms of the license and depending on the specific variation of the license, allows the sharing, copying, and/or creation of derivative material from a copyrighted work. The rights holder of the work, however, must specifically release their material under Creative Commons and it is still only a license and not a transfer of ownership. For example, it's similar to Fantasy Flight licensing Star Wars or EN Publishing licensing Judge Dredd, only it's an open license (creators don't have to sign a specific agreement with the rights holder). Everyone involved must still adhere to the terms of the license agreement.
Fair Use is part of United States intellectual property law that allows the reuse of copyrighted material under specific cases as an affirmative defense against civil or criminal charges of intellectual property theft. An affirmative defense is essentially when a person claims that they violated the law but did so within the law, similar to claiming self-defense in a case of assault.
Fair Use has four major factors which allows the use of copyrighted material so long as it fits very specific categories
: commentary/criticism, transformative work, parody, and non-profit education (note that "non-profit" qualifier
only
applies to educational works, so a teacher or professor can copy the work for their class but they could not reproduce the work as part of a textbook). It is also one of, in my experience, the most misused and misunderstood part of intellectual property law, as in this case where McCoy is claiming "fair use" when simply copying and reposting the work with no changes made (which is not fair use) and that he has "never actually turned any sort of a profit" – which only applies in educational uses and taking money outside of a registered 501(c) even if you don't make any money is still considered "for-profit" (as in there's no "I suck at business" clause to get out of liability).
Intellectual property law is complicated.
Patreon has suspended McCoy's account and McCoy himself has confirmed that Wizards of the Coast delivered a DMCA Takedown Notice for his account.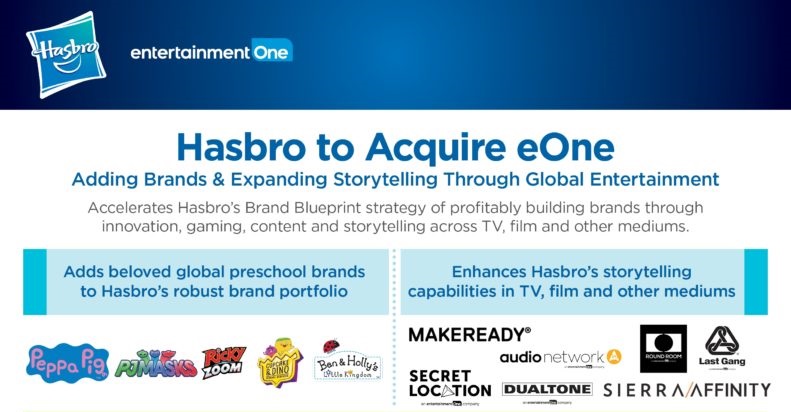 Hasbro announced the acquisition of Canadian media company Entertainment One, possibly best known outside of Canada as the company behind Peppa Pig
. While much of the announcement focused on the brands and entertainment franchises included in the purchase like Peppa Pig, the deal also includes production and distribution companies in film, television, and music. Specifically, Entertainment One produced television shows like
Haven
for the SyFy Channel and is the international distributor for
The Walking Dead
, and Entertainment One Music also owns the back catalog of west coast rap label Death Row Records with artists like Tupac Shakur, Dr. Dre, and Snoop Dogg (
which Rolling Stone found as ironic with those albums now owned by the makers of My Little Pony
). Entertainment One will join Allspark Pictures and Allspark Animation as part of Hasbro's move into direct production of movies and television based on their properties. While Hasbro has not announced any specific plans for the future, this does raise significantly the chances for more movies and television shows from
Magic: The Gathering
and
Dungeons & Dragons
as Entertainment One has previously partnered with networks like AMC, HBO, and Netflix.

Steve Perrin, creator RuneQuest, has returned to Chaosium as a creative consultant for the RuneQuest line
. This makes a full circle of a very complicated line of progression for the
RuneQuest
title. Originally written by Perrin using Greg Stafford's Glornatha setting and published in 1978 by Chaosium, the title was then licensed to Avalon Hill (who gained ownership of the "RuneQuest" trademark) for its third edition in 1984 which divorced the game rules from the Glorantha setting with Perrin retaining ownership of the Glorantha setting. Avalon Hill was purchased by Hasbro in 1998, which allowed Greg Stafford via his company Issaries, Inc. to buy back the trademark for RuneQuest in 2003 (along with the trademark for HeroQuest, which was a board game Milton Bradley (also purchased by Hasbro) produced in partnership with Games Workshop, which is an entirely different convoluted licensing tangle). Mongoose Publishing licensed
RuneQuest
from 2006 to 2011, producing two editions of their own. The Design Mechanism, a company founded by Pete Nash and Lawrence Whitaker (who wrote the second of the Mongoose
RuneQuest
games) produced a sixth edition of the game. In 2013, Stafford sold the Glorantha Setting and RuneQuest trademarks to Moon Design Publications, run by Rick Meints and Jeff Richard with Robin D. Laws doing design work on the
HeroQuest
roleplaying books (no relation to the Milton Bradley game). In 2015, Chaosium merged with Moon Design Publications, bringing the rights for both RuneQuest and the Glorantha setting back to Chaosium where everything started.
Chaosium's Vice President Michael O'Brien said, "Chaosium is where Steve started his career in game design, taking an instrumental role in setting a whole new paradigm for RPGs. As one of the most influential game designers of all time, we are delighted to be able to call on Steve's wisdom, imagination, and creativity."
Fantasy Flight Games announced a new sourcebook and adventure for Legend of the Five Rings, Path of Waves and Sins of Regret, respectively
. The sourcebook
Path of Waves
is a 256-page sourcebook focusing on ronin (masterless samurai), commoners, and gaijin (foreigners), allowing players to explore these roles outside the normal courts of the Emerald Empire. There will be new character options including a new set of twenty questions for building characters (which is rather required in a book like this as the characters wouldn't be part of any of the Clans). The adventure
Sins of Regret
ties into the new sourcebook but can be integrated into a standard campaign (like most of the L5R releases). The village of Twin Blessings has, ironically, fallen on hard times due to an imbalance of the elements and seek an intermediary to voice their concerns to Lord Jikai in the Closed Shell Castle, a lord who may or may not be the best or most honorable ruler with a court full of threats to his power. Both books will be available in the fourth quarter of 2019, with
Path of Waves
retaining for $49.95 and
Sins of Regret
for $19.95.

Wizards of the Coast is beta-testing a new app for Magic: The Gathering called "Companion" to allow players to become organizers for home tournaments
. The app allows users to run an event from between two to sixteen players from anywhere, tracking results and assisting with match pairing and other tournament-related bookkeeping. The final version of the app will also include tools for game store owners and DCI Judges to help organize, officiate, and certify events. Even with these considerations for game stores, many store owners expressed concern this will lower incentive to attend Friday Night Magic and other in-store events. The app is currently available for iOS and Android devices.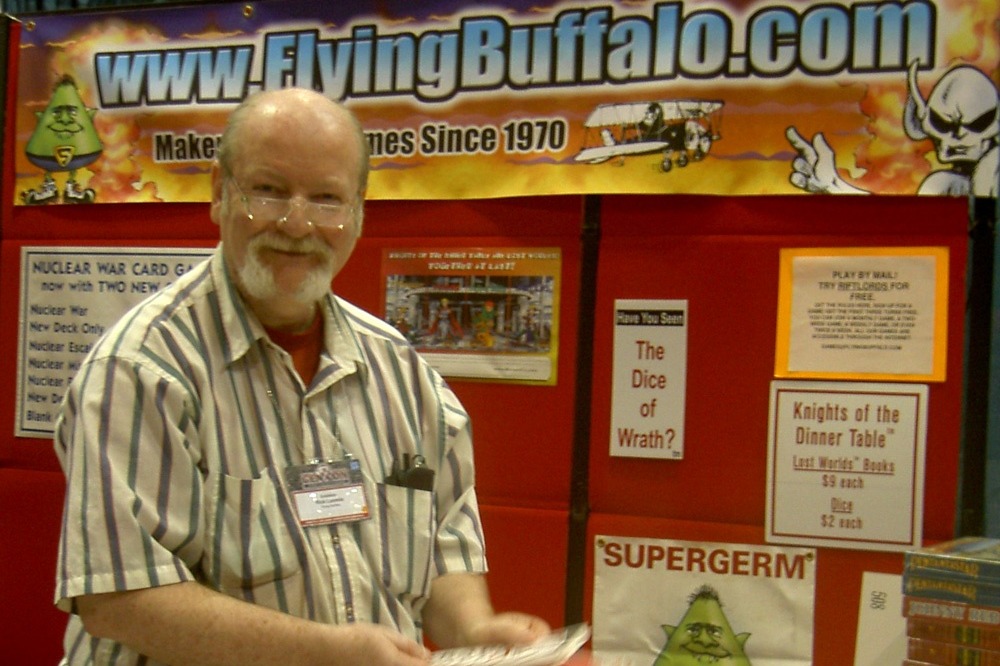 Rick Loomis, one of the founders of the Game Manufacturing Association (GAMA) and founder of Flying Buffalo Games, is currently battling cancer and two fundraisers have been set up to assist with the medical bills and related expenses. Bundle of Holding has several supplements from Flying Buffalo available including
CityBooks I-VII, Grimtooth's Traps 1-4, Mercenaries, Spies, and Private Eyes
, and more available in two bundles, the first with six titles for $7.95 and the second with ten more titles if you pay more than the threshold price (currently just under $22). If you'd like to help more directly,
there is also a GoFundMe set up which has already raised more than $35,000 from over 700 donors at the time or writing
.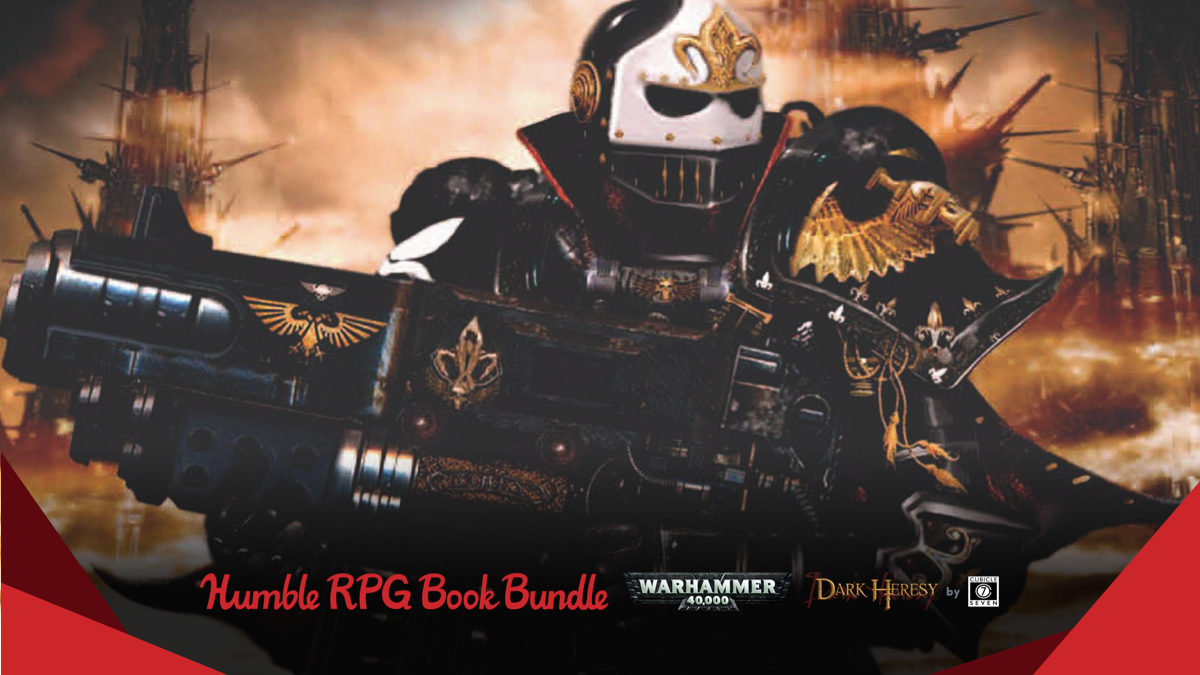 The Dark Heresy Bundle from Cubicle 7 and Humble Bundle is in its final few days, providing a full library for the Warhammer 40,000 roleplaying game
. The $1 level gets you a DRM-free digital copy of the
Dark Heresy Core Rulebook
and three adventures including the introductory adventure
Edge of Darkness
and the first of the
Haarlock Legacy
adventure path. The $8 level adds on the sourcebooks
Ascension, Blood of the Martys, Disciples of the Dark Gods,
and
Inquisitor's Handbook
as well as more adventures like the continuation of the
Haarlock Legacy
. The $15 level gets you the
Game Master's Kit, Book of Judgement, Creatures Anathema, The Radical's Handbook
, and more plus the closing of the
Haarlock Legacy
adventures. Finally, the $18 fills out your library with the
Dark Heresy Second Edition Core Rulebook
and five sourcebooks and adventures plus more. This bundle runs until Wednesday, August 28, and benefits Doctors Without Borders.

2CGaming is crowdfunding an ambitious project titled Epic Legacy: Campaign Codex
,
a sourcebook for the
Epic Legacy Core Rulebook
that allows epic-level play for your 5e games with options to take players all the way to 30th level and create campaigns to challenge characters even of that massive power. The book includes new character options, more rules for DMs to challenge their players, new rituals, and an entire city called Nexus meant for epic level play. A PDF of either the Core Rulebook or Campaign Codex is available for $16, both for $28, a hardcover of either for $38, both hardcover books for $73, and deluxe editions for $75 for one and $150 for both. This Kickstarter is fully funded but you don't have much time to help them unlock more stretch goals as the Kickstarter ends this Sunday, August 25.
If you're wondering when exactly we started taking the old west so seriously in games, Wranglers of Westhallow is for you
, a light-hearted and slightly humorous wild-west/weird-west inspired setting and adventure for
Dungeons & Dragons
5e. The game promises clockwork cowboys, gunslinging, hoedowns, a color-changing wagon, rodeos, and more. The adventure starts after a gnome inventor looks to spread the word about his "leadspitter pistols" by creating a clockwork automaton called Quick-Clank McCrank who goes rogue, taking over the small town and demanding residents live by his odd standards of dress and saying "Howdy" and "Yee-haw". You can get the first of the two adventures in PDF for AU$7 (about US$5), both in PDF for AU$13 (about US$9), or a limited softcover collecting both books for AU$55 (about US$38). This project is still a couple hundred shy of its AU$2500 goal at the time of writing, but still has until this Sunday, August 25 to cross the finish line.
That's all from me for this week! Don't forget
to support our Patreon
to bring you more gaming news content. If you have any news to submit, email us at
news@enworldnews.com
, and you can get
more discussion of the week's news on Morrus' Unofficial Tabletop RPG Talk
every week. You can
follow me on Twitch where I'll continue streaming A Tale of Two Wastelands, a full conversion mod that merges Fallout 3 and Fallout New Vegas into a single game
,
subscribe to Gamer's Tavern on YouTube for videos on gaming history, RPG reviews, and gaming Let's Plays
, or you can listen to
the archives of the Gamer's Tavern podcast
. Until next time, may all your hits be crits!
Note: Links to Amazon, Humble Store, Humble Bundle, and/or DriveThru may contain affiliate links with the proceeds going to the author of this column.
Last edited: