Hello everyone, Darryl here with this week's gaming news. Invisible Sun gets a PDF release, new D&D book for May officially announced following leak, WizKids extends licensing deal with Hasbro for more properties, the first licensed Talisman game announced, and more!
Monte Cook Games launched the Kickstarter for
Invisible Sun
in 2016, pricing the game at a shocking $197 for the core boxed set.
For those who felt that was a bit too much, there is now a PDF version on Drive Thru RPG of Invisible Sun priced at $99.00
. While the price tag is hefty, especially to jump in on an unknown system and setting, the price is justified by the value. The physical boxed set is almost a work of art in its production values, but even the PDF justifies its cost with 1000 pages of content. From the product description:
Invisible Sun is a roleplaying game of surreal fantasy. The player characters are vislae—wielders of magical power—recently returned to their true home: the Actuality, a world that seems like a surreal dream to those of us toiling aimlessly in the boring, grey realm you and I falsely believe is the real world. These characters face incredible challenges, visit breathtaking places, and discover secrets so astonishing that the only ones who can cope with them are those who understand the truth that powers the universe: Magic.

The Invisible Sun roleplaying game is an unprecedented production, filled with massive amounts of content for a unique roleplaying experience. The Invisible Sun PDF contains roughly 80 files, including (and this is not an exhaustive list):



Four books totaling over 600 pages of game and setting content, fully hyperlinked and bookmarked.
Roughly 1000 cards laid out in a printer-friendly format.
The Sooth Deck, a beautiful tarot-like deck that's instrumental to game play.
The Path of Suns, used with the Sooth Deck.
A wide variety of tokens for tracking game info.
Several poster maps.
The Guiding Hand, GM's notebook, in both a printer-friendly and form-fillable format.
Character tomes (similar in function to character sheets in other RPGs) for all four orders, plus apostates, along with grimoire sheets.
Five pregenerated characters.
Loads of in-setting handouts and props.
A gorgeous art book.
And the Invisible Sun app is free from the MCG Shop.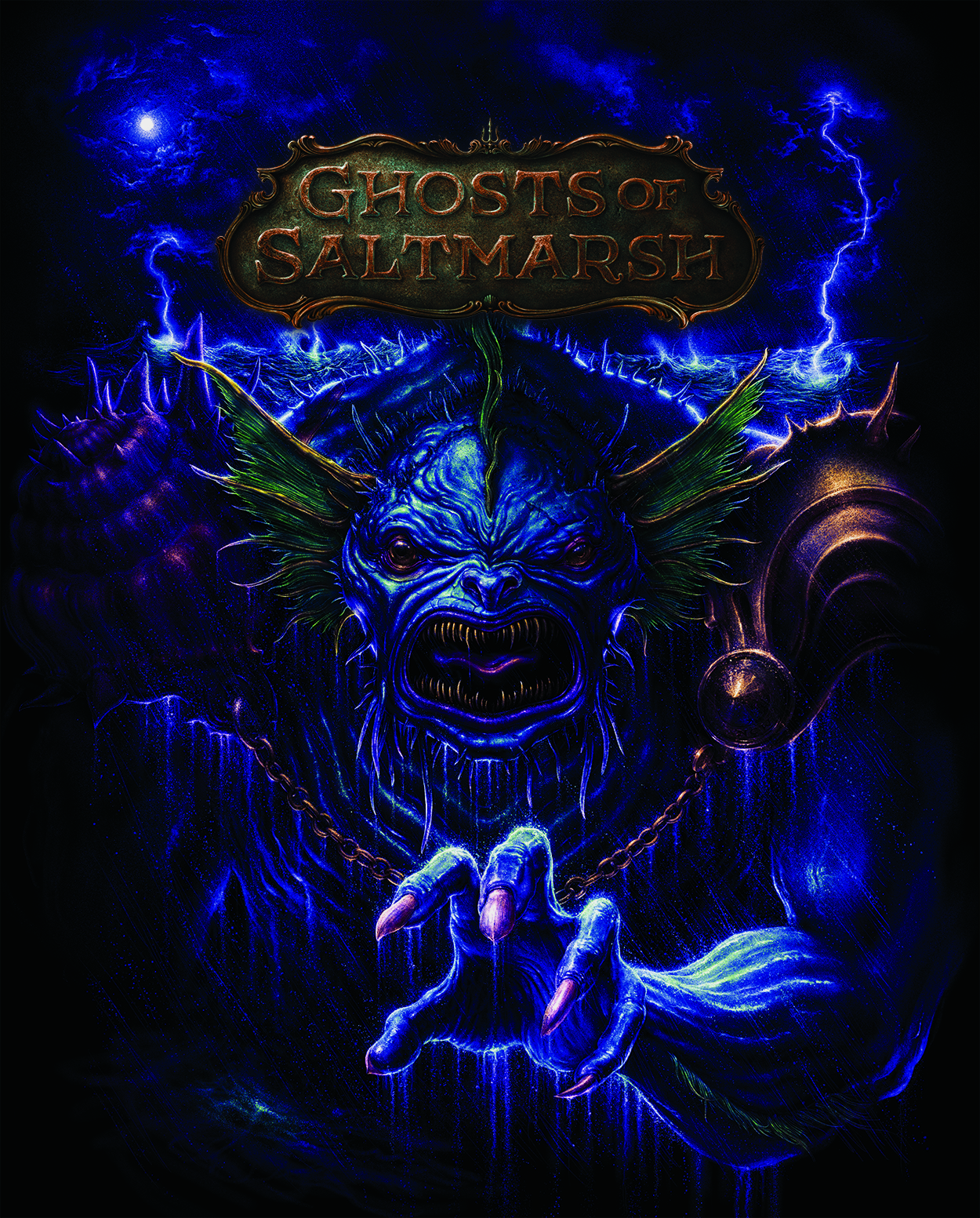 The new book for Dungeons & Dragons was announced twice this week
. The first came when Amazon made public
the listing for Ghosts of Saltmarsh, a hardcover collection of seven adventures that can be run independently or together as a campaign
. The following day, Wizards of the Coast made their official public announcement, stating that the book will be updates of classic modules from the U Series as well as from
Dungeon Magazine
including
The Sinister Secret of Saltmarsh, Danger at Dunwater, The Final Enemy, Salvage Operation, Isle of the Abbey, Tammeraut's Fate,
and
The Styes
. Additionally, the book will have rules and new monsters focusing on the seafaring nature of the adventures along with ship plans and more.
If you want to know more about Saltmarsh or Greyhawk (the setting of the original adventures), they're the focus on this week's Dragon+ issue available via their app
. The book will be available on May 21, 2019, with a retail price of $49.95.
WizKids announced their partnership deal with Hasbro has expanded into other miniature lines beyond Dungeons & Dragons and Magic: The Gathering
. The new lines of both painted and unpainted miniatures will debut later this year. This license includes G.I. Joe, My Little Pony, and Transformers and will be "extensive" according to the announcement. Justin Ziran, president of WizKids, said,
"Much of the WizKids team has grown up with these cherished brands and are thrilled to be bringing them to life with the high definition sculpting processes that our customers have come to love."
No firm details as to the extent, scale, price, or exact release date of these miniatures have been announced at this time.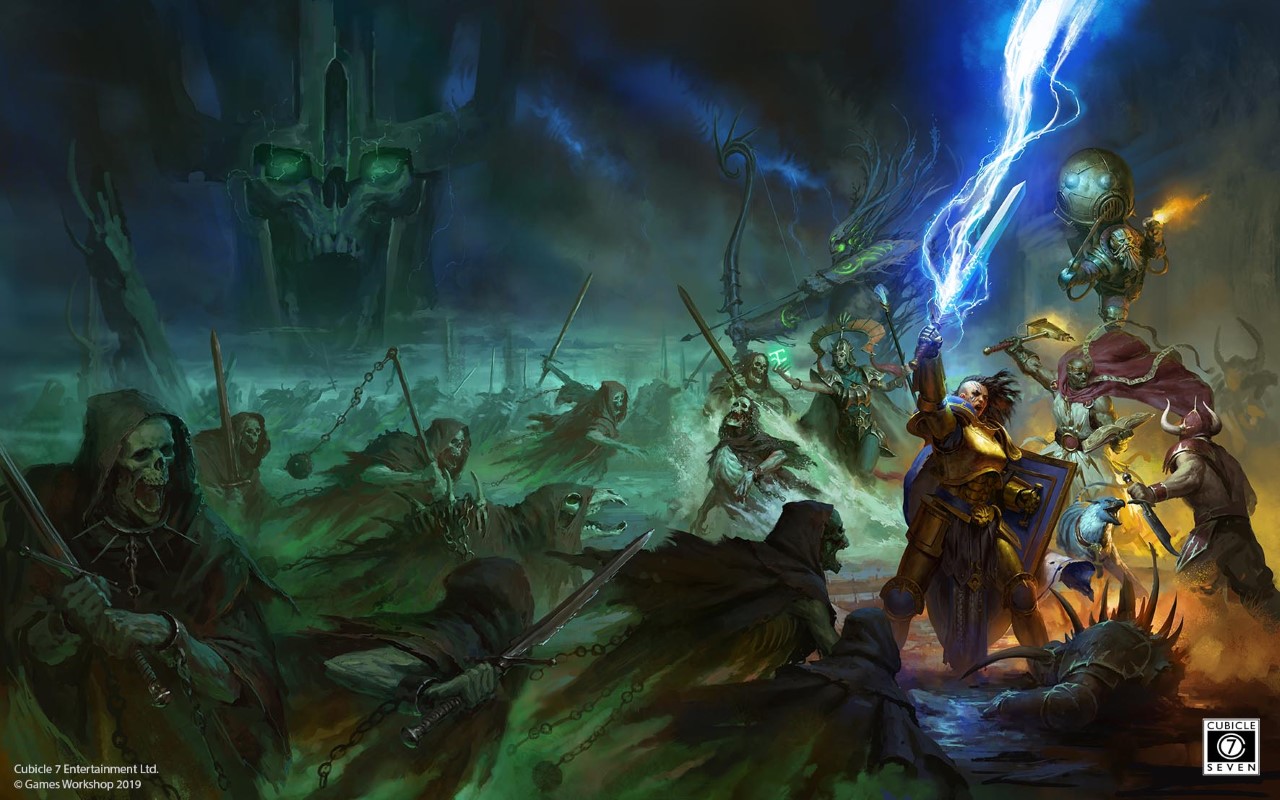 Cubicle 7 gave us the first good look at their Age of Sigmar roleplaying game including the cover
. Based on the current era of the
Warhammer Fantasy
miniature game, this new system will feature a D6 dice pool from a combination of three attributes (Body, Mind, Soul) and various skills. This game is separate from the other Cubicle 7
Warhammer
game,
Warhammer Fantasy Roleplay 4th Edition which launched last year
. The Age of Sigmar follows the events of the Age of Chaos, where the deity Sigmar returns to the world and gives hope to the people, though it also meant the return of Nagash, the Undying King and Lord of Death with a thousand year plan to usher in another age, The Age of Death. No pricing or release date has been announced yet, but more previews of the rules system, archetypes, factions, and more will come soon.
I previously reported on the transfer of the
Talisman
license to USAopoly and their plans for licensed games using the system.
The first of those games has been announced, Talisman: Kingdom Hearts Edition
. Based on the popular Square-Enix roleplaying game that combines elements of the Disney canon with characters and themes from
Final Fantasy
, this game lets you take the role of Sora, Riku, King Mickey, Goofy, Donald, and more with special theming for the series like munny-themed currency, specialized tokens, and custom dice. One can only hope that this game will allow Kairi to actually do something for once. No pricing information is available and the release date is scheduled for sometime this year.
Steve Jackson Games announced the wide release of The Fantasy Trip Legacy Edition
. Previously only available to Kickstarter backers, this massive boxed set is packed with probably too much stuff, as you'd expect from Steve Jackson at this point. Included in the box are both
Fantasy Trip: Melee
and
Fantasy Trip: Wizard
and the
In the Labyrinth
rulebook, the adventure
Tollenkar's Lair
, two solo adventures (
Death Test
and
Death Test 2
), full-color poster maps of the Duchy of Dran and Village of Bendwyn, gamemaster's screen, character sheets, tokens, dice, and over 30 two-sided erasable hex and megahex tiles plus a 14-hex dragon. The boxed set will be available this April with a retail price of $119.95.
The Pathfinder 10th Anniversary Bundle is still going for another week on Humble Bundle
. Even the $1 level gives you the core rules for Pathfinder including the Beginner Box, Core Rulebook, Bestiary, Gamemastery Guide, and more with the top-tier $18 level giving you a total of 50
Pathfinder
rulebooks, sourcebooks, modules, and map packs along with the
Starfinder Core Rulebook
. This bundle runs until Wednesday, March 6.
Also of interest is the Fantasy Game Dev Bundle which features a collection of assets meant for icons in video games
. However, the icons come in both PNG and Photoshop formats and are perfect to use as tokens on a virtual tabletop. The bundle features weapons, potions, chests, and more at the $1 level and, at the top level of $20, gives you tens of thousands of icons and options including monsters, avatars, loot, armor, and more including a set of cart templates. This bundle runs until Tuesday, March 5. Finally,
there's a Star Trek comic book bundle from IDW featuring dozens of comics
from every era of the franchise – TOS, TNG, DS9, Voyager, Discovery, and the nuTrek films (including cross-overs with Green Lantern and Transformers) – that runs through Wednesday, March 13.
Zombie Orpheus Entertainment (creators of The Gamers and JourneyQuest) have a Kickstarter for the second wave of stories in their Strowlers shared universe
. The project is for three different works, a short film with Pepper and Frank, a full
Strowlers
episode set in Copenhagen, and a brand new Pepper Jones novel set during World War II. So far, there's been
three episodes of Strowlers produced and available to view for free from The Fantasy Network
and
on Amazon Prime
, each shot on location in the country they're set in, an absolutely amazing effort for an independent production. A $10 pledge gets early access streaming to both the short and the full episode, while a $25 pledge gets you a DRM-free digital download of all three new works as well as a one month subscription to The Fantasy Network and a $50 pledge adds on a region-free DVD or Blu-ray packed with extra features and an exclusive Rún card from the Bispell deck, and many more levels if you want to get in on the production yourself as a producer. This project is about a third of the way to its funding goal of $26,000 but has until Friday, March 15 to fund.
Another RPG-adjacent project, The Call of Cthulhu Illustrated is a large format artbook featuring the H. P. Lovecraft short story "The Call of Cthulhu" fully illustrated
. Artist François Baranger crafted every image in this volume which contains the entire text of the short story plus gorgeous depictions of the scenes from the story. Also, the stretch goal for a tie-in RPG with the working title "The Great Old Ones" has already been unlocked. The hardcover book is available for a pledge of SEK 300 (about US$32), add on an art print for SEK 500 (about US$54), and a poster-sized print for SEK 1500 (about US$161). Note that the RPG stretch goal is available at only the SEK 500 and above pledge levels. This project is fully funded and runs until Thursday, March 7.
Pocket Games of the 80s from Steve Jackson Games is something I've talked about a couple of times, but this is your last chance to get in
. By this point, the Kickstarter has unlocked so many stretch goals for different classic games and expansions that it might take me as long to type them all out as the Kickstarter has left. Needless to say, if there's an old school game from Steve Jackson you can think of, it's probably here and unlocked. One game is available for $20 with price breaks at four, eight, and ten games plus a $200 level that includes Car Wars, Truck Stop, Crash City, all the expansions, the Ogre expansions, the Illuminati expansions, and seven other games of your choice. Plus there are add-ons for more games or empty boxes. This Kickstarter is fully funded and ends tomorrow, March 1, at 5:28 PM Central Time.
That's all from me for this week! Don't forget
to support our Patreon
to bring you more gaming news content. If you have any news to submit, email us at
news@enworldnews.com
, and you can get
more discussion of the week's news on Morrus' Unofficial Tabletop RPG Talk
every week. You can
follow me on Twitter @Abstruse
where I keep thinking way too much about the 90s TV series
Highlander
,
follow me on Twitch where I am now a partner and will be doing celebration streams featuring the old D&D arcade game and Shadowrun Returns
, subscribe to
Gamer's Tavern on YouTube featuring videos on gaming history and gaming Let's Plays
, or you can listen to
the archives of the Gamer's Tavern podcast
. Until next time, may all your hits be crits!
Note: Links to Amazon, Humble Store, Humble Bundle, and/or DriveThru may contain affiliate links with the proceeds going to the author of this column.