Hello everyone, Darryl here with this week's gaming news! Mayfair Games founder Darwin Bromley passed away, GAMA gets a new Executive Director, Asmodee and Fantasy Flight CEO Steps Down, big convention announcements, and more!
Mayfair Games founder Darwin Bromley passed away on January 1
. Bromley made his mark on the industry many times over, starting with his game
Empire Builder
in 1980. He then went on to publish the Role Aids line of RPG products, the DC Heroes RPG, and, using his expertise as a lawyer, published several unlicensed
Dungeons & Dragons
supplements and modules, winning a lawsuit filed by TSR in 1993. Bromly was also on the forefront of the current board game renaissance as Mayfair licensed many eurogames including the breakout hit
Settlers of Catan
. He was 68 years old.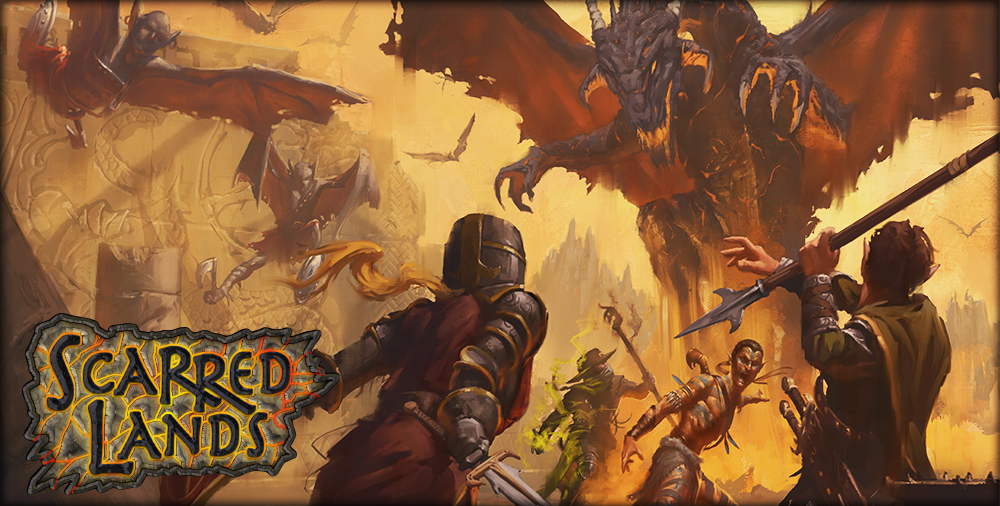 Handiwork Games announced they will be updating the Scarred Lands Creature Collection to 5e
. The
Scarred Lands
gained notoriety as being the first product from a major publisher under the OGL for
Dungeons & Dragons 3rd Edition
, with its
Creature Collection
actually beating the official
Monster Manual
to store shelves due to the staggered release of the core books from Wizards of the Coast. Later, the setting grew into a unique dark, horrific fantasy setting with strong Greek influences published under the Sword & Sorcery label of White Wolf until 2004 featuring setting books, sourcebooks, adventures, and a novel series by Richard Lee Byers. The Greek influence seems fitting as Handiwork Games also recently announced another Greek-inspired 5e D&D setting last month, Hellenistika. Handiwork Games is a new company founded by ex-Cubicle 7 creative director Jon Hodgson and is producing this product under license from Onyx Path, who previously partnered with Nocturnal Media to begin revising the world of Scarn.
Steve Jackson Games announced their own convention
. Tentatively titled FnordCon, the convention will take place in Austin, TX, from April 6-7, 2019. Expectations are for the convention to be very small, around 200 people, and feature events for
Ogre, Car Wars, Fantasy Trip, Munchkin,
and others. A specific venue was not announced yet, though it appears as though one has been secured. More details including a full guest list will be released soon at Steve Jackson Games's official website.
Meanwhile, Hasbro announced that they are postponing the second HASCON
. The event was scheduled for Providence, RI, from September 6-8, 2019, but is now postponed indefinitely. The first HASCON happened in 2017 with guests including the late Stan Lee, actor Mark Walberg, athletes David Ortiz and James White, and musicians Flo Rida and Daya. The official statement from Hasbro spokesperson Julie Duffy states:
"We have made the decision to postpone HASCON 2019. Our inaugural HASCON event in 2017 was a tremendous success and we want to ensure we are bringing the most exciting talent, entertainment, experiences and news to our fans as we look to the future of this event."​
The statement from both Duffy and from the venue, The Dunkin' Donuts Center, indicated that the event would happen but at a later, as-yet unannounced date.
The Game Manufacturers Association announced their new hire for Executive Director, John Stacy
. Stacy has a long background in nonprofit management, working for the Autism Society of Ohio, the St. Johns Learning Center/Literacy Ohio, and Senior Legislative Aid in the Ohio House of Representatives. Speaking on his history with gaming, Stacy said:
"I am a life-long gamer having grown up in a household that didn't have much money but enjoyed spending family time playing board and card games. This led to role playing games during college where I attended CapCon for many years. Next I moved onto strategy games such as Diplomacy and a host of Avalon Hill games and then proceeded to miniatures before returning to board games with a side trip into historical reenacting with a Civil War historical society for a number of years."​
John Stacy replaces the outgoing John Ward, whose contract was not renewed after a decade in the position.
Christian Petersen has officially stepped down as CEO of Asmodee North America, posting a farewell statement to the Fantasy Flight Games website
. The announcement of Petersen's departure was announced in July of last year, coming around the same time as Asmodee's owners seeking to sell the European-based gaming juggernaut. The plan announced in July was to not fill the role but to divide responsibilities between Asmodee North America Publishing led by Steve Horvath and Asmodee North America Distribution led by Andre Kieren. Petersen founded Fantasy Flight in 1995 and served as CEO of the company until its purchase by Asmodee in 2014, where he moved to the role of CEO of Asmodee North America.
The 5e Dragons, Dungeons, Maps & More Bundle on Humble Bundle still has a week to go
. The bundle features a mix of over $446 in PDFs with a huge amount of material ranging from mini-scale maps to setting books to adventures to sourcebooks and more. I've personally been a fan of the Fat Dragon Games PDFs of printable 3D material using a standard desktop printer (not a 3D printer) and cardstock paper, giving you the ability to create a full 3D dungeon and terrain on a budget.
There's also the Professional Photography Bundle with over $570 worth of image editing and design software
including ACDSee Photo Studio Ultimate 2018, Paint Shop Pro 2019, and more to bring the best out of your photos and art. Both bundles are available until Wednesday, January 9.
Steve Jackson Games has five new adventures for The Fantasy Trip on Kickstarter
: The Chaos Triads by Steven Marsh, The Curse of Katiki-Mu by Robert Saint John, and Fire in the Temple by David Pulver plus two more to be announced in February. If those first two sound familiar, they're currently available on Steve Jackson Games's digital storefront Warehouse 23 in PDF format. However, this Kickstarter is to expand the art and layout to the level of a printed product. The bundle of five adventures is available for $20 in PDF and $30 in print, with stretch goals and add-ons to get more The Fantasy Trip books if you missed out on the original Kickstarter for the boxed set. There's also a special $10 level to get the three new PDFs for those who have purchased the previous adventures already. This project is fully funded and runs until Monday, January 14.
An interesting project, Dragon Scales: A Tabletop RPG of Chance is a rune-based roleplaying game designed by a blacksmith
. Task resolution is handled by wagering and casting runes, with a results table based on which (if any) runes are face-up when drawn. Of course, the centerpiece of this campaign are the runes themselves, available in wood, iron, and brass. Because these runes are hand-forged, each pledge level is limited to ensure that the Kickstarter is fulfilled in a timely manner. A $15 pledge gets you a set of six wooden runes, $25 for iron, $50 for brass, and $90 for a set of all three (the printed rules for the game are included with all of these pledge levels). This Kickstarter is fully funded and runs until Sunday, January 13.
The Streets of Avalon is a megacity sourcebook for 5e based on the audio drama of the same name
. The book is planned to be between 110-130 pages (depending on art and layout) and details the city of Avalon, its NPCs, the economy, the local festivals and culture, guilds and noble houses, and more with tips to create adventures focusing on political intrigue, investigation and mystery, heists, or good old fashioned dungeon crawls and monster hunts. The PDF is available for a $10 pledge and the printed book for $24. This project is fully-funded and runs until Thursday, January 17.
That's all from me for this week! Don't forget
to support our Patreon
to bring you more gaming news content. If you have any news to submit, email us at
news@enworldnews.com
, and you can get
more discussion of the week's news on Morrus' Unofficial Tabletop RPG Talk
every week. You can
follow me on Twitter @Abstruse
where I've been documenting my frustrations with MMOs while still thoroughly enjoying the story missions of
Star Wars: The Old Republic
,
follow me on Twitch where I'll get started streaming again very shortly,
subscribe to
Gamer's Tavern on YouTube featuring videos on gaming history and gaming Let's Plays
, or you can listen to
the archives of the Gamer's Tavern podcast
. Until next time, may all your hits be crits!
Note: Links to Amazon, Humble Store, Humble Bundle, and/or DriveThru may contain affiliate links with the proceeds going to the author of this column.