Hello everyone, Darryl here with this week's gaming news! New releases from Onyx Path, Wizards of the Coast supporting a good cause, the 2018 Mensa Select winners announced, and more!
When it comes to
Vampire: The Masquerade
, all eyes seem to be on the upcoming fifth edition, particularly with
the new distribution announcement
. However,
World of Darkness
licensee Onyx Path has been busy as well. Several of the classic fiction anthologies for the
World of Darkness
are now available as ebooks, including
The Beast Within, Truth Beyond Paradox, Rites of Renown, The Endless Ages,
and over a dozen more. In addition, Onyx Path announced that the Kickstarter-funded social deduction game from veteran designer Justin Achili,
Prince's Gambit
, is currently on its way from the printer and should be going out to backers and game stores very shortly. The card-based game supports six to eight players as you attempt to work together to gain favor with the Prince while deciding who among your ranks are Sabbat infiltrators. Finally, the Onyx Dice Rolling App is now live, allowing players to use their Android and iOS devices to easily roll and tally results customizable for any of Onyx Path's games. The app is available for free in the
Apple App Store
or on
Google Play Store
.
Onyx Path and designer Eddy Webb have launched a new comprehensive website the Pugmire and Monarchies of Mau roleplaying games called Realms of Pugmire
. The site is meant to be a one-stop location for information on the game and the ever-expanding lineup of products. The name
Realms of Pugmire
is also now the new official title for all games set in that world. In addition,
Webb launched a column on Realms of Pugmire on the official Onyx Path blog called "Claws and Effect"
. Because of course that's what he named it. The blog will include character creation and adventure design tips along with advance looks at new products and other exclusive content. The new weekly column should have its first full post later this week. Until then, you can also
find more content on Canis Minor, the fan-content creation site through Drive Thru RPG
.
Wizards of the Coast launched a fundraising effort for the Lambert House by offering an exclusive rainbow Dungeons & Dragons ampersand logo t-shirt
. The design is based on the logo from Wizards of the Coast's sponsorship of the Seattle Pride event from 2017 (and has been Mike Mearls's Twitter avatar since then). From the announcement:
"Net profits of this sale will benefit Lambert House, a center for lesbian, gay, bisexual, transgender, and questioning youth. The Lambert House empowers youth through the development of leadership, social, and life skills by offering over 20 programs, activities, resources, and services on an on-going, year-round basis. Funds will go towards helping the Lambert House buy a permanent home for the LGBTQ youth community."
​
The design is available in short-sleeve t-shirts, long-sleeve t-shirts, tank tops, junior, youth, and hoodie in sizes ranging from extra-small to XXXXL (depending on style). The goal set for this fundraiser is for 2000 total orders, which at time of writing the site shows just over 1500. The campaign runs for another twenty-seven days, after which the shirts will be shipped out within "about 2 weeks". Edit: Thanks to reader Dire Bare, I was informed there is also
a Magic: The Gathering version available as well supporting the same cause with a rainbow Planeswalker symbol
.
Mensa announced the 2018 Mensa Select winners, honoring games from their Mind Games event. This year's winners are:
Mensa Mind Games is an annual event that took place this year from April 20-22 in Denver, CO. The event is a marathon gaming session where attendees are asked to judge games based on Mensa's criteria with five games selected at the end. The 2019 event will be held in East Central Ohio in April, with specific dates and venue to be announced.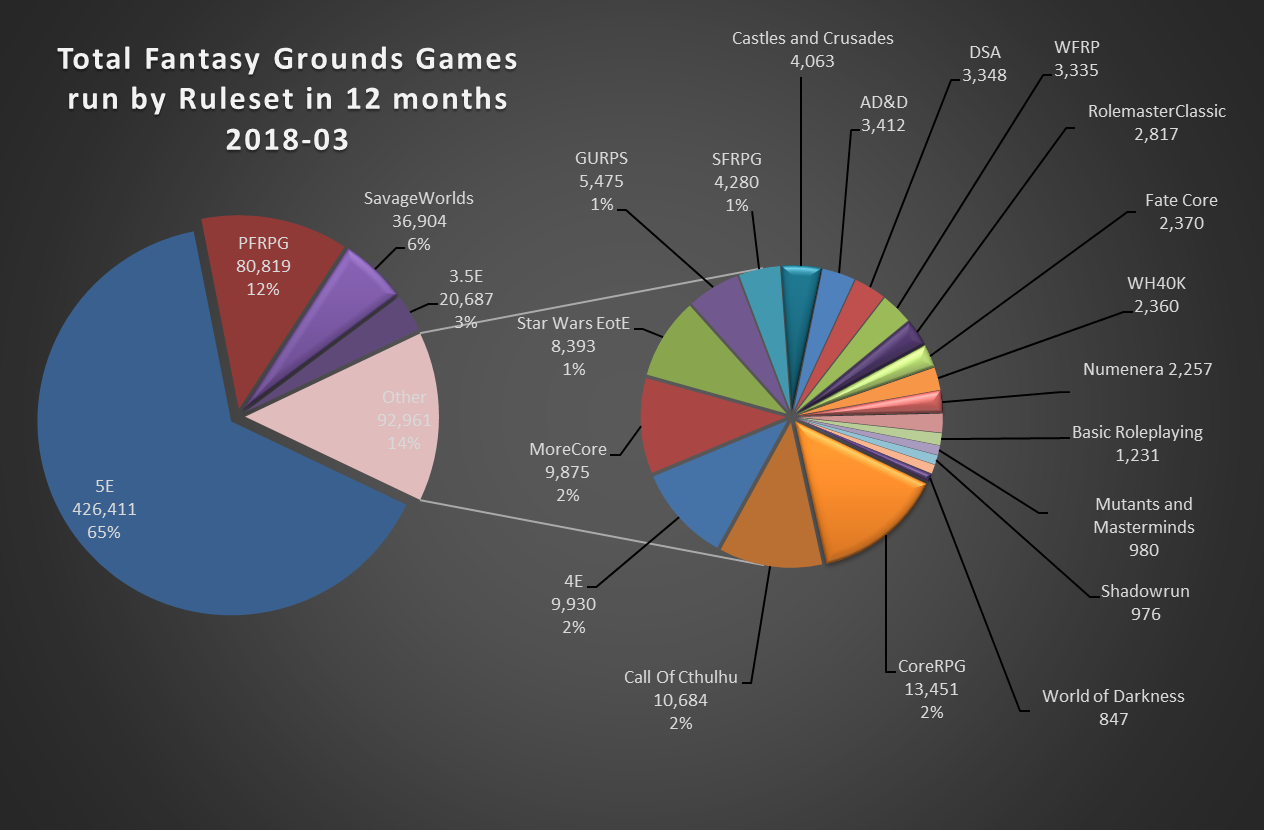 Fantasy Grounds released their 2018 Q1 usage statistics
. It seems that
Dungeons & Dragons 5th Edition
still holds its ground, making up 65% of Fantasy Grounds games.
Pathfinder
holds about 12%,
Savage Worlds
6%,
Dungeons & Dragons 3.5e
3%, and the remaining 14% made up of games at 2% or less. While it may seem surprising that
Starfinder
hasn't made the list, Fantasy Grounds did not launch their module for that system until February, so the numbers for that segment should rise and probably make up a portion of both
Pathfinder
and "CoreRPG" (which is the default module when no specific game system is selected). For comparison,
Roll20 released similar figures for Q4 2017 in February
which showed similar numbers (
D&D 5e
at 58%,
Pathfinder
at 12%, and
D&D 3.5e
at 5%).
Okay, this is something I just couldn't keep to myself.
Twitter user Foone
created a web-based app that
generates screenshots from classic video games that allows you to customize them with your own text
. I may have created a small library of these earlier this afternoon. The app was a "birthday present" to
YouTuber PushingUpRoses
, who is known for her retrospective videos on classic video games, particularly Sierra's point-and-click adventure titles and similar games. The app features more than forty titles ranging from classics like
King's Quest
and
Oregon Trail
to NES-era
Super Mario Bros
and
Legend of Zelda
to more modern classics such as
Doom, Mortal Kombat II, Deus Ex,
and
Metal Gear Solid
. All I ask is that you use this newfound power responsibly (and, if posting in the comments, remember the site's content rules).
Adam Jury-Last is one a name you may not know as well as you know his work
. His design credits include
Shadowrun, BattleTech, Big Eyes Small Mouth,
and of course
Eclipse Phase
from the company he co-founded, Posthuman Studios. Lesser known outside the industry, though, is his expertise in layout and graphic design. His Patreon features columns about game design, publishing, and intellectual property (particularly open licensing like OGL and Creative Commons) that is invaluable for anyone interested in the inner workings of the industry. Pledges are set up for per-article rather than monthly, and range from early access to articles up to a $50 level for publishers that includes a consultation.
Quick Plots RPG Cards from Gamers Tool Kit is an invaluable resource for when your players go off the rails
. This fifty-two card deck features plot hooks useful in any fantasy game with each card featuring a "problem" and three possibilities for what's behind the problem. Perfect for last-minute game prep, inspiration, rumors at the tavern, or just any situation where you need to come up with something fast. The only backer level is for a single deck of cards with prices varying by region, $16 for the continental United States, $20 for Alaska, Hawaii, and Canada, and $26 for the rest of the world. This project is fully funded and runs until Saturday, May 5.
Battlecruiser Alamo, the science fiction series by author Richard Tongue, is finally coming to tabletops through the Battlecruiser Alamo Roleplaying Game
. The game is being written by the author himself along with designer Ed Jowett based on the Era d10 Rules Set. The setting is in the mid-22
nd
century after humans have begun colonizing Mars, Callisto, and Titan following the ravaging of Earth. After a decade-long war for independence, the colonies work together on a mission of exploration and defense in an uneasy alliance. The setting guide is available in PDF for a £5 (about US$7) pledge, the player's guide in PDF for £7 (about US$10) and paperback for £12 (about US$17), the full core rulebook for £19 (about US$27), paperback for £32 (about US$45), and hardback for £47 (about $66). This Kickstarter is fully funded and runs until Sunday, April 29.
The Daughters of the Burning Rose are resin miniatures of "gothic medieval warrior women" scaled in 28mm
that are totally not the Sisters of Battle. No, these miniatures just happen to be at the same scale with a mixture of science fiction and fantasy technology that in no way resembles the intellectual property of another company.
This project also has an update with photos of the actual production models
rather than the CAD renders that many of use. This project has…unusual backer levels as the project is mostly add-ons with each pledge level allowing you to purchase the minis you want up to that amount and getting bonus miniatures, weapon packs, and accessories included at different levels. The first bonus starts at £40 (about US$56) for the Kickstarter exclusive Inquisitor model, £80 (about US$112) adding on the Specialist Weapon Upgrade Pack, £150 (about US$209) adding an accessory sprue and an additional £15 credit, and £250 (about US$349) getting an additional £30 credit. This Kickstarter still has a lot of stretch goals to get through before it funds on Thursday, May 3.
That's all from me for this week! Find more gaming crowdfunding news
by following our Kickstarter news tag
, and don't forget
to support our Patreon
to bring you more gaming news content. If you have any news to submit, email us at
news@enworldnews.com
. You can
follow me on Twitter @Abstruse
where I'll announce when I'll
live stream the new BattleTech video game on my Twitch channel
, follow
Gamer's Tavern on YouTube featuring videos on gaming history and Let's Plays
, or you can listen to
the archives of the Gamer's Tavern podcast
. Until next time, may all your hits be crits!
Note: Links to Amazon, Humble Store, Humble Bundle, and/or DriveThru may contain affiliate links with the proceeds going to the author of this column.