Hello everyone, Darryl here with this week's gaming news! Lots of new BattleTech and Shadowrun news, Privateer Press gets a new CEO, a new D&D class from one of 5e's designers, Donkey Kong is Trans Rights is Human Rights, and a lot more!
2019 marks the 30
th
anniversary of
Shadowrun
and the 35
th
anniversary of
BattleTech
. Considering
BattleTech
was my introduction to "games can be more than
Monopoly
and
Scrabble?!"
and
Shadowrun
was my first real RPG (even before D&D) and one of my first nerdy obsessions growing up, I really hoped Catalyst Game Labs would live up to my hopes for these momentous anniversaries. And they're starting off the first month of the year in amazing form.
First, there's a brand new BattleTech Beginner Box
. With gorgeous art of a Griffin mech (which I hope is a nice flipping off of Harmony Gold after losing their latest lawsuit over
BattleTech
's mech designs), this boxed set retails for $19.99 and includes two high-quality plastic miniatures of the Griffin and Wolverine, a 24-page quick-start rulebook, a hexmap, four MechWarrior skill cards, a 48-age novella from William H. Keith Jr., dice, a four page Guide to the Inner Sphere, record sheets, cardboard tokens for more mechs, and everything needed to get started playing.
Not enough?
There's a brand new core boxed set for BattleTech
featuring by beloved BattleMaster on the cover (hey, another "Unseen" mech…) that features eight miniatures for the Awesome, BattleMaster, Catapult, Commando, Locust (which does not resemble the Marauder in any way), Shadow Hawk, Thunderbolt, and Wolverine. It also comes with a 48-page novella from William H. Keith Jr., a 48-page rulebook, 16-page record sheet booklet, eight pilot cards, eight Alpha Strike cards (for the faster-play variant rules), two all-new hex maps, a 16-page primer on the
BattleTech
universe, two heavy-stock reference cards, cardboard tokens of more mechs, and dice. This set retails for $59.99.
Oh, and if you have plenty of miniatures, tokens, and maps already,
the updated BattleTech Manual with all the newest rules to play
is available in PDF for $9.99. Oh, and that's a Marauder on the cover, yet another "Unseen" mech and one that was originally licensed from
Macross
… Huh, how about that…
Odds are if you're not a mecha wargamer, you know of
BattleTech
from one of two places: The
MechWarrior
series of games, or the Twitch live stream
Death From Above.
While we still don't have a release date for
MechWarrior 5
,
we do know when Death From Above is coming back: Zombie Orpheus will be re-launching the series from their own studios
starting Saturday, January 26 at 1 PM Pacific. Part wargame, part RPG,
Death From Above
is a great demonstration of the
BattleTech
game system as we follow the ongoing campaign with special guest OpFor each week.
(Disclosure: The author of this column has previously done paid freelance copywriting work for Zombie Orpheus.)
Chummer, if you think I forgot about
Shadowrun
, you've got drek for brains.
Shadowrun: No Future is a 196-page sourcebook for Shadowrun 5th Edition, Shadowrun Anarchy, and "whatever version of Shadowrun you play"
. I'm going to say, I love the ad copy for this book as it says that it is a "cyberPUNK" sourcebook (something I think was borrowed from one of my many social media rants) that details the day-to-day life of the average person in the Sixth World as well as the many opportunities Shadowrunners would have to exploit them. From media to sports to simsense to music to movies to pirate news to opera, this is the biggest glimpse we've gotten at the lifestyle and media of the
Shadowrun
world since probably the original 1
st
Edition
Shadowbeat Sourcebook
from 1992. The PDF is available for $24.99.
Over the years I've been a
Shadowrun
fan, the number one compliment I've heard about the system is the world and worldbuilding. The number one complaint has been the complicated rules system.
The streamlined narrative-based system of Shadowrun: Anarchy
brought the rules-lite mentality to the Sixth World, but has been lacking a bit in support since it was launched two years ago. Well, what anniversary would be complete without a present for even the youngest of the family? The new sourcebook
Shadowrun: Chicago Chaos is specifically written for the Shadowrun: Anarchy system
with new contact briefs, characters, plots, and more to drop players right into the hotzone that is Chicago post-Bug City. The PDF is available for $19.99.
Privateer Press announced their new CEO, Bob Watts
. Watts has previously served as VP of Wizards of the Coast, President of Games Workshop North America, and was President and Founder of both Sabertooth Games and Heartbreaker Hobbies. In the statement from the company, Bob Watts said,
"Privateer Press is a company full of talented people who design and produce great games and miniatures. It is a privilege to be asked to join this industry leader and to be part of the continued success with the present portfolio of products, along with new opportunities that lie before us."
This past weekend,
YouTuber Hbomberguy ran a charity event out of spite that raised over $300,000 for a transgender charity
. Harris Brewis, best known online as "Hbomberguy" via his YouTube channel that fills your recommendations with videos proclaiming that Skyrim, Fallout 3, and Sherlock are all garbage, hosted an almost sixty hour Twitch live stream for charity. The impetus of this stream was British sitcom writer Graham Linehan (
Father Ted, The IT Crowd
) going on national television in the UK to petition to cut funding to
a charity to assist transgender youth, Mermaids
. Out of pure spite, Harris started the stream with a modest goal of $500, which was reached before the game to be played (
Donkey Kong 64
) had even launched. The stream continued uninterrupted for over 58 hours as Harris played through the entire game to 101% completion, though two sleep breaks were covered by commentary from other YouTubers joining on Discord and a plastic skeleton sitting in Harris's chair.
The event started with support of big-name YouTubers like Jim Sterling, Natalie "ContraPoints" Wynn, Lindsay Ellis, Dan Olson, Diamanda Hagen, Lewis "Linkara" Lovhaug, and more before it gained peak viewers of over 25,000 with celebrity guests including Rep. Alexandria Ocasio-Cortez, actor Mara Wilson, former NFL punter Chris Kluwe, author Dr. Chuck Tingle, video game designers John Romero and Josh Sawyer, Chelsea Manning, and more. The funds raised during the live stream replaced more than the funding that Lineham attempted to defund the organization of, and organizers are now pointing those wishing to contribute to local organizations supporting trans youth or
to the Twitter hashtag #TransCrowdFund to directly support transgender people in need
. The event spawned an avalanche of fan art, including
the image above from Swedish Twitter user Monoverantus
.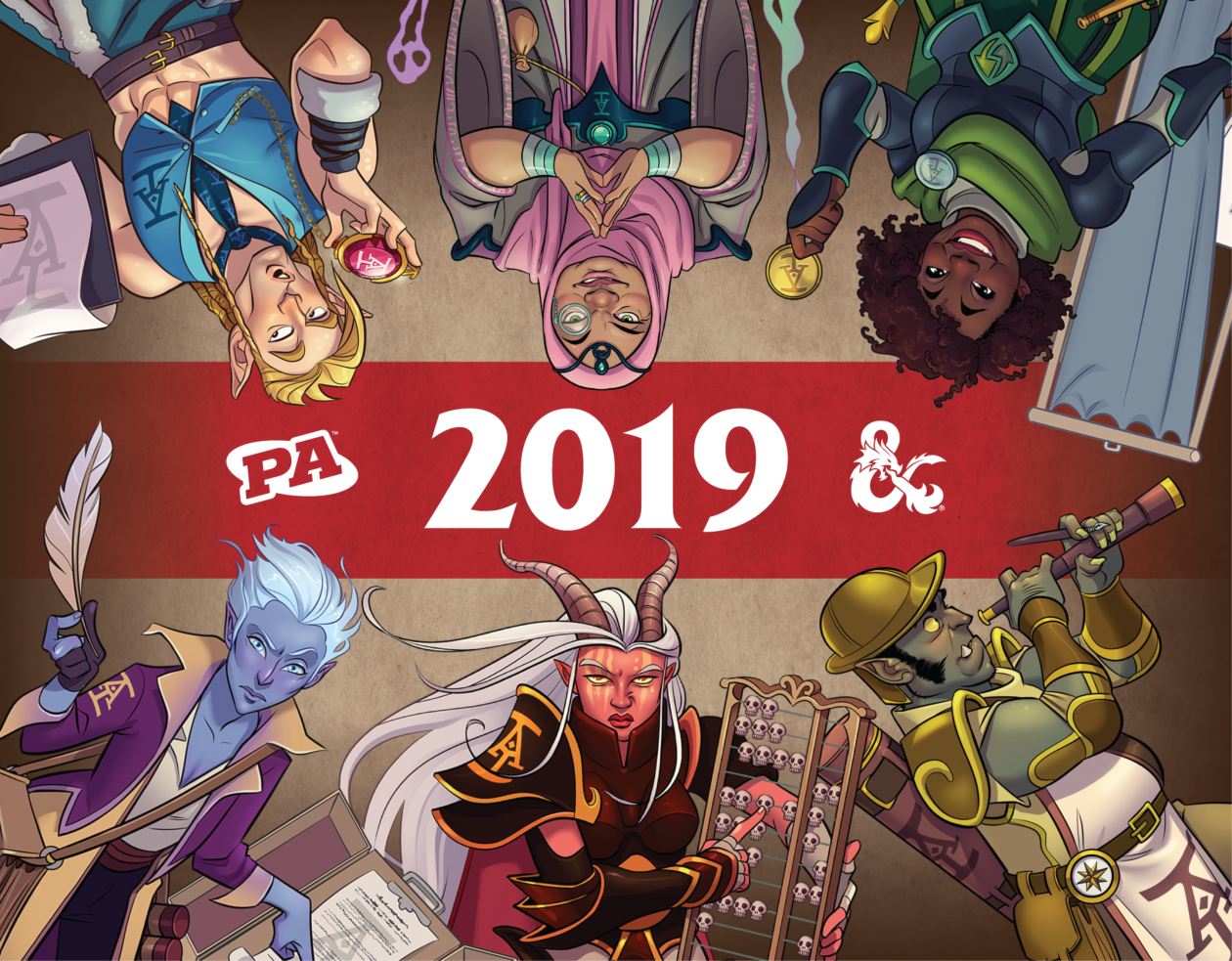 Before there was Critical Role, there was Acquisitions Incorporated. Started in 2008 as a demo podcast for
Dungeons & Dragons 4th Edition
featuring Jerry Holkins and Mike Krahulik from Penny Arcade and Scott Kurtz of PvP, the simple podcast has grown into massive events featuring sold-out crowds at PAX and a global theatrical simulcast, weekly live-streams of the "C-Team", and other celebrity players including Wil Wheaton, Patrick Rothfuss, Morgan Webb, and more.
And now they're getting an officially licensed Dungeons & Dragons sourcebook
. Few details were announced at PAX South on the forthcoming
Acquisitions Incorporated Dungeon Manua
, but it was originally intended as an OGL product slated for Kickstarter when Wizards of the Coast decided to add it as an officially licensed product without the OGL restrictions. The book is due at sometime this year.
Robert Schwalb is one of those names that even if you don't recognize it, your gaming shelf is full of books he's worked on. From multiple editions of
Dungeons & Dragons
to licensed works like
Thieves' World
and
A Song of Ice and Fire
as well as his own creation
Shadow of the Demon Lord
(which is basically an 80s metal album turned into an RPG), Schwalb is one of the greats of our era in game design.
And now, one of the designers of Dungeons & Dragons 5th Edition brings to us "Call to Arms: The Warlord"
. This ten-page PDF features a 5e conversion of the Warlord class complete with options from levels 1-20 with several different subclasses and build options for the Charisma-based battlefield leader/healer class. The PDF is available now for $2.49.
Monte Cook Games has teamed up with Humble to create the Numenera Bundle
. If you've ever been curious about the
Numenera
roleplaying game, this is the perfect introduction as even the lowest $1 level includes DRM-free PDFs of the newest core rulebooks and more for eight total books. Even the $15 level is an amazing deal with a total of 28 rulebooks, sourcebooks, adventures, and fiction with a retail value of $260. This bundle supports the LGBTQ+ suicide prevention charity It Gets Better and runs until Wednesday, February 6.

[video=youtube_share;lNTsMf2Yhp0]https://youtu.be/lNTsMf2Yhp0[/video]​
If I may be a little bit self-indulgent for a moment, I have a personal site unrelated to my work here at EN World and I've just released my first scripted video in over a year. "Deities & Rashomon" examines what the similarities between a classic Japanese film from legendary director Akira Kurosawa and what happened with the AD&D 1
st
Edition sourcebook
Deities & Demigods
and tries to get to the bottom of what actually caused the Cthulhu Mythos to be removed from the book.
That's all from me for this week! Don't forget
to support our Patreon
to bring you more gaming news content. If you have any news to submit, email us at
news@enworldnews.com
, and you can get
more discussion of the week's news on Morrus' Unofficial Tabletop RPG Talk
every week. You can
follow me on Twitter @Abstruse
where I've been talking about some insider secrets of the tabletop industry,
follow me on Twitch where I'll be streaming for sure this weekend because it's my birthday tomorrow,
subscribe to
Gamer's Tavern on YouTube featuring videos on gaming history and gaming Let's Plays
, or you can listen to
the archives of the Gamer's Tavern podcast
. Until next time, may all your hits be crits!
Note: Links to Amazon, Humble Store, Humble Bundle, and/or DriveThru may contain affiliate links with the proceeds going to the author of this column.