If you need to while away some hours, here are five free (during spring 2020), plus two more under $10, solitaire RPG adventures to try. Rules used include
Call of Cthulhu
,
The Dark Eye
, and
Tunnels & Trolls
.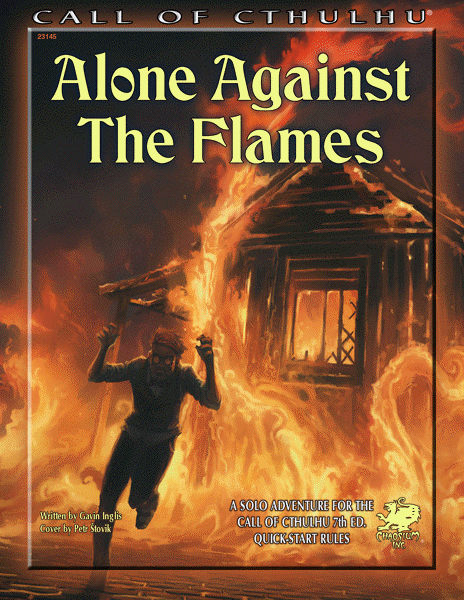 Call of Cthulhu

The

Call of Cthulhu Quickstart Rules

are free. Here's a

review

of

Alone Against the Flames

, the free PDF. I have not tried

Alone Against the Dark

, $6.95, which says it requires the

CoC Keeper's Handbook

.

Alone Against the Frost

, $9.99, is a difficult challenge as you play a professor riding herd on a gaggle of graduate students and a guide in the wilds. Getting out with your reputation or even your life is not guaranteed. The adventure provides a frightening and fun experience.

Frost

captures the dangers of exploring the wilderness especially canoeing and encountering otherworldly horrors out of time and space.

The Dark Eye


The Dark Eye

has two solo adventures with needed rules included.

The Dark Eye Core Rules

include the full rules. As of this writing, all three in PDF are free.

I haven't run

The Dark Eye - The Vampire of Havena

yet but it sounds fun. I decided to start with

The Dark Eye - Conspiracy of Mages

which I was happy to find had a pre-gen wizard to play. The PDF is clickable, meaning you click on the number you want to go to and the page auto advances there. A great enhancement.

This adventure is unique. You are trying to take a test and pass to become a full-fledged wizard at a wizard's school. But first you get sick and have to delay taking your test and then your testing wizard disappears on a day that most of the teachers and students are off campus. Armed with seven spells, you investigate. And what an adventure! At one point, you have thirteen options to pursue but with a timeline. I haven't finished this adventure yet, but it is amazing and inspiring. I may want to run my own magic school campaign someday.

The Dark Eye

seems intimidating (you roll three d20s for skill checks!) but this adventure makes it easy to give the game a try.

Tunnels & Trolls


Tunnels & Trolls

has a

T&T Free Rulebook

and two free solo adventures:

Four Jars of Mead

and the

Temple of Issoth

in

TrollsZine 3

. You have to make your own character, so you'll need the free rules or use this:

Tavernmaster Games: Pre-Rolled Characters for Tunnels & Trolls Vol. I

. I haven't played

Temple

yet but I did play

Mead

.

I'm playing Ojvai, a human warrior skilled in martial arts and swordfighting. I am an Agent of the Death Goddess, a minion of Lerotra'hh, and currently an errand doer for Korkorum, the Master of Transport. He sent me way over to the Great Marketplace in downtown Khazan.

I had to go buy four jars of mead so I tried to find a friend who was a Leprechaun who could teleport me but my luck was bad and he was away so I had to run. I wasn't speedy enough, I was only able to buy two jars of mead, and I was late returning so my master had some Trolls beat me up. One, ow. Two, making Saving Rolls is hard without the right Talent. Three, what a world! Leprechauns and Trolls and the dangers of big city life (reminds me of

Talisman the Board Game

actually). I'll play this one again and now I'm tempted to check out

Tunnels & Trolls V5

or

Deluxe Tunnels & Trolls

which I've never played until now.

Without spending any money I have five solo adventures to play in three different game systems. I really appreciate having these RPG options available. I've tried two new RPG systems and had a lot of fun doing so. Hopefully these solo RPG adventures get you through any slow days you may have.