Now Available
CAREER OPS: JOB FAIR #1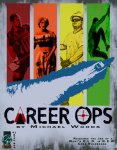 Career Ops: Job Fair #1
a supplement for EN Publishing's N.O.W. The Modern Action Roleplaying Game. It includes new careers, new equipment and vehicles, an add-on to the vehicle combat rules, and a detailed adventure hook.


Inside Career Ops you'll find:
New Careers
The Faller (aka, Logger or Lumberjack)
Wilderness Guide
Museum Curator (also, Curator of the Occult variant)
Offshore Roustabout (also, Circus Roustabout variant)
And bonus career, Freestyle Watercraft Rider

Rules for Thaumaturgy, an optional spellcasting system based on Russ Morrissey's Sorcery option found in EONS #110

New Equipment & Vehicles, including three nautical vehicles

Additional Vehicle Combat rules for Watercraft

The Gaean Order, an eco-terrorist/militant insurgent organization

Bedeviled by the Deep Blue Sea, a detailed adventure hook for 2-4 Grade 5 PCs. A storm is coming, and the PCs are tapped to rescue the crew of an offshore oil rig before the storm hits. But, the Gaean Order means to stop them from seeing things onboard better kept secret. Can the PCs survive the job?

Career Ops: Job Fair #1 requires the use of a What's O.L.D. is N.E.W. core rulebook.


https://www.drivethrurpg.com/product/254331/Career-Ops-Job-Fair-1
Last edited: