Paizo's president, Jim Butler, gave a behind the scenes look at what's happened over the last year as well as a look ahead.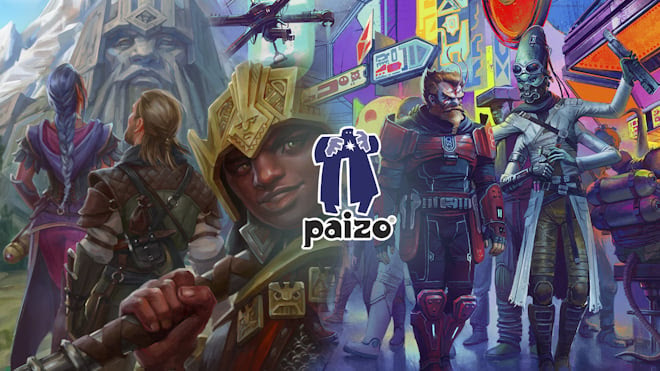 In a press release today
, Jim Butler talks about what's been happening since he took over as president a little over a year ago as well as a look to the future.
United Paizo Workers​
Before he became president, Jim lead negotiations to create the tabletop industry's first-ever collective bargaining agreement. Working together with UPW, they have created an agreement that works for both the company and the employees.
Rise of ORC​
This biggest story of the year has been the OGL and publishers leaving it to create ORC. This was a decision Paizo did not take lightly, but they could no longer operated under a license that another corporation could change whenever they wanted to. This caused them to push back the publishing of scheduled books in order to bring forward ORC Remastered rulebooks in November. The shift will also necessitate a change in the Paizo Compatibility License and Community Use Policy. Those will be available for public comment soon.
Reorganization​
Paizo has been working to streamline operations throughout the company, merging teams to better share and work toward common goals to support customers, distributors, and local game stores. The merging of the creative team also added the ability to create games outside the RPG fold, the first of which will be
Elemental Stones
this fall.
With most of the staff working remotely, they will be closing down their Redmond offices and moving their warehouse over the coming months. There will be some downtime for Paizo.com and the forums as they move their servers to a new data center. They will let the public know about it when they get closer to the move.
New Store and Forums​
As soon as they update their finance platform, Paizo will be replacing their store with a new one. The new store will allow for an easier checkout process with more payment options, a more robust reward program, more subscription options including the ability to skip certain books, and provide better organization.
In addition to investing in a better store experience, they are investigating new platforms to provide a better forum experience. They will provide more updates as they finalize their decision.
Pathfinder Fiction and Licensing​
They will be trying out some new strategies to bring Pathfinder and Starfinder to a wider audience. This is why they've partnered with Owlcat, BKOM, Demiplane, and Hero Lab Online. These games and tools bring more people to the table and make it easier to make characters.
More people means more stories. That includes the ability to use the Pathfinder Infinite and Starfinder Infinite programs to allow creators to produce their own work using Paizo's material and make money for their efforts.
Paizo has also greenlit a standalone Pathfinder novel for 2024. This will allow them to tell stories in ways game products can't and reach fantasy readers.
What's your take on the changes that have happened and are coming down the pipeline?
Last edited by a moderator: