Hello again my friends, it is once again time to dive into a new PAIZO REVIEW! Today we're taking a look at a rare treat – a standalone adventure!
Pathfinder Adventure: The Slithering
promises oozy, slimy "fun" for all sorts of unfortunate souls, so let's see how it breaks down!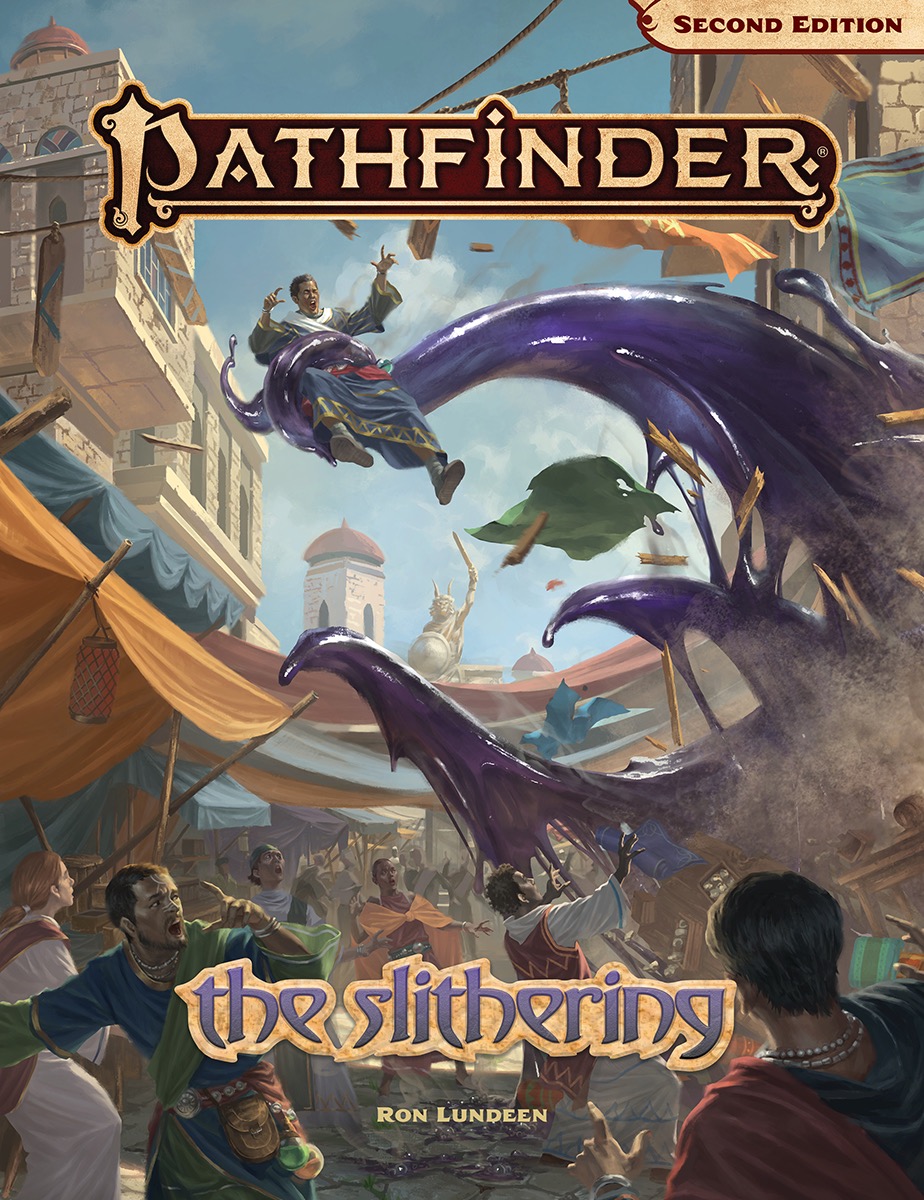 One of the first things that stands out about this adventure is that The Slithering insists that there be
no human PCs
. My first instinct is that designers got tired of seeing their first-edition creations torn asunder by parties of PCs that went human for that tasty bonus feat, but 2E has been out long enough and the nonhuman ancestries have enough going on that I doubt humanity has retained its iron grip on the minmax crowd. If nothing else, this is an excellent opportunity to try out the new ancestries from the
Advanced Player's Guide
!
The opening of the adventure feels a little…perfunctory? There isn't a lot of explanation for why the characters are in Kibwe other than "the characters are in Kibwe", but I do appreciate getting to the point quickly. The adventure dedicates a paragraph to describing what might happen if the characters refuse the main questgiver's help, but it still assumes the characters will continue investigating their way through the adventure anyway. If we're assuming these are generally heroic individuals who are going to investigate anyway, why would we assume they would reject the offer to be paid to do so?
This isn't really a point against The Slithering, but once I saw false leads get shown off in the
Devil at the Dreaming Palace
it's hard to go back to "a fake rumor of your own invention". Even a small sidebar or bulleted list of possible false rumors will help ease the burden on GMs and make it less obvious to the players when they're being lied to.
Now, lets move on to some of the tasty tidbits in Chapter 1! I am beyond tickled that one of the first encounters is with a literal "debate me bro" racist – mmmH! Chef's kiss. It's also an engaging way to throw in a social encounter on what promises to be a pretty combat-heavy adventure.
There's also some delightful setup and payoff sprinkled throughout the first chapter. Much of the first combat-focused location has oozes disguised as horrible puddles or patches on the ground, and subsequent locations take pains to call out odd puddles and patches on the ground. A canny GM will have their party crawling up the walls as soon as they mention damp cobblestones!
A bit more setting weirdness shows up again late in the first chapter. The main macguffin machine apparently hasn't been activated in decades – but Golarion is home to elves and dwarves, whose lives are measured in centuries. Shouldn't there be one of them kicking around in Kibwe (really, any city with weird magical protections) specifically to remember these things?
I'm also not certain the timing on ideation and creation here, but there's something familiar about the structure of chapters one and two in The Slithering. A strange powerful curse wracks a city, the adventure kicks off in a city at the edge of an equatorial jungle, the adventurers hack their way into the jungle for a few weeks of semi-structured random encounters to find an ancient lost city filled with dinosaurs and cultists? I ain't naming names, but I'm pretty sure there's been another big-name adventure that came out a little while ago with similar beats.
I will give the writers kudos as a GM for including a few explicit notifications for information that will be handy later. Even the most studious GM can gloss over NPC names that are initially only mentioned in a random encounter, and this reminder will do wonders for enabling good foreshadowing and payoff. Also, I got a good laugh out of the room in the cult's temple that's explicitly meant for replacing fallen or retired heroes – delightful
and
functional!
The way out of the jungle and back to Kibwe is defined by a massive, single-minded stone golem, and again there's some clever design work on display here. So often we see golems as solitary guardians, and it's a refreshing change of pace to see a golem that pays respect to the dedication golems have to accomplishing a task regardless of the obstacles – like, say, planting a row of seeds along a garden and through a city street, or walking straight through a jungle and some city walls to get back to its proper altar. Clever characters will be able to make use of the golem's strengths and unyielding nature to their advantage.
Once we get back to the city, it's under
quarantine
. Boy, an adventure about a quarantine really hits different these days, doesn't it? That's two for two Paizo has gotten for unintentionally topical adventures, it seems. Particularly vindictive GMs can decide that Kibwe has taken an American approach to quarantine if they want to really up the tension and body horror for their players.
The final confrontation of the adventure puts a button on the overall clever design that's been showcased throughout the adventure. The adventure has some leeway for allowing the players to arrive before, with, or behind the implacable golem, and even includes consequences for their decisions! If the PCs choose poorly, they can still do the required ritual – they'll just need to haul a couple tons of stone up a flight of stairs or two! And, if the characters haven't been clever or diligent enough in finding all the treasures and goodies, they'll have to deal with the baddies using them to their fullest!
The Adventure Toolbox wraps up
The Slithering
, and a special mention has to be made of the oozemorph archetype (dedication? there's so many of these, I'm so tired). It's silly, it's hilarious, it's horrifying, and it opens up the use of a Hideous Ululation. What's not to like?
Pathfinder Adventure: The Slithering
is a fairly straightforward adventure with some very clever and well-crafted design work on display. Some of you may feel like you have seen some of the major beats in other adventures before, but the devil's in the details, and here the details shine.