Plunge your DnD 5e players into
Planet Apocalypse
with a 350+ page sourcebook in a beautiful hardbound version or digital (PDF) format!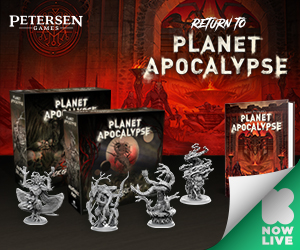 The book is designed, edited, illustrated, and laid out. Digital files will be provided after the campaign funds.
Sandy Petersen got his start at Chaosium in the early 1980s, where he helped develop the original Arkham Horror board game. He is best-known for creating the Call of Cthulhu tabletop RPG, which is still played worldwide. In the 1990s, Sandy entered the computer game world, working at Microprose (Civilization), id Software (Doom & Quake) and Ensemble Studios (Age of Empires & Halo Wars), among others. Today he is chief creative officer of Petersen Games.
More Information or Back Now