This week, Morrus, Peter, and Jessica talk about playtesting a new game. In the news, a Gelatinous Cube toy announced, another million-dollar Kickstarter on the horizon, Star Trek Adventures Utopia Planitia book announced, and more! Plus a brand new sketch about the discourse when a new RPG movie comes out.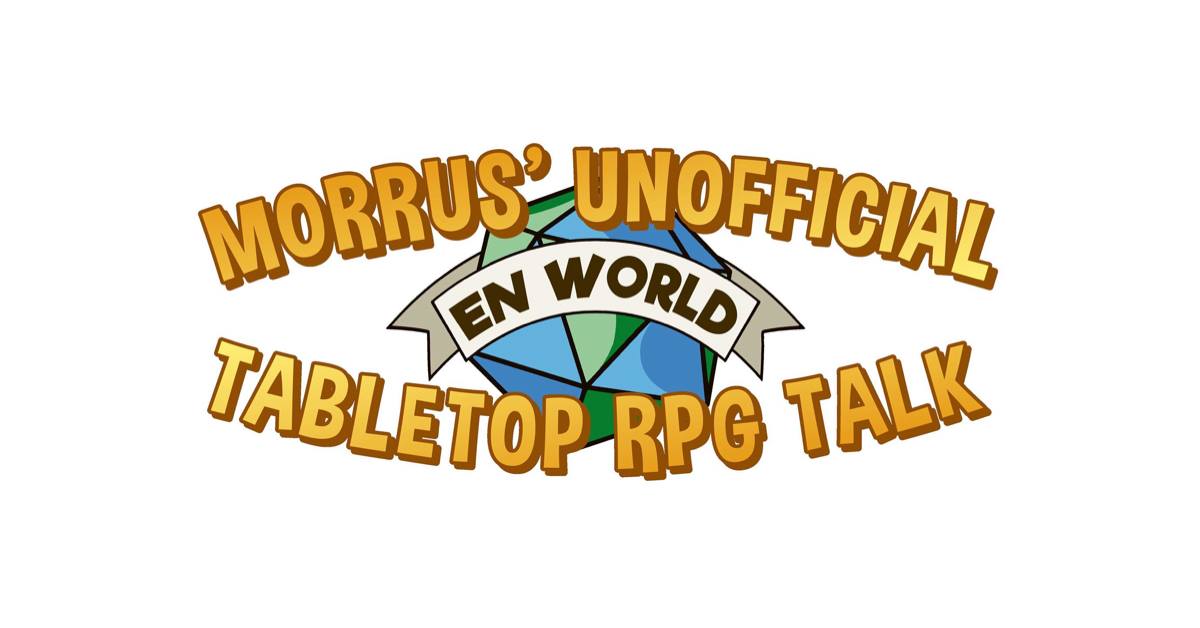 Subscribe on iTunes | Google Play | YouTube | TuneIn | Stitcher | Blubrry | Podbean | Spotify | Android
​
News
Gelatinous Cube Toy for Action Figures
D&D General - Gelatinous Cube Toy For Action Figures
Astral Elves Spelljammer preview
D&D 5E - Astral Elves: Spelljammer's Elves In Spaaaaace!
News Digest for the Week of July 29 (Hadozee preview on YouTube, Star Trek Adventures Utopia Planitia Sourcebook, Hasbro Quarterly Earnings report, D&D movie news)
News Digest for the Week of July 29
Steinhardt's Guide to the Eldritch Hunt: A 5e Supplement
Steinhardt's Guide to the Eldritch Hunt: A 5e Supplement
Pathfinder Revolution Kickstarter (cancelled)
https://www.kickstarter.com/projects/sjgames/pathfinder-revolution-by-steve-jackson-games
EN Publishing's Til Death Do Us Part: Adventures with Heart for 5e
https://www.kickstarter.com/projects/enworld/til-death-do-us-part-4
Stranger Sights: Challenges for 5e and Advanced 5e
https://www.kickstarter.com/project...nger-sights-challenges-for-5e-and-advanced-5e
Circle of the Monster on Dungeonmasters Guild by DM Sarah
Druid Subclass: Circle of the Monster - Dungeon Masters Guild | Dungeon Masters Guild
--------------------
Playtesting
Level Up 5e Playtest Surveys from 2020
Surveys — Level Up (A5E) News — Level Up: Advanced 5th Edition (A5E)
Worlds of Design: A Playtesting Framework by Lewis Pulsipher
Worlds of Design: A Playtesting Framework
Worlds of Design: Playtest Your Games by Lewis Pulsipher
Worlds of Design: Playtest Your Games
Treantmonk's Guide to Wizards 5e
Treantmonk's Guide to Wizards 5e
"Dolphins and Chariots" thread from Ad Astra Games on Twitter
Level Up: Advanced 5e site to sign up for mailing list
Level Up: Advanced 5th Edition (A5E)
-------------------
Please support us on Patreon at
http://patreon.com/morrus
Don't forget to join the Morrus' Unofficial Tabletop RPG Talk Facebook group at
https://www.facebook.com/groups/1033145023517295/
and join us on Discord at
https://discord.gg/VAuxX8M
Ask your Awfully Cheerful Question on Twitter using the hashtag #AwfullyCheerfulQuestion, email morruspodcast@gmail.com, or contact us on TikTok at TikTok
--------------------
Hosts: Russ "Morrus" Morrissey, Peter Coffey, and Jessica Hancock
Editing and post-production: Darryl Mott
Theme Song: Steve Arnott
Kickstarter Game Research: Egg Embry
Kickstarter Game Theme: Lyrics by Russ Morrissey, Vocals by "drwilko", Guitar by Darryl Mott
Malach the Maleficent played by Darren Morrissey
Check out all the media content from EN World at
http://enliverpg.com