This week, Morrus, Peter, and Jessica talk about establishing atmosphere and tone in an RPG. In the news, D&D apologizes for Spelljammer race lore, Monty Python licensed RPG on its way, Paizo's Lisa Stevens retires, a TSR News Update, and more! Plus Five Minutes at DragonCon with Egg Embry interviewing Steve Jackson and a brand new sketch about the party discovering their first Spelljammer ship.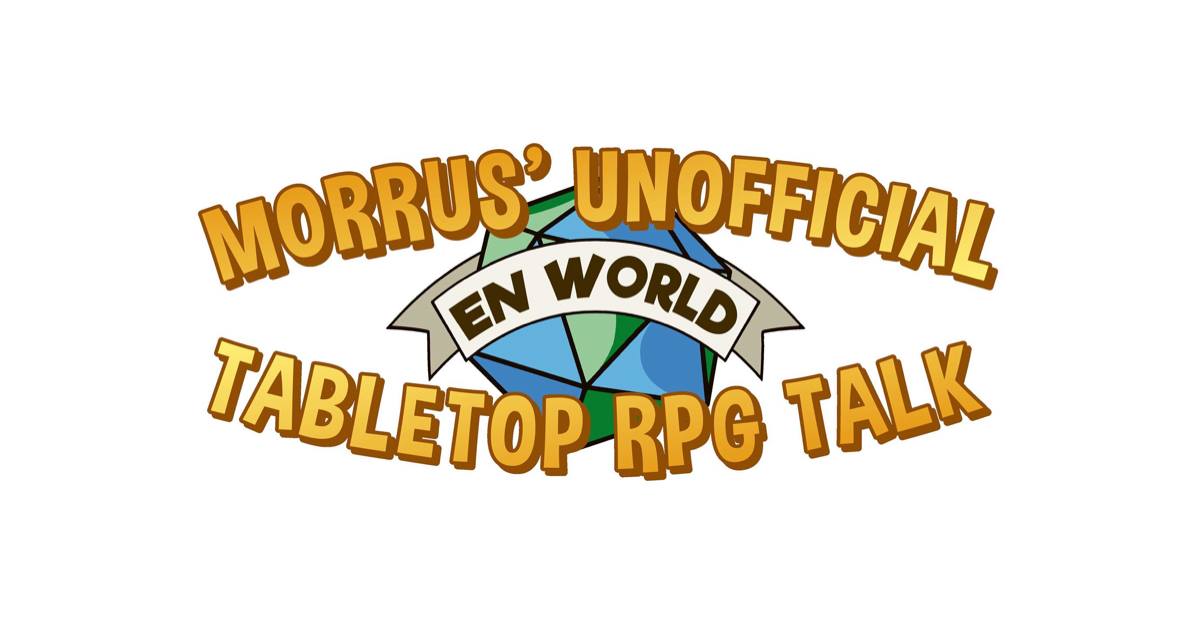 Subscribe on iTunes | Google Play | YouTube | TuneIn | Stitcher | Blubrry | Podbean | Spotify | Android
​
Editor's Note: The original upload of this episode was incorrectly exported causing an issue with the audio. It has now been fixed. I apologize for the error.
News
Monty Python's Cocurricular Medieval Reenactment Programme
There's An Official Monty Python RPG Coming
News Digest for the Week of September 9 (Munchkin Video Game, Paizo's Lisa Stevens Retires, Kickstarter Personnel Changes)
News Digest for the Week of September 9
NuTSR Customer Financial Data Breach
NuTSR Financial Data Breach
Wizards of the Coast Requests Injunction Against NuTSR
TSR - Wizards of the Coast Requests Injunction Against NuTSR
TechCrunch: Patreon confirms security team layoffs
Patreon confirms security team layoffs
Wizards of the Coast Apologizes for Spelljammer Race Descriptions
Spelljammer - WotC Apologises For Spelljammer Race Descriptions
The Anatomy of Adventure by M.T. Black on Kickstarter
https://www.kickstarter.com/projects/1367769523/the-anatomy-of-adventure
A Selection of Slimes by Philip Reed Games on Kickstarter
https://www.kickstarter.com/project...n-of-slimes-odd-oozes-for-rpgs-by-philip-reed
Free League announces Blade Runner Starter Set
Free League Reveals 'Blade Runner RPG Starter Set'
Critical Role and Hipdog releasing Critical Role Makeup
Critical Role
Dungeon Delver's Guide from EN Publishing on Kickstarter
https://www.kickstarter.com/projects/enworld/dungeon-delvers-guide-a-sourcebook-for-5e-and-a5e
Hexagram #10, an Old-School Size for The Fantasy Trip from Steve Jackson Games on Kickstarter (ENDING MONDAY!!)
https://www.kickstarter.com/project...0-an-old-school-rpg-zine-for-the-fantasy-trip
--------------------
Please support us on Patreon at
http://patreon.com/morrus
Don't forget to join the Morrus' Unofficial Tabletop RPG Talk Facebook group at
https://www.facebook.com/groups/1033145023517295/
and join us on Discord at
https://discord.gg/VAuxX8M
Ask your Awfully Cheerful Question on Twitter using the hashtag #AwfullyCheerfulQuestion, email morruspodcast@gmail.com, or contact us on TikTok at TikTok
--------------------
Hosts: Russ "Morrus" Morrissey, Peter Coffey, and Jessica Hancock
Editing and post-production: Darryl Mott
Theme Song: Steve Arnott
Malach the Maleficent played by Darren Morrissey
Check out all the media content from EN World at
http://enliverpg.com
Last edited: