In one of the many threads debating the DMG, hawkeyefan posted this:
The books have rules and processes that are prescriptive. No one complains "don't tell me how fireball works, dadgummit".
That post prompted this one. Because it's not really about the DMG, or even D&D per se, I thought it best to start a new thread.
It's true that most RPG rulebooks - including D&D ones - have rules for both building PCs, and generating immediate effects of their actions. One example is the one that hawkeyefan points to: rules for building a character who can cast a magical fireball, and for establishing what happens when that spell is cast: X amount of damage is done to those within the explosion, which will kill those with X or fewer hit points. Rolemaster, RuneQuest, GURPS, HERO, Burning Wheel - all have similar rules.
In a literal sense these rules are prescriptive: they prescribe how to play the game. But I posit that they are often seen as
descriptive
, in the sense of describing the fictional world of the game. They are seen as analogous to an encyclopaedia + translation manual, telling us what the fictional world is like and how to represent it in mechanical terms.
What that sort of rule
doesn't
do is tell us anything about
how game participants are supposed to go about creating a shared fiction
. How are scenes - basic units of fictional happenings in which the PCs participate - established? How is
what happens next
- not in the sense of
what happens when someone is caught in the AoE of a fireball?
, but rather
what happens to the trajectory of the fiction, given that someone has been killed by (or miraculously survived) a fireball?
.
There are RPGs that do have rules that deal with those things - Apocalypse World and offshoots, Burning Wheel, MHRP/Cortex+, and notoriously 4e D&D - and these are the game typically diagnosed as "overly" prescriptive.
One characteristic of rules that are "prescriptive" in this sense is that they
cannot
be treated as descriptive of the fictional world of the game. No one can interpret a rule about how to open or close a scene as telling us something, encyclopaedia-like, about the nature of the fiction. (Unless playing Toon or a similarly self-referential RPG - the only other one I can think of is Over the Edge.) Rules like this are manifestly directions on how to play, most often directed at GMs. (But by no means exclusively so.)
To me, it seems that the "non-prescriptive" approach to RPGing is an approach in which the rules that are acknowledged and applied are the ones like those for fireball AoE and damage, for sword damage, even for the chance of finding a secret door that the GM has decided "exists" in the fiction; but in which rules that would tell the GM how to make decisions about the fiction are eschewed.
This is itself a particular approach to RPGing, probably the mainstream approach since the mid-1980s (so close to the whole duration of the hobby). John Harper diagrams it this way: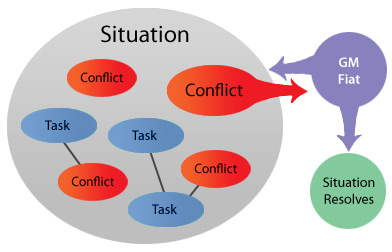 (I can't link to the original posting of this diagram, but thank
@Campbell
for letting me know about it.)
The blue stuff in the diagram is things like "I cast a fireball!". The red stuff is conflicts in the fiction, some of which have stuff like "I cast a fireball!" connected to them. The purple "GM fiat" bit is where the GM decides, unbound by particular rules,
what happens next
in terms of conflict and situation, and the overall trajectory of the fiction. It is the absence of rules -
prescriptions
- which allows this.
Introducing prescriptions to govern these things would significantly change this RPGing.