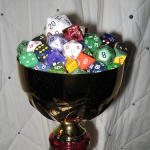 Obsidian Portal (
www.obsidianportal.com
), the ttrpg campaign management website, is holding a community vote for Campaign of the Year to select the best user-made campaign from our 2020 Campaign of the Month winners. These campaigns were chosen by volunteer committee and judged on aesthetics, organization, creativity, effort, longevity, and the ability to inspire others. The voting window will be open from February 14 - 22 and can be accessed via the O.P. blog:
Words In The Dark | The Official Blog of Obsidian Portal
The winning campaign this year will receive an array of prizes:
~ 1 free year of Ascendant Membership on Obsidian Portal
~ 2 copies of the "Atma" roleplaying card game from Meromorph Games
~ Discount codes to the online offerings of Modiphius Entertainment
~ Pathfinder Second Edition and Starfinder Corebook PDF's and Beginner Boxes from Paizo, Inc.
~ Core Book PDF's from Pelgrane Press, makers of titles such as 13th Age, Night's Black Agents, Trail of Cthulhu, and more
~ New campaigns from Mongoose Publishing, like Traveller's "Pirates of Drinax" as well as a special print copy of one of their newest books.
~ Grand Prize: R. Talsorian Games entire digital library - a collection worth hundreds of dollars!
The runner-up campaign will also receive a digital copy of Cyberpunk RED, courtesy of R. Talsorian Games.
Everyone from the gaming community is welcome to participate in the vote by visiting Obsidian Portal's blog during the voting window and choosing their favorite campaigns. Updates, information, and spotlights will be available on OP's social media pages:
www.facebook.com/obsidianportal/
twitter.com/obsidianportal