Virtual Tabletop
Roll20
has hit a big milestone - 2 million users! The VTT launched in April 2012 with 1,500 users. I asked Roll20's brand manager, Suzanne Wallace, what metric that was, exactly, and she confirmed that that means
"The metric is 2 million Roll20 accounts, ever!"
That's an astonishing number of users, and goes to show the incredible growth in online gaming. In fact, it's a sizeable percentage of the total number of people worldwide playing, for example, D&D.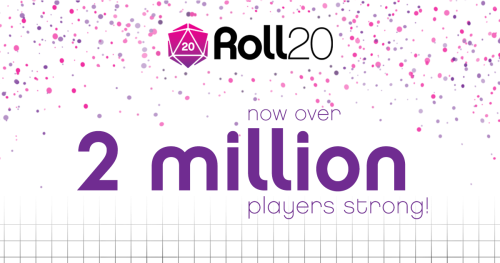 ​
Suzanne also added in a blog post that
"To grow so large in less than 5 years makes us proud and grateful to our wonderful fans. We look forward to continuing to expand our user base in many years to come! 2016 was a busy year for us. We expanded our team by three amazing people; hosted our first-ever Roll20CON; upgraded the FX tool, the API system, and the Art Library; signed a licensing deal with Wizards of the Coast and released three fully-integrated D&D 5th edition modules; and tons more—it was a blur!"
Roll20
frequently provides its usage reports
, and about half the users on the system play D&D 5E.
SaveSave​