Roll20's
latest stats are in
. In terms of games run, D&D has shown its first drop since I last reported on Roll20's stats, from
51.87% in Q2 2019
to 47.54% in Q4 (although it is slightly higher than the
45% of Q3
, which I missed!) Call of Cthulhu rises from 14.3% in Q2 to 15.3%, while Pathfinder drops from 6.5% to about 5% (but recovers from a massive Q3 drop, expected in the run-up to a new edition). In terms of player numbers, D&D dropped by about 1%, while Pathfinder increased by about 2%. Call of Cthulhu had a massive 7% rise.
Pathfinder 2E is the strange number here. Just over 1% in Q4 2019 (which is apparently a rise of 82%). I wonder if some of the Pathfinder 1E stats are being conflated with Pathfinder 2E under the generic "Pathfinder" heading?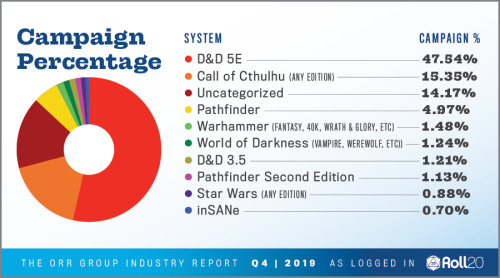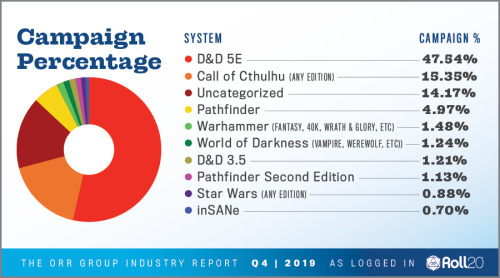 The Orr Group also shows an interesting new stat, with the biggest growths in Q4 2019.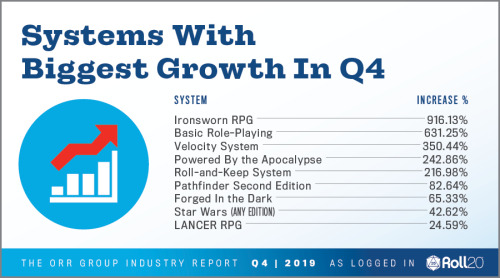 Ironsworn RPG's big spike coincide with Roll20's own in-house stream, so it is to be expected on their own internal reports.
Here's the full list.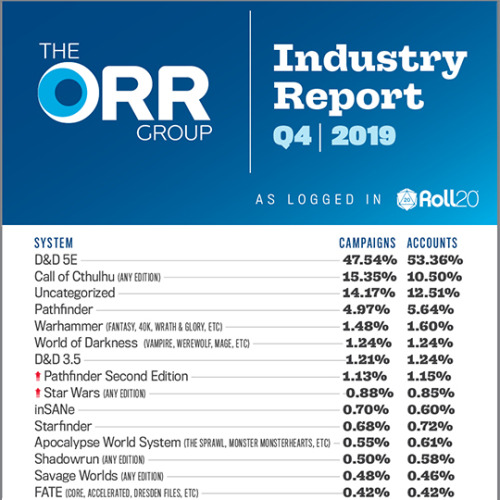 And
here's the Q2 report
.