These RPG crowdfunding projects end by October 29th or sooner. This week is a mix of original projects that use unique systems as well as amazing
Dungeons & Dragons
options. If you're interested in listening to more about the RPG crowdfunding projects in this article,
Morrus
and Peter Coffey have a new podcast for you,
Our Favourite Game in All the World
, which is based on the RPGs I share in this column. Check out that podcast and their others
here
.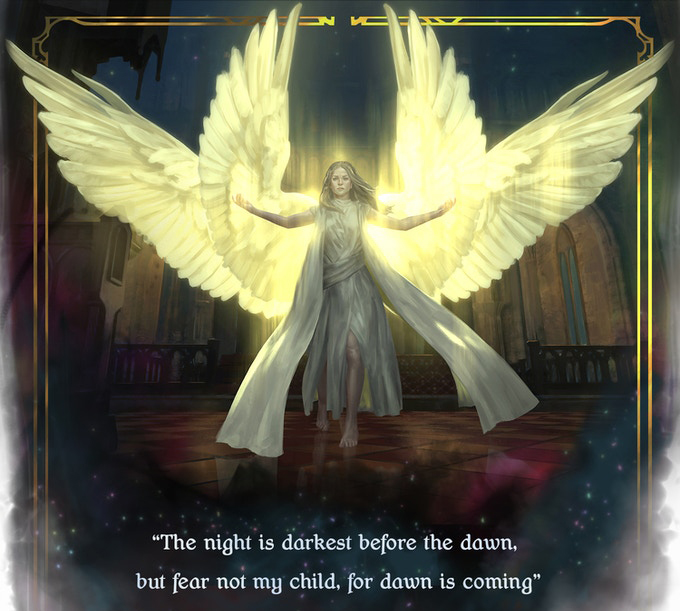 Grim Hollow: The Players Guide
from Ghostfire Gaming

END DATE: Sat, October 24 2020 10:01 AM EDT.
SYSTEM(S): Dungeons & Dragons Fifth Edition
PROJECT TYPE: Sourcebook
MOST POPULAR PLEDGE: $55 + S/H for the PDF and hardcover of the book as well as a deck of cards
"Grim Hollow: The Players Guide is the perfect companion for character creation in a dark fantasy setting! Grim Hollow: The Players Guide is the ultimate players companion for making gritty characters in a dark fantasy campaign. This supplement is compatible with 5e and designed to be friendly for both beginners and veterans alike! The Players Guide contains new subclasses for each class within 5th Edition. Each is unique to the world of Etharis and brings a dark fantasy twist. From the blood magic fuelled Sangomancer to the stern Oath of Zeal, each equips you with the tools to survive in a dark fantasy setting. Become one of two new Transformations within Etharis with the Primordial and the Fey. Call upon the power of the great wyrm and the four elements to become a venerable Elemental or succumb to the allure of the dark mists and the spirits of nature to become a scheming Fey. Each bring their own flavour to the Transformation mechanic and provide a new level of customisation for player characters. Vanquish your enemies with an entirely new school of magic known as Sangromancy, or Blood Magic. The Players Guide brings a wide array of new Sangomancy spells as well as spells from existing 5e schools! Discover a trove of new Magic Items with a dark fantasy twist. The Players Guide brings new magic items in a format 5e players will find familiar, designed to lean on beloved dark fantasy tropes. Additionally, the book brings several new items unique for transformations, enhancing their powers and dampening their flaws."
Terrors and Tommyguns: A Cosmic Horror Noir RPG
from
Drinking Horn Games
END DATE: Tue, October 27 2020 8:00 PM EDT.
SYSTEM(S): An original system
PROJECT TYPE: Core rulebook
MOST POPULAR PLEDGE: $49 + $10 US S/H for the PDF and hardcover of the books
NOTE: Interview at d20 Radio coming soon
"A Cosmic Horror Noir Tabletop RPG set in the 1920s in which monsters and other Terrors walk among us unseen. Terrors and Tommyguns is a Cosmic Horror Noir RPG set in a fictionalized American 1920s city called New Babylon. It uses a modified version of the Rollover system that we introduced in Sagas of Midgard with an elegant means of determining rolls: rather than adding or subtracting bonuses, you determine your "Assets" (based on player abilities and environmental factors) and roll a pool of dice (with a d20 base) against a difficulty class or ("Rollover"). So if the GM gives you a rollover of, say, 15, and you have 2 Assets, you'd roll a d20 and a d6, adding the results (never to fear-- there's a table for this both in the book and on our character sheet). If you roll over the Rollover, you've succeeded!"
Rest in Pieces: Ridiculous Deadbeat Block Tower Roleplaying
from
Imagining Games
END DATE: Thu, October 29 2020 11:00 PM EDT.
SYSTEM(S): An original system
PROJECT TYPE: Core ruleset
MOST POPULAR PLEDGE: $39 plus S/H for the PDF and boxed set
"Play fed-up Deadbeat Roommates stuck sharing a pad with a pain-in-the-ass Grim Reaper in a quick dark-comedy Card & Block Tower RPG! Rest in Pieces is a dark comedy tabletop role-playing game that plays in short sitcom like episodes of about an hour. Imagine playing ridiculous slackers from shows like The Grim Adventures of Billy & Mandy, The Regular Show, Rick & Morty, or It's Always Sunny in Philadelphia. These deadbeat characters aren't the best fit for their dead-end jobs, let alone the ridiculous problems that arise thanks to living with Death or any of the other pain-in-the-ass Fiend Friends we have in store for you. As a player, you'll need a little creativity to succeed as anything more than just another warm body in a world that is constantly "taking a leak" on you. Rain just seemed like such a gloomy metaphor..."
Dalreth 5E fantasy RPG Player's Guide and pewter miniatures
from Darrin Anderson

END DATE: Sun, October 25 2020 11:00 PM EDT.
SYSTEM(S): Dungeons & Dragons Fifth Edition
PROJECT TYPE: Sourcebook
MOST POPULAR PLEDGE: $50 plus S/H for the the PDF and hardcover of the book
"5E Fantasy RPG player's expansion of classes, species, feats, backgrounds, and spells. Includes 32mm highly detailed pewter miniatures. Welcome to Dalreth - Haven in the Ice. The city is surrounded by glaciers and is home to those who have banded together to survive. Political intrigue is rampant between the five noble human houses and the six powerful factions who all compete for limited resources and power. Will adventurers get swept up in the complex and subtle city politics or will they venture outside the city and explore the frigid lands? This is a living city where players' actions shape and influence the future. The city is built south of a long dormant volcano. Hot springs and geysers provide warmth needed for survival. Adventure beyond the city to explore vast glacial tunnel networks with entire ecosystems of creatures living and preying upon one another. Visit the Cuda Tribe and hunt with their warriors. Solve quests and missions for the powerful factions."
5e Side Quests with Map Shield
from Cameron Wright

END DATE: Wed, October 28 2020 1:24 PM EDT.
SYSTEM(S): Dungeons & Dragons Fifth Edition
PROJECT TYPE: Adventure module
MOST POPULAR PLEDGE: $29 for the PDF and physical book plus a bonus PDF
"A book of mini adventures, or side quests, for D&D 5th edition, featuring encounter maps with Map Shields to protect them. 5e Side Quests are adventure modules for the game Dungeons and Dragons 5th edition. This Kickstarter features a minimum of seven side quests. With small tweaks, these side quests can be used with older editions of D&D or other similar role playing games. Each side quest features unique encounters, locations, treasure, and challenges. 5e Side Quests are 6-8 pages each. These side quests are presented as jobs that you receive in scrolls. This way, they can be easily introduced into your current campaign."
Throwing Horns!
from Chuck Paschall
END DATE: Thu, October 29 2020 2:02 PM EDT.
SYSTEM(S): An original system
PROJECT TYPE: RPG zine
MOST POPULAR PLEDGE: $48 with free US S/H for the PDF and zine plus a t-shirt
"Demons in Hell playing METAL! A zine sized complete lite RPG. Your band has joined the biggest tour in HELL! You've got to keep the crowds of demons and the damned entertained with the music spawned from Hell - METAL! Collect PICKS to overcome encounters as the PROMOTER (GM) guides you on your descent. Will your tour make it to the end or will the MARKS of the DEVIL destroy you?! THROWING HORNS is a Lite RPG of devils, demons, and metal. You play a literal band of demons touring the best and worst venues in Hell. The Promoter (aka the GM) will guide you on the tour and throw encounters in your path which you can overcome in the most METAL ways possible. Use head-banging tunes, your demonic commanding presence, or just good ole fashioned violence to beat encounters and continue. This is B&W zine style RPG. 26 pages of art and simple rules using a roll and keep system."
​
RPG Quick Hits
Arkham Archives: the Lovecraftian gamebook. Chapter I of IV
from Delta Dreams
END DATE: Fri, October 23 2020 6:30 PM EDT.
"An interactive adventure with an innovative ruleset, featuring our limited edition, Made in Italy poker card deck."
The Portal at Hill House: a solo RPG of cosmic horror
from Travis D. Hill
END DATE: Sun, October 11 2020 11:04 AM EDT.
"A solitaire journaling RPG zine of cosmic house horror, exploration, and the struggle to survive."
Down the Old Rail Line, vol. 1
from
Exploding Rogue Studios
END DATE: Fri, October 9 2020 11:59 PM EDT.
"A single-player journaling game about a bike journey through a fantastical world."
Winter RPG Adventures - Soundscapes and Ambient Underscores
from Fallen Highway Studios
END DATE: Mon, October 12 2020 7:23 PM EDT.
"Elevate your RPG Winter Campaigns for your players."
Egg Embry participates in the OneBookShelf Affiliate Program and is an Amazon Associate. These programs provide advertising fees by linking to DriveThruRPG and Amazon.
Last edited by a moderator: