This week, I share RPG
Kickstarters
that end between September 6th through the 12th. At least eighteen RPGs and RPG-related
Kickstarters
end during that 7-day period. I try to share them all as links and deep dive seven of them.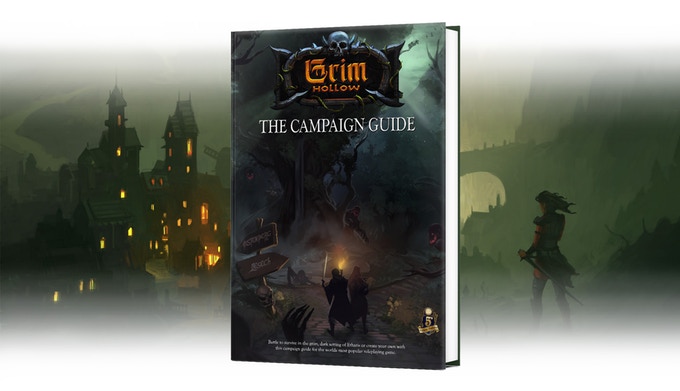 Grim Hollow: The Campaign Guide for 5th Edition
by Ghostfire Gaming
END DATE: Sat, September 7 2019 2:59 AM EDT.
SYSTEM(S): Dungeons & Dragons 5e
PROJECT TYPE: Sourcebook
MOST POPULAR PLEDGE: AU$27 for the PDF of the book
"Grim Hollow is a grim dark fantasy Tabletop Role Play setting for fifth edition of "The world's Greatest Roleplaying Game". Set in the dark, godless world of Etharis, civilization has long forgotten hope and now clings desperately for survival. Within Grim Hollow: The Campaign Guide Game Masters will find over 200 pages of material to set adventures in the dangerous world of Etharis or create their own Grim/Dark setting. From world lore to expanded game mechanics, the Grim Hollow Campaign Guide is specifically designed to shift the theme of a campaign from high/heroic fantasy to something much darker."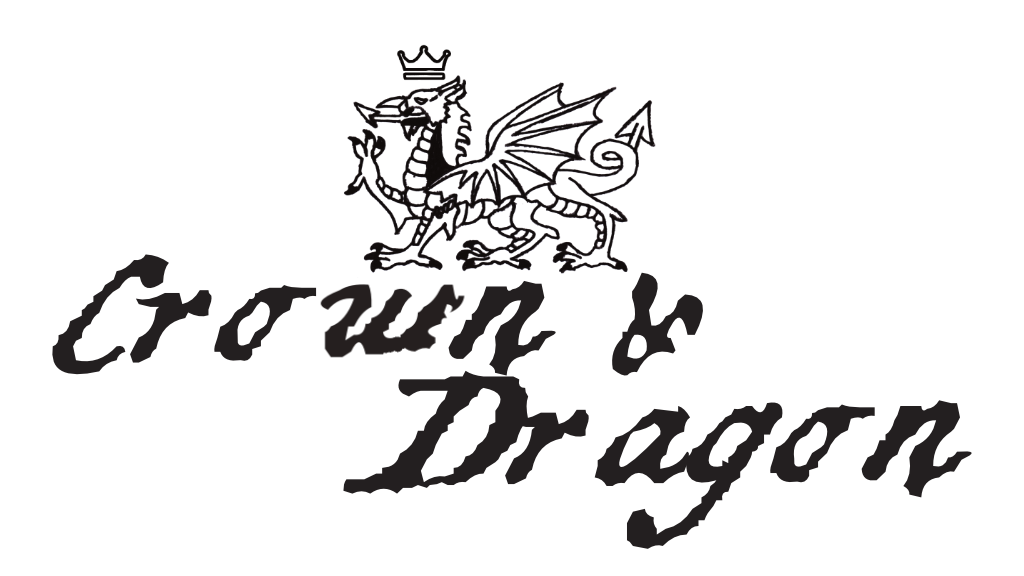 Crown and Dragon RPG
by
Arion Games
END DATE: Sat, September 7 2019 4:12 AM EDT.
SYSTEM(S): Savage Worlds Adventure Edition (SWADE) RPG
PROJECT TYPE: Sourcebook
MOST POPULAR PLEDGE: £13 for the PDF and PODs of the book
NOTE: I interviewed Arion Games' Graham Bottley about this project on d20 Radio (here).
"A Roleplaying game set in the Triple Realm and based upon the novel For the Crown and the Dragon by Stephen Hunt. The year is 1797 and regiments of soldiers march and fight with muskets and bayonets as well as culverins and cavalry. Arcane magic is wielded by Weirdsmen and Mummers, enchanted forest known as the Tumble cloaks much of the land and strange creatures pose a threat to the great warships and merchantmen that ply the seas. This RPG is a licensed setting for the Savage Worlds Adventure Edition (SWADE) RPG by Pinnacle Entertainment Group. It will allow you to run a campaign set in the Triple Realm with the characters enlisted into a Regiment of "Dragon-Browns", those cut-throats, murderers, thieves and killers too base even for the regular regiments. These ne'er-do-wells may be rough around the edges, but they are effective (and expendable) and can be used for all of those dangerous but critical missions and assignments that could not be trusted to regular troops or mercenaries."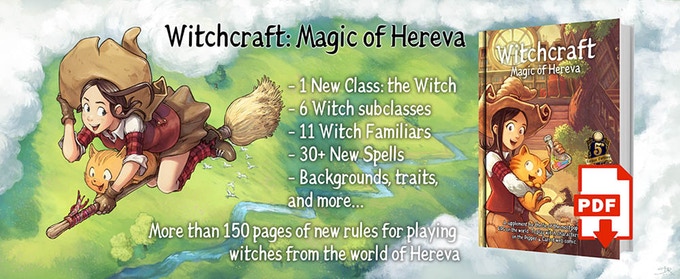 Witchcraft: Magic of Hereva, a 5e Supplement
by Xacur
END DATE: Mon, September 9 2019 12:28 PM EDT.
SYSTEM(S): Dungeons & Dragons 5e
PROJECT TYPE: Sourcebook
MOST POPULAR PLEDGE: MX$290 for PDFs of the book and character sheets
"A 5e Supplement for Witches Characters from the World of Hereva. Based on the web comics, Pepper & Carrot. Hereva is a world of magic created by the forces of Chaos & Evolutions. There, all creatures can make simple magic deeds, but some people devote their lifes to the study of this magic forces. These persons are known as the Witches of Hereva. Witchcraft: Magic of Hereva is a supplement for the 5th Edition of the most popular Role Playing Game in the world, that lets you create player characters with the class Witch of Hereva, on the style of the web comic Pepper & Carrot. In Hereva, the magic is peculiar, it's different to what we expect from a regular 5e campaign, but with this supplement you'll be able to add this kind of characters to an existing campaign or a new one. This supplement includes one new character class, the Witch of Hereva. Among the main features of this class you'll find: a familiar, recover magic energy (called Rea) by external sources, magic item creation, and new spells research. This means this you'll find new rules for magic item creation and spell research for 5e in general too."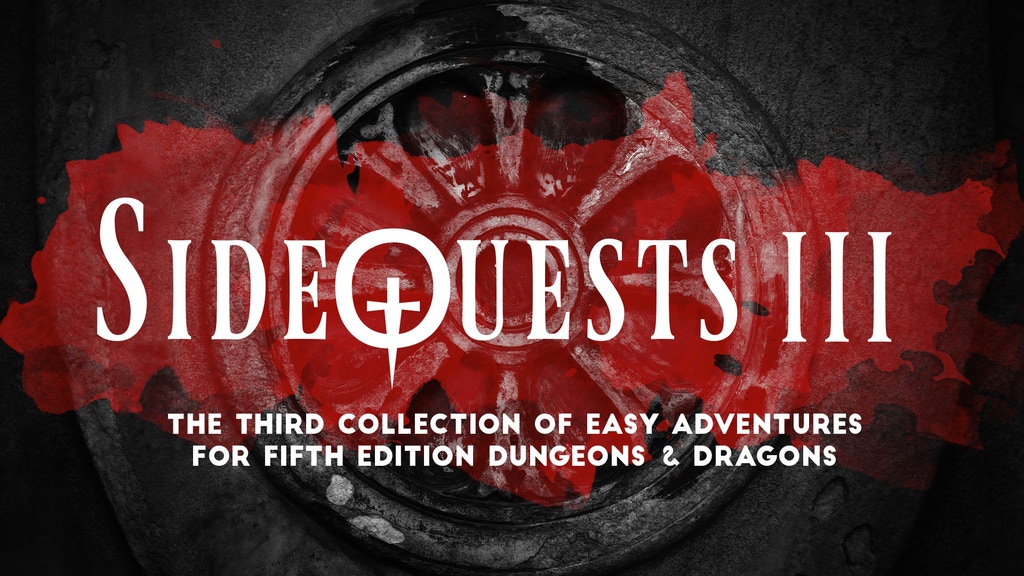 SideQuests 3: More Easy Adventures for 5E Dungeons & Dragons
by
SideQuests!
END DATE: Tue, September 10 2019 3:24 PM EDT.
SYSTEM(S): Dungeons & Dragons 5e
PROJECT TYPE: Sourcebook
MOST POPULAR PLEDGE: CA$40 for PDFs of "14+ Fifth Edition adventures"
"The third collection of one-shot adventure modules for Fifth Edition D&D, designed to instantly implement into your campaign setting! SideQuests are a collection of short adventures designed for Fifth Edition Dungeons and Dragons. These one-shot style campaigns are designed to be compelling standalone stories that can be implemented, played through, and completed in just a few sessions. The four SideQuests III adventures included with this campaign are Murder At The Redhawk Inn, The Demonslayers, Tower of the Damned, and The Lost City."

Cube of Death
by TSR Games
UPDATE: CANCELLED

END DATE: Thu, September 12 2019 2:58 PM EDT.
SYSTEM(S): An original system
PROJECT TYPE: Non-RPG card game
MOST POPULAR PLEDGE: $25 + $11 US shipping for the box set
"The geek trivia card game with an RPG rule set. Answer trivia, navigate a dungeon, and see who's geek-fu is strongest. Cube of Death [is] a geek trivia card game with role-playing mechanics. Players go head-to-head matching their knowledge of geek trivia against one another. There are Hero Cards that allow you to play a character. Every hero has life points and special abilities that they may use once per game. On top of that, there are Adventure Cards that allow the heroes to navigate through a dungeon. They will have to defeat traps, avoid hazards, and battle monsters, all while fighting each other. The game comes with 368 cards and 10 life point sliders in each set. It's packaged in a sturdy, two-part box. All told, you'll get 800 trivia questions, 60 unique dungeon rooms with over 30 magic items, and 8 Heroes with their own special abilities."
Dossier Decks: Merchants, Mages, and Goblins
by
SkeletonKey Games
END DATE: Thu, September 12 2019 5:00 PM EDT.
SYSTEM(S): System neutral
PROJECT TYPE: Deck of NPCs
MOST POPULAR PLEDGE: $42 + S/H for three decks
"System neutral NPC creation cards for use with tabletop roleplaying games. The Dossier Deck campaign introduces a series of tools for game masters to create, customize, and populate their games with detailed system neutral NPC's. To launch this new line, SkeletonKey Games is creating three unique card decks; Merchants, Mages, and Goblins. Each 48-card deck is a stand-alone accessory capable of producing over 4,000 different combinations. You can combine all three decks to open up over 100,000 variations. Each Dossier Deck contains three different card types; Appearance cards, Traits cards, and Story Hook cards. Simply shuffle each card type into its own mini-deck and draw one card of each type."
QUICKSTARTER -
Never Knows Best: An RPG Inspired By FLCL
by Samjoko Publishing
END DATE: Thu, September 5 2019 8:30 PM EDT.
SYSTEM(S): Powered by the Apocalypse and Blades in the Dark variant
PROJECT TYPE: Core rulebook
MOST POPULAR PLEDGE: CA$10 for the PDF and POD (softcover)
"Teens transform into robots to combat absurd creatures embodying their own inner turmoil and societal expectations.

Never Knows Best

is a tabletop roleplaying game inspired by quite possibly the very first anime I ever watched,

Fooly Cooly

, or

FLCL. Never Knows Best

is about

teens struggling to discover their identity

while grappling with what it means to "

grow up

" in a world where society imposes expectations and rules that are counterproductive and, sometimes, absurd. The rules of this game

literalizes

this by making the

inner turmoil

the teens struggle with on a daily basis something

real

and

tangible

. Those thoughts and emotions and pressures become strange,

absurd creatures

ordinary kids wouldn't be able to combat. But

these

teenagers

transform into their robot selves

to take them on, embodying their inner strength."
RPG QUICK HITS
Villainous Locales: Vile Scenario Maps for Any Fantasy RPG
by Infinium Game Studio
END DATE: Sat, September 7 2019 6:44 PM EDT.
"Full-color system-neutral fantasy RPG maps for any setting. Inspired by the #1 bestselling Villainous Compendium for Pathfinder and 5E.
The Realm of the Gateway, a multi-genre pen and paper RPG
. by Griffin Games
END DATE: Mon, September 9 2019 2:20 PM EDT.
"A fantasy/science fantasy pen and paper rpg."
Broken! ~ A Break KickStarter created TTRPG
by Sinopa Publishing
END DATE: Wed, September 11 2019 11:59 PM EDT.
"Get the game for $1 Get the game and vote on design for $5 Exercise the power of your voice & vote to create a fun RPG 5E or M.A.R.S?"
RPG ACCESSORIES
eDice: An universal electronic dice for your tabletop games
by aniPlay
END DATE: Fri, September 6 2019 12:00 AM EDT.
"Rechargeable electronic dice able to select 2~100 face die or formula, featured with game presets, roll history, etc."
Maps: Buildings, Castles and Dungeons for All Fantasy RPGs
by Wyrmkeep Entertainment
END DATE: Fri, September 6 2019 5:14 PM EDT.
"Wyrmkeep Dungeons presents a supplement featuring maps from small to large for use in any fantasy RPG campaign."
Cthulhu Mythos Coins: Limited Edition Final Minting
by Ultimate Custom Coins
END DATE: Sat, September 7 2019 3:00 AM EDT.
"The final four coins are released after fantastic reviews for the March set. Based on Sandy Petersen's vision of the Cthulhu Mythos."
Virtue Symbol 8-Sided (D8) Engraved Polymer Dice
by Caveloot.com
END DATE: Sun, September 8 2019 8:24 PM EDT.
"Custom Dice Inspired by the Virtues from the Ultima Games, made in standard Polymer."
Norse mythology dice
- by Lindorm Dice
END DATE: Mon, September 9 2019 5:59 PM EDT.
"Hi! We are Lindorm Dice, and we are bringing the norse mythos back to life in your dice!"
Elemental RPG Dice by Little Dragon Corp
by Little Dragon Corp
END DATE: Wed, September 11 2019 9:00 AM EDT.
"Elemental Dice, so beautiful you'll forget what you were saying."
The Magical Draught of Happenstance
by Noble Dwarf Printing
END DATE: Thu, September 12 2019 9:43 AM EDT.
"A wondrous magical item of ever-changing potion. This bottle contains 20 different potions, some a boon, others a bane!"
Goldfields: Medieval Village NPC
by ‎Evocatus miniature
END DATE: Thu, September 12 2019 9:43 AM EDT.
"Add atmospheric to your tabletop campaign together STL files of residents of a medieval village for wargames and RPG."
Last edited: