There are a limited selection of RPG and RPG-related crowdfunding projects that end by May 21st. As has been the case since the start of the pandemic, the number of RPG crowdfunding projects continues to fall, but the results for those that remain are positive as seen in the charts below. This week, I report on eight projects that are either funded or likely to. That's down significantly from February when there were
weeks I had over 90 RPGs and RPG zines to cover
. However, as
reported on EN World
and elsewhere,
Kickstarter
runs on volume which is forcing them to implement layoffs.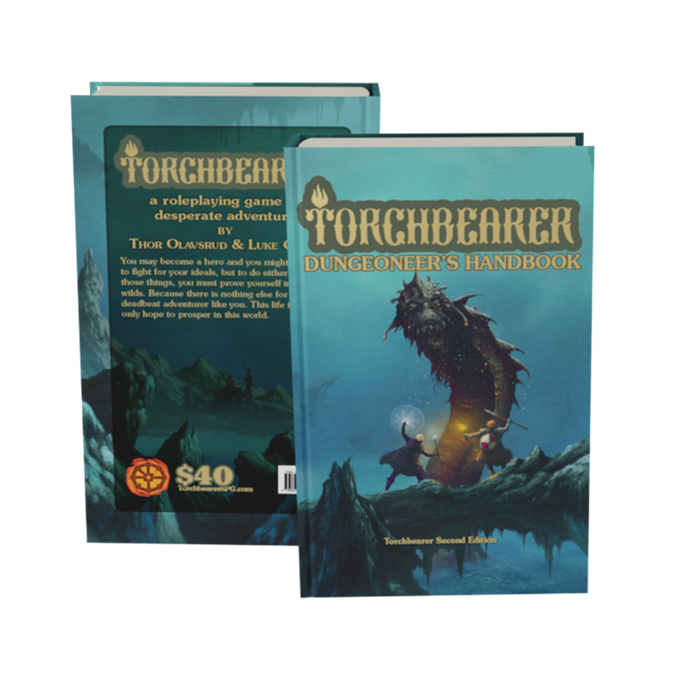 Since so much of the RPG crowdfunding market is done via
Kickstarter
, and the one of the top projects currently running is by Luke Crane, Head of Outreach & International
@Kickstarter
and co-author of
Torchbearer
, I put a pair of questions to him about the state of gaming
Kickstarters
and why he chose to dive into a campaign during the pandemic. While we do not discuss the layoffs, his thoughts relate to the hope we will see more games during this global crisis.
EGG: In your role at Kickstarter, and having a better idea than most because of that position, how would you describe the RPG Kickstarter market during the pandemic?

LUKE CRANE:
The stats show that there was a brief wobble in the
games category
in March, but we've since recovered and begun to climb back into it. The twin launches of
Torchbearer
and
Deadlands
have both been very positive with $500,000 in pledges between them.
EGG: For you, what made now the right time to launch the Torchbearer 2nd Edition Kickstarter?

LUKE CRANE:
We had been planning since February on launching a
Torchbearer
campaign in the spring. But as the pandemic grip tightened and the crisis grew, I became more determined to launch, not less. I wanted to stand up and show that we were still making games. I wanted to plant a flag and say "I know things suck, but games are still important." and I hoped folks would agree with us. We were confident that we would reach our goal, but the actual response from the community overwhelmed us. Folks told us they were grateful for a bright spot during these dark times, happy to have something to rally around and cheer on. So I feel that we made the right decision.
As Luke said, games are still important and I appreciate every creator and publisher that make games during the pandemic and beyond. Thanks for making this time more bearable.
Torchbearer 2nd Edition
by
Burning Wheel
END DATE: Sat, May 16 2020 1:00 PM EDT.
SYSTEM(S): Torchbearer
PROJECT TYPE: Core rulebooks
MOST POPULAR PLEDGE: $100 + $20 US S/H for 3 PDFs and hardcovers, GM screen, 2 decks of cards, card holder, wooden dice, and metal coins
"A roleplaying game of desperate survival. We have been hard at work on a new edition of Torchbearer for over three years now. Based on the feedback we received from you and from our own campaigns and demos since we launched in 2013, we wanted to make a couple of tweaks to the game. Well, those "couple of tweaks" rapidly spiraled into a massive revision. The game is now a two-book set: The Dungeoneer's Handbook and The Scholar's Guide. The Dungeoneer's Handbook: 275 pages, digest-sized (5.5" x 8.5")! Hardcover, linen wrap, swanky end papers, nice paper! A Scholar's Guide to Dangers Various and Sundry: 332 pages, digest-sized (5.5" x 8.5")! Hardcover, linen wrap, swanky end papers, nice paper! The Lore Master's Manual: 200 pages, digest-sized (5.5" x 8.5")! Hardcover, linen wrap, swanky end papers, nice paper!"
The Mescalaro Prophecy Trilogy for Dungeons and Dragons 5E
by
Tomorrow River Games
END DATE: Thu, May 7 2020 4:05 PM EDT.
SYSTEM(S): Dungeons & Dragons Fifth Edition
PROJECT TYPE: Adventure modules
MOST POPULAR PLEDGE: $30 for the PDF and hardcover
"The Mescalaro Trilogy - A 5E Dungeons and Dragons (D&D) campaign with new monsters, magic items and challenges for your players. This project is a combination of three modules into one large campaign to surely delight your adventurers. NOTE: this is a combining and printing of three existing modules: TMP 1 - Mescalaro Prophecy, TMP 2 - Sapelo Island, [and] TMP 3 - Devil's Bridge. In total, the adventures deliver 300 pages of adventures and maps, full color, high quality hard cover printed in the USA, dozens of new monsters, demigods and gods (based on a combination of Meso-American gods), new magic items and spells, challenging traps and treasures that are unique to our games, [and] options for playing with or without any of the Monsters and Demigods, and Chaos Dice supplements."
New Dungeon Craft Series! Two New Terrain books for D&D
by 1985 Games
END DATE: Thu, May 21 2020 10:03 AM EDT.
SYSTEM(S): System neutral
PROJECT TYPE: RPG accessories
MOST POPULAR PLEDGE: $149 + S/H for both books, multiple maps and packs, and a limited edition d20
"Castles & Keeps and Cursed Lands both have hundreds of terrain pieces for you to use in your home game. With 2 new expansions to the Dungeon Craft library, we hope to offer more tools for any Dungeon Master, Game Master, or player looking to build a more engaging battle map. We want you to spend less time drawing your world and more time playing in it. You simply cut out the desired pieces, place them on your map and you're ready to go! Each book contains a large collection of new, reversible terrain pieces, all of which work with wet and dry erase. Castles & Keeps has everything you need to run a castle siege or a diplomatic dinner party, while Cursed Lands explores the dark depths of a gothic horror-style world. Both books offer hordes of themed creature pieces to heighten your adventure. Each book offers over 700 high-quality pieces for you to craft your encounters with."
NPC Portraits Decks: Adventurers, Townsfolk, and Hirelings
by
Inkwell Ideas
END DATE: Wed, May 20 2020 11:00 PM EDT.
SYSTEM(S): System neutral
PROJECT TYPE: Deck of NPCs
MOST POPULAR PLEDGE: $35 + $5 US S/H for 3 NPC decks
"Non-Player Character card decks for any RPG. Portraits on the front. Personality and background on the back. Each card is a character, with a portrait on one side and suggestions for playing the NPC on the other. The portrait on the front of the card can inspire the GM and spark the imagination of the players. Our NPC Portraits decks have been popular for years. These decks increase the art quality and provide consistent top-notch writing by Andrew Shields. He packs the back of every card with the character's personality, suggests a strength, quirk, quote, etc. (depending on the character) for portraying the NPC, and provides background to enrich your game with ideas for working the character into your adventures. All character cards have a "Leverage" section that suggests how the character reacts to deception, intimidation, and persuasion. We plan to make at least three new decks, each with 52 NPCs."
Dragon Fighters: Advanced Musha Shugyo RPG
by
Acchiappasogni
"The Fighting Board Game that feels like an Arcade Console. Dragon Fighters is a Board Game, a Roleplaying Game, a Card Game and much more! You can play Dragon Fighters in many different Game Modes such as solo, with your friends, as a simple Board Game, or storytelling your amazing adventures as a wandering warrior. Like a real Arcade Machine, Dragon Fighters will support multiple action games like space shooters, adventure games, fighting games, and more. With this Kickstarter project, you can get the basic Dragon Fighters or in conjunction with its dedicated Modules and Arcade RPGs too! In Dragon Fighters, you will take the role of an extremely skilled martial artist who undertakes a journey to achieve perfection in their fighting style and control of their inner energy... their Chi. After years of fighting and grueling training, you have awakened your Dragon Chi, legendary energy that only mythological heroes (such as superheroes, demigods, glorious warriors, epic champions, and the like) have been able to harness in the past. This story is about your Musha Shugyō (literally translated from Japanese as "a warrior's pilgrimage") and how you will use your spiritual energy and martial arts to change your life ... or the world!"
Vala the Beast Heart - Chapter One
by Ashcan Comics Pub. (ACP Studios)
END DATE: Thu, May 21 2020 4:00 PM EDT.
SYSTEM(S): An original system
PROJECT TYPE: Core rulebook
MOST POPULAR PLEDGE: $35 + free US S/H for pogs, comic, game card, and more
"A New Way to Read & Play. POGS & Dice, Viking-Inspired Story Game. RPG/Adventure/Fantasy Genre. Ashcan Comics Pub. (ACP Studios) presents Vala the Beast Heart, our first story game. The 9 realms are set to collide once again! Follow our shieldmaiden, Vala, as she battles the kraken and begins her adventure to restore balance. Play the game and relive the tale. You've never played Pogs like this. Slam the stack to trigger damage. Join Vala! Grab your Rune Slammer, smash the Pogs, and defend Midgardia! ACP Studio's first game! This pack will get you started, but you will need a standard 6-sided dice."
Grimmsgate
by Frog God Games
END DATE: Wed, May 13 2020
SYSTEM(S): Dungeons & Dragons Fifth Edition and Pathfinder First Edition
NOTE: This crowdfunding campaign is running on IndieGoGo. Unfortunately, Kicktraq does not track crowdfunding projects on IndieGoGo as of this writing
NOTE 2: For those concerned about coverage of a project from Frog God Games, I'm linking the Joint Statement of BJ Hensley and Frog God Games
"A low-level adventure for 5e D&D and Pathfinder 1e, written by Matt Finch."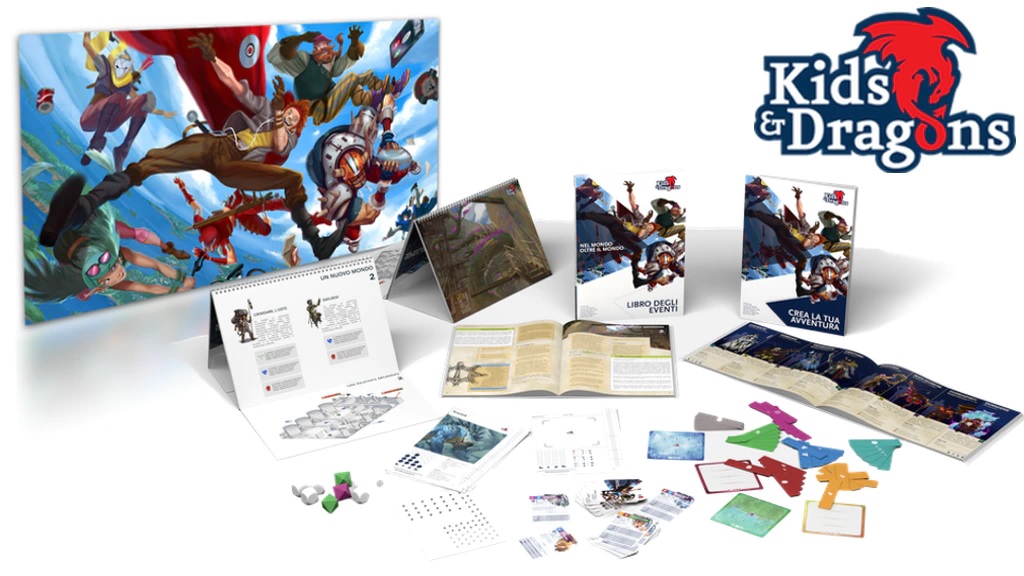 Kids & Dragons
by Kids & Dragons
END DATE: Thu, May 21 2020 3:17 AM EDT.
NOTE: This game is in Italian
"Kids & Dragons è il gioco di ruolo per ragazze e ragazzi (e genitori) che non hanno mai giocato di ruolo: apri la scatola e gioca!"
​
As with everyone impacted by the coronavirus, my thoughts are with those
Kickstarter
employees impacted by the layoffs.
Egg Embry participates in the OneBookShelf Affiliate Program and is an Amazon Associate. These programs provide advertising fees by linking to DriveThruRPG and Amazon.