I'm looking at RPG
Kickstarters
that end between June 28
th
and July 4
th
. I feature several that complete on July 4
th
, America's Independence Day holiday, which makes the end date interesting – will the holiday impact final day pledge amounts? Check them out to see.
Quietus: a roleplaying game of melancholy horror
by Oli Jeffery
END DATE: Sun, June 30 2019 11:31 AM EDT.
SYSTEM(S): Forged in the Dark
PROJECT TYPE: Core rulebook
MOST POPULAR PLEDGE: £27 plus S/H for the PDF and hardcover of the book
"Quietus is a one-shot, no prep RPG of melancholy horror, inspired by tragic horror films like Oculus, The Strangers and Don't Look Now. It's a game for a GM and one or two players, and emulates a piece of fiction can make you cry and scream, then it's a great model for the sort of stories that you can tell with Quietus. This is a game of slowly building dread, tension and tragedy. The mechanics of Quietus are inspired by Forged in the Dark, the award-winning system behind John Harper's Blades in the Dark, streamlined and repurposed for one-shot play and the horror genre. There are no easy choices in Quietus. You can gain dice by raising your anxiety - which comes with the chance that you might panic - by involving doomed side characters - who are certain to die because of you - or by revealing tragic details of your characters' past."
Adventures in Austerion
by De Architecturart
END DATE: Sat, June 29 2019 1:48 PM EDT.
SYSTEM(S): An original system
PROJECT TYPE: Core rulebooks
MOST POPULAR PLEDGE: €65 plus S/H for all PDFs and the game box
"Adventures in Austerion (AiA) is a fantasy role-playing game (RPG). Mainly designed to explore unfriendly locations in the continent of Austerion, it may be played in fast-paced sessions of 2 or 3 hours. To do so, it relies on a mix of classical RPG rules and board game mechanisms (such as tiles, cards and tokens…). Adventures in Austerion is set on the continent of Austerion, a fantasy world where most of the land is still uninhabited, although ruins of ancient civilizations that hide from the stranger's view highlight the long history of the kingdom. Isolation between the peoples has allowed each of them to develop its own culture. In Austerion, struggles are local, taking shape day to day. Each kingdom is unable to see farther than the end of its frontiers, or its neighbor's. Life is sometimes hard, often good, always wondrous."
The StoryMaster's Tales "Weirding Woods"
by Oliver McNeil
END DATE: Sun, June 30 2019 5:30 PM EDT.
SYSTEM(S): An original system
PROJECT TYPE: Core rulebook
MOST POPULAR PLEDGE: £30 + £14 US shipping for the PDF and print versions of the box, book, cards, and adventures as well as bag pencils, dice, tokens and more
"Hybrid of fantasy roleplaying, board and adventure gamebook. Set in a Dark and Grimm Fairytale world. Magic, Monsters & Mystery. Enter a world of folklore fantasy, epic storytelling and mighty magic! Set in the Grimm world of 18th Century dark fairytales. You will make your own treacherous pathway through the wild woodlands, encounter strange mystical creatures and find lost arcane artefacts. Alone or with friends you must choose a dangerous quest but beware only those with the skill, intelligence and bravery of a hero will survive. Quick to learn, portable and most importantly really fun. This game is a unique hybrid of Role-playing, board and choose your own adventure book. This game can be played solo or with a group of family or friends. You can play co-operatively or against each other, the option is open."
Savage Worlds for Beginners: A Video Tutorial Series
by The GM Table
END DATE: Mon, July 1 2019 12:00 AM EDT.
SYSTEM(S): Savage Worlds
PROJECT TYPE: Video Tutorial
MOST POPULAR PLEDGE: $15 for the complete season download
"A video series to teach players and game masters the Savage Worlds system in digestible and searchable segments. Not everyone learns easiest by reading and currently the only tutorial videos for Savage Worlds are long and broad. New and perspective players tend to feel overwhelmed by an hour-long video and those looking to just brush up on a single mechanic don't want to sit through an entire explanation of the system in hopes of a video covering what they need. Savage Worlds for Beginners will be a 15-episode series designed both for new players and those looking to brush up on less used rules. Each episode will only be 10-15 minutes and cover a very specific portion of the rules such as chases or social conflicts."
Roleplaying Spell Effects 2.0 - Cheaper and Pre-Cut
by ArcKnight
END DATE: Mon, July 1 2019 5:29 AM EDT.
SYSTEM(S): Dungeons & Dragons 5e
PROJECT TYPE: Accessory
MOST POPULAR PLEDGE: $30 + $8 US shipping for "a 3-page pack of Pre-Cut Spell Effects in our brand-new layout"
"Revamping the best RPG Spell Effects to make them even better. Everything you asked for: Cheaper and Pre-Cut. Spell Effects raised to the next level. We're re-designing our current Spell Effects into a "generic" 3-page set of spells. Here's the logic: With traditional die-cutting we need to make a custom die for every page. But once we've taken the leap and made the dies, we open new doors - we can nest some shapes inside each other, allowing us to save space, and get even more Spell Shapes into fewer pages. The space savings have allowed us to design a single 3-page layout that covers every shape and size needed for Tabletop Roleplaying. Better, cheaper, AND pre-cut.... It's a Win-Win for everyone. Spell text will be based on 5E, but these shapes work for most RPGs."
Amazing Adventures 5E RPG
by Troll Lord Games
END DATE: Tue, July 2 2019 3:52 PM EDT.
SYSTEM(S): Dungeons & Dragons 5e
PROJECT TYPE: Core rulebook
MOST POPULAR PLEDGE: $15 for the PDF
NOTE: The cover features "Satine Phoenix, founder of Gilding Light (check them out). She was very gracious enough to give us permission to use her likeness on the cover of Amazing Adventures 5E."
"A multi-genre Role Playing Game using the 5th Edition rules set. From zombie horror to sci-fi, from pulp to modern. We're thrilled to announce Amazing Adventures: Multi-Genre Role Playing with the Fifth Edition Rules set. At last! With these rules, you can run anything from 1930's pulp adventure to modern urban fantasy, to cyberpunk corporate raiding, to explosive, high-action space opera and beyond. Whatever your favorite genre is, Amazing Adventures can handle it, and it's completely compatible with your existing 5e fantasy rules! Within its pages you'll find brand new character classes, and classic classes tweaked to work with a modern rules engine, including the spell-slinging Arcanist; the Gadgeteer or Powered (super-science or mutation-based powers); the super-sleuth Gumshoe; the divinely-blessed Hallowed; the rough-and-tumble, stealthy Hooligan; the psionic Mentalist; the dark Occultist; the down-and-dirty Pugilist; the adventuring treasure-hunter Raider; and the Socialite, who always has the perfect resources for the situation at hand. Complete vehicle combat rules, plus statistics for a range of vehicles from standard passenger cars to modern jet fighters and even sci-fi starfighters. Two sets of firearms rules, designed for whatever level of variety and complexity you like in your game. A complete game in one book—nothing else required!"
Fantastic Adventures: Ruins of the Grendleroot for 5e
by Mike Shea
END DATE: Tue, July 2 2019 9:00 PM EDT.
SYSTEM(S): Dungeons & Dragons 5e
PROJECT TYPE: Adventure
MOST POPULAR PLEDGE: $15 for the PDF of the book
NOTE: Hear more from Mike Shea on Morrus' Unofficial Tabletop RPG Talk podcast.
"A book of ten fifth edition fantasy adventures set in the endless caverns of Blackclaw Mountain. Ruins of the Grendleroot is a book of ten short easy-to-run adventures for the fifth edition of the world's most popular fantasy roleplaying game. Designed for characters of 1st to 5th level, these adventures take place in the caverns, chambers, tunnels, and ruins of the mountain known as Blackclaw, within which lurks the Grendleroot—a strange and otherworldly sentience. Across these ten adventures, your characters will cure the corruption of an old tower destined to bring daylight to the cavern of Shadowreach; rescue a lost child who answers the call of a dying god; seek out the source of a plague of gnome zombies; travel to the Forest of Iron to stop the priest who would destroy the Grendleroot–and the entire mountain surrounding it; protect Deepdelver's Enclave from marauding warbands of orcs and hobgoblins; find the beast lurking in abolethic ruins that promises salvation in return for fresh meat; seal up a damaged cell in a forgotten monastery, which contains a being so dangerous that even its thoughts can kill; save a war hero from the elven assassins who hunt her down; discover the secret to quieting the restless Grendleroot from a slumbering vampire archmage; and travel to the Black Cathedral, discover the origin of the mysterious Caretakers, and stop a mage attempting to capture the power of the Grendleroot for herself. Download the free PDF preview

–including summaries of all ten adventures and a fully playable 1st-level adventure you can run today!"
Ultimate Kingdoms for DnD 5E or PFRPG
by Legendary Games
END DATE: Thu, July 4 2019 12:00 AM EDT.
SYSTEM(S): Dungeons & Dragons 5e and Pathfinder 1e
PROJECT TYPE: Sourcebook
MOST POPULAR PLEDGE: $60 + $8 US shipping (more may be accessed later) for the 5e version of the PDF and hardcover of the book
"Build and rule your kingdom with our bestselling rules for 5E and PFRPG! Armies, conquest, factions, intrigue, in beautiful hardcover! Heroes find fame and fortune in their adventures, but why just be rich as a king when you can actually BE A KING? Carving out a domain of your own has been a part of the game since the beginning, and Ultimate Kingdoms is an ideal supplement to cover what your character can do when you get home from that epic journey or drag your loot out of the dungeon. There's more to the hero life than just buying the sharpest sword or the mightiest staff. Your character should really be somebody in the campaign world, make their mark, and build a legacy that will last, and that's where Ultimate Kingdoms comes in! This hardback book contains the rules you need to build a kingdom and a legacy for your character! Legendary Games has compiled over 400 pages of our best-selling Ultimate line to bring you an awesome array of options for your characters outside of dungeon delving."
Remarkable Shops & Their Wares
by LordSmyth
END DATE: Thu, July 4 2019 11:00 AM EDT.
SYSTEM(S): System neutral
PROJECT TYPE: Sourcebook
MOST POPULAR PLEDGE: €15 for the PDF of the book
"The Ultimate Guide on Roleplaying Fantasy Shops - Everything to create and bring shops to life. Compatible with any roleplaying game. Remarkable Shops & Their Wares is the ultimate guide to fantasy shops and how to roleplay them. From the classic general goods store to wildly exotic locations such as magic item artificers, black markets, underwater libraries, and traveling merchants. Following the success of our Remarkable Inns & Their Drinks book, Remarkable Shops has all the familiar ingredients that made "Inns" such a big hit, while being bolder and bigger, exploring new exciting avenues. This book is written to be largely system neutral, providing 90% worldbuilding ideas, rumors, roleplaying ideas and more that are not rules-specific. It is very easy to adopt the material into your fantasy roleplaying game and is bound to inspire you and your players. Estimated content around 100 pages. Largely system neutral contents to fit any fantasy TTRPG with some special effects and item stats in "5e-ish" rules."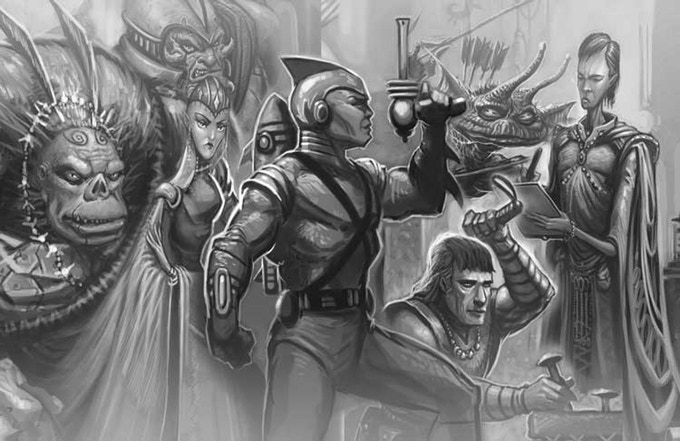 ​
Rocket Age RPG for 5e
by Why Not Games
END DATE: Thu, July 4 2019 4:06 PM EDT.
SYSTEM(S): Dungeons & Dragons 5e
PROJECT TYPE: Core rulebook
MOST POPULAR PLEDGE: $10 for the PDF of the book
"ENnie Award Winning Rocket Age role playing game adapted to the popular 5e system. Welcome to the 1938 that never was and the Solar System that should have been! Rocket Age is a radium punk sci-fi game of exploring the Solar System, fighting Nazis, Stalinists, aliens, and the bizarre environments of nine planets (yes nine, it is 1938 and Pluto is still a full-fledged planet). It is a game of ancient ruins on Mars, the steaming jungles of Venus, strange life in the clouds of Jupiter, RAY guns, chromed rocket ships, radium fuel, hot exhaust, and fins. So many fins on things you didn't know you could put fins on. The setting is a kitchen sink sandbox for you to set your games in. Want to be the brave explorer discovering lost civilizations and new wonders? We have that on Venus, Mars, Jupiter, the Jovian Moons, and more. Looking for a daring game of brinksmanship as you battle agents of foreign powers (even alien nations)? Choose whom you want to fight and who you want to fight for, such as the Americans, British, French, Nazis, Soviets, Martian princes, or the enigmatic Europans. The Rocket Agefirst launched in 2013 using the Vortex system (we call that version Rocket Age Classic) and won an ENnie in 2014."
If you like what we do here at EN World (the Forums, Columns, News, ENnies, etc) and would like to help support us to bring you MORE please consider supporting our
Patreon
. Even a single dollar helps! This article was contributed by
Egg Embry
as part of EN World's Columnist (ENWC) program. Please note that Egg is a participant in the OneBookShelf Affiliate Program, an affiliate advertising program designed to provide a means for sites to earn advertising fees by advertising and linking to DriveThruRPG.