Happy almost Independence Day, America! Happy Wednesday, Morrus and Pete (whose
weekly podcast
is worth checking out). This week I review RPG crowdfunding projects, as well as a convention, that end between July 12
th
and the 18
th
.
Fateforge: a 5th Edition Role-Playing Game
by Studio Agate
END DATE: Wed, July 17 2019 8:00 PM EDT.
SYSTEM(S): Dungeons & Dragons 5e
PROJECT TYPE: Core rulebook
MOST POPULAR PLEDGE: $75 + S/H for PDFs and hardcovers of the books and PDF character sheets
NOTE: The most popular pledge was $15 for the French version of the game
"A colorful campaign setting with sword & sorcery overtones. From the designers behind Shadows of Esteren, the most awarded French RPG. A Complete RPG & sourcebooks for 5E, Fateforge is an entirely autonomous RPG. The Adventurers and Grimoire books are enough to play. If you are already a 5th Edition player, these books offer a new campaign setting, as well as a multitude of options and additional rules to create and play characters in the world of Eana or from it. Fateforge Core Rulebook: Adventurers is a 400-page hardcover core book, including thorough rules on character creation, the basic game system, an overview of the world, and an extensive catalog of equipment, all with plenty of exclusive content: feats, a background creation process, class archetypes, and even a new class named the Scholar. Fateforge Spellbook: Grimoire is a 320-page hardcover detailing spellcasting and magic in general, as well as corruption and madness. It goes over geomagic, a notion particular to Fateforge that refers to localized magical phenomena. This book also provides insight into the Awakening, a phenomenon through which an individual becomes able to use magic. Finally, Grimoire comprises a compendium of over 360 spells, including more than 50 new ones, as well as original options and variants."
Red Carnations on a Black Grave
by Catherine Ramen
END DATE: Thu, July 18 2019 10:01 AM EDT.
SYSTEM(S): An original system
PROJECT TYPE: Core rulebook
MOST POPULAR PLEDGE: $40 + $10 US shipping for the PDF and softcover of the book and decks of cards
"Red Carnations on a Black Grave is a freeform roleplaying game for 4-6 players that brings to life the 72 tumultuous days of the Paris Commune. For just over two months in 1871, the Paris Commune tried to make an egalitarian, socialist state a reality despite disagreement within their walls and attacks from outside it. This is the story of a community caught up in a sudden revolution, their messy personal lives and their attempts to create a utopia in the face of impending death. How far would you go for what you believe in? Would you stand firm even if it meant your death? A game is playable in a single session of four hours or less. Each player portrays two characters during the two months of the Commune, one of whom must die during the French Army's all-out assault on Paris in the last week of May, 1871. Special cards guide your play, providing questions about how the characters are related to each other, historical incidents to serve as the basis of scenes in the game, and the ultimate fate of your surviving characters. This game was made for people who love Paris, history, revolutions, and resistance, or tragic roleplaying games like Montsegur 1244 and Ten Candles. Help us spread the word of the revolution!"
TsunamiCon 2019 Wichita's Premier Tabletop Gaming Convention
by Erik Carl
END DATE: Fri, July 12 2019 10:00 PM EDT.
PROJECT TYPE: Convention
MOST POPULAR PLEDGE: $35 for the 3-day pass
"Join us for TsunamiCon 2019 October 18th, 19th and 20th at the Midian Shrine Center in downtown Wichita! We are excited to present our sixth annual national tabletop gaming convention in America's heartland! This year, we've moved across the street to the Midian Shrine Center with more than 10,000 square feet for gaming and events, the TsunamiCon Marketplace, VIG Lounge, and more! And we want YOU to join us for three fantastic days of tabletop goodness and related geekery. We offer preregistration for numerous games and plenty of open gaming opportunities. Attendees can get in on some old school RPG action or sit down and try something new. We also have access to a sizable library of hobby games and knowledgeable folk to help you get started. It's a great event for novice gamers and veterans alike!"
Hearts of Magic: Threads Entangled
by Erika Shepherd
END DATE: Sat, July 13 2019 11:59 PM EDT.
SYSTEM(S): Mobile Frame Zero: Firebrands
PROJECT TYPE: Core rulebook
MOST POPULAR PLEDGE: $8 for the PDF of the game
"Fey nobility, arcanist-bureaucrats, and anarchist witches falling for their enemies and getting into messy entanglements amid an undeclared war for control of a magepunk city newly inundated with magical energy. Based on the incredible Mobile Frame Zero: Firebrands by Vincent and Meguey Baker, Hearts of Magic: Threads Entangled is a game about the messy lives of fantasy mages in a City charged with magic. Tell the story of the people of The City as they fight, flirt, and steal time together amid a tense and escalating conflict. The object of the game is to create messy entanglements. Fall in love with your enemies, ally with your rivals, fight with your friends. Players will create characters, establish their situations in solitaire scenes, and build scenes using the ten included games. Rules are lightweight and simple, and give you all the tools you need to establish and play scenes, even if improvising dialogue is not your strongest skill."
The Roleplayer's Guide To Heists
by San Jenaro Co-Op
END DATE: Mon, July 15 2019 11:59 AM EDT.
SYSTEM(S): System neutral
PROJECT TYPE: Sourcebook
MOST POPULAR PLEDGE: $20 for the PDF of the book
"Heists are some of the most fun you can have during an RPG session - the in-depth planning, the nail biting execution, the thrilling escape and the glorious payoff! But heists can be hard to write and even harder to pull off properly. They take almost as much work as the real thing to plan, and that can bring your campaign to a grinding halt. The Roleplayer's Guide To Heists is a system agnostic collection of around 25 heists ranging from your standard bank jobs, to space-based sci-fi capers, to fantasy smash-jobs into a wizard's mind-realm. If you like stealing stuff (in games) and getting away with it (again, in the game), this book will have everything you could want! Each heist comes complete with a detailed map of the joint for you to properly case; oodles of scene hooks, enemies and traps, ideas for the getaway and of course the loot itself. As if that wasn't enough, you can also look forward to essays on the finer points of thieving, heists and their narrative function."
Troll's Teeth: A Tabletop RPG Game of Chance™
by David Savedge
END DATE: Mon, July 15 2019 9:00 PM EDT.
SYSTEM(S): An original system
PROJECT TYPE: Rules and Troll's Teeth
MOST POPULAR PLEDGE: $25 + $3 US shipping for the PDF rules, 6 iron Troll's Teeth, 3 pewter coins, and a cloth bag
"Troll's Teeth: A Tabletop RPG Game of Chance™ is a combination of my two favorite things, gaming and blacksmithing. I am presenting the game in a fantasy setting here, but I already have plans to use this in a Sci-Fi Campaign taking place in an isolated back-world cantina. Troll's Teeth is a game of chance for use with any Role Playing Game System. The rules are straightforward and designed to favor the adventurer, inspiring excitement and fun. The game is played with six handmade iron or wooden teeth that are cast across your favorite tavern table. Place your wager, cast the teeth, then count the pips and consult the results table in the PDF rules provided. I am offering sets of wood and iron. Each set comes with a cloth drawstring bag, three hand-struck pewter coins, and a PDF copy of the rules."
The King of Dungeons
by Baz Stevens
END DATE: Tue, July 16 2019 10:52 AM EDT.
SYSTEM(S): Archmage Engine (The 13th Age Roleplaying Game)
PROJECT TYPE: Core rulebook
MOST POPULAR PLEDGE: £18 for the PDF and hardcover POD of this book
"A tabletop RPG about fantastic shenanigans. I'm really bolting together three elements of play. I like tactical, action-oriented combats. I like free-wheeling exploration and interaction in my games. And I wanted a reason for it all to hang together, based on the core premise of; what if professional adventuring was an actual thing in the setting? The system chassis is the Archmage Engine, which you might know from The 13th Age Roleplaying Game. That itself is a blend of the world's most popular roleplaying game and the more indie narrative sensibilities. It's been simplified and stripped right back. I've added other bits and pieces from all over the gaming spectrum and my own brainium. The system is to 13th Age what Basic D&D was to AD&D; compatible, but stands up on it's own. The book is A5 (digest sized) and clocks in at 138 pages."
The Portal Tarot: The Apprentice
by Nathan Rockwood
END DATE: Tue, July 16 2019 11:00 PM EDT.
SYSTEM(S): System neutral
PROJECT TYPE: Tarot deck
MOST POPULAR PLEDGE: $15 for the PDF and POD of the decks
"A fantasy-themed Tarot deck! Inspire self-reflection, writing, and role playing, in both PDF and Print-on-Demand format. 22 Major Arcana, gorgeously illustrated, to inspire through their art. 56 Minor Arcana with guiding text, making them easy to learn quickly. A beautiful tuckbox containing hidden secrets. Free previews on Google Drive and DriveThruRPG!"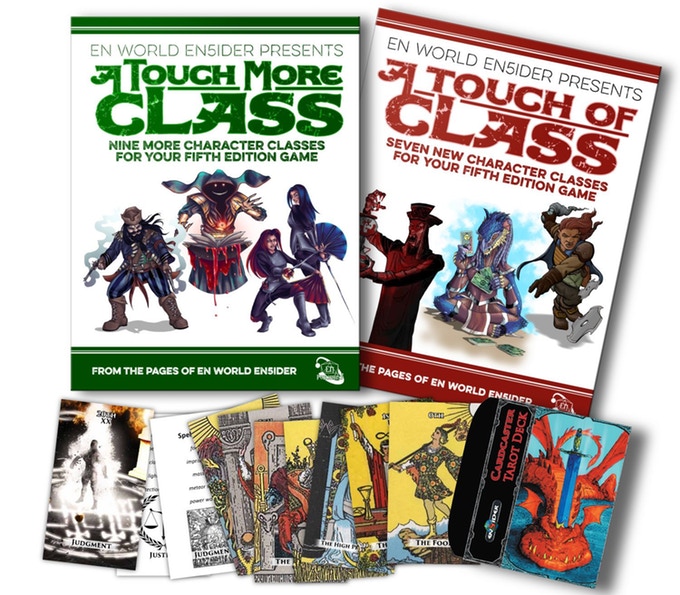 ​
[h=3]BEING CLASSY AND MENTIONING THE BOSS' RPG KICKSTARTER![/h]
A Touch More Class: 9 New 5th Edition Classes
by EN Publishing
END DATE: Fri, July 19 2019 6:00 PM EDT.
SYSTEM(S): Dungeons & Dragons 5e
PROJECT TYPE: Sourcebook
MOST POPULAR PLEDGE: £15 for the PDF of A Touch of Class and the PDF of A Touch More Class
NOTE: EN Publishing produces both this project and EN World
"Monster tamers, gunfighters, tinkerers, savants, and more! These new classes expand your 5th Edition game in exciting new ways!"
An 5E DnD RPG Module Conversion of Marek's Haunted House
by Zan's Adventures
END DATE: Sun, July 14 2019 3:52 AM EDT.
"A dark cult releases an ancient evil, creating a haunted house. A spooky adventure module for the 5E DND RPG."
Reaping at River's End for 5e and S&W RPG!
by Pacesetter Games & Simulations
END DATE: Mon, July 15 2019 6:55 PM EDT.
"The town of River's End has lost its mage, Mortimer. Rumor has it he has fallen into the dark arts. Aid the people to save River's End!"
Bleak Spirit
by Chris Longhurst
END DATE: Thu, July 18 2019 7:39 AM EDT.
"A roleplaying game about exploring dangerous, melancholy places, and discovering how they came to be that way."
If you like what we do here at EN World (the Forums, Columns, News, etc) and would like to help support us to bring you MORE please consider supporting our Patreon. Even a single dollar helps! This article was contributed by Egg Embry as part of EN World's Columnist (ENWC) program. Please note that Egg is a participant in the OneBookShelf Affiliate Program, an affiliate advertising program designed to provide a means for sites to earn advertising fees by advertising and linking to DriveThruRPG.