The dice craze has died down somewhat on Amazon, but there are still plenty of options for players and game masters alike.
Please Note:
I'm a participant in the Amazon Services LLC Associates Program, an affiliate advertising program designed to provide a means for sites to earn advertising fees by advertising and linking to
Amazon.com. Spend less. Smile more.
. Amazon regularly posts and delists items so these may not all be in stock, and if you plan to purchase these for the holidays check delivery times as some may be shipped from overseas. Listings are in price order from lowest to highest.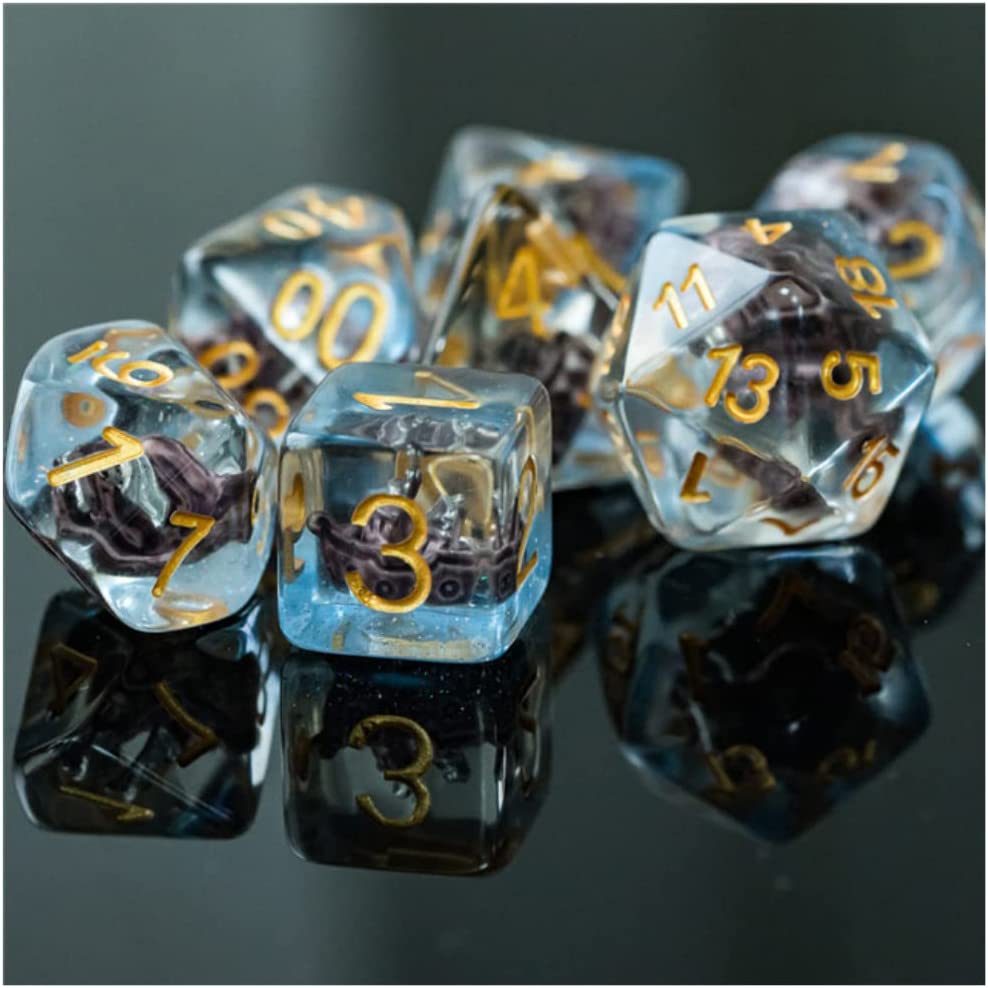 When I was running my pirate-themed campaign, pirate-themed dice were in short supply. Not anymore! These dice feature a tiny plastic ship in each, floating on blue waters. One note is that depending on which way the die is facing, the ship may not be visible. With gold numbering, these are the most legible of the pirate-style dice.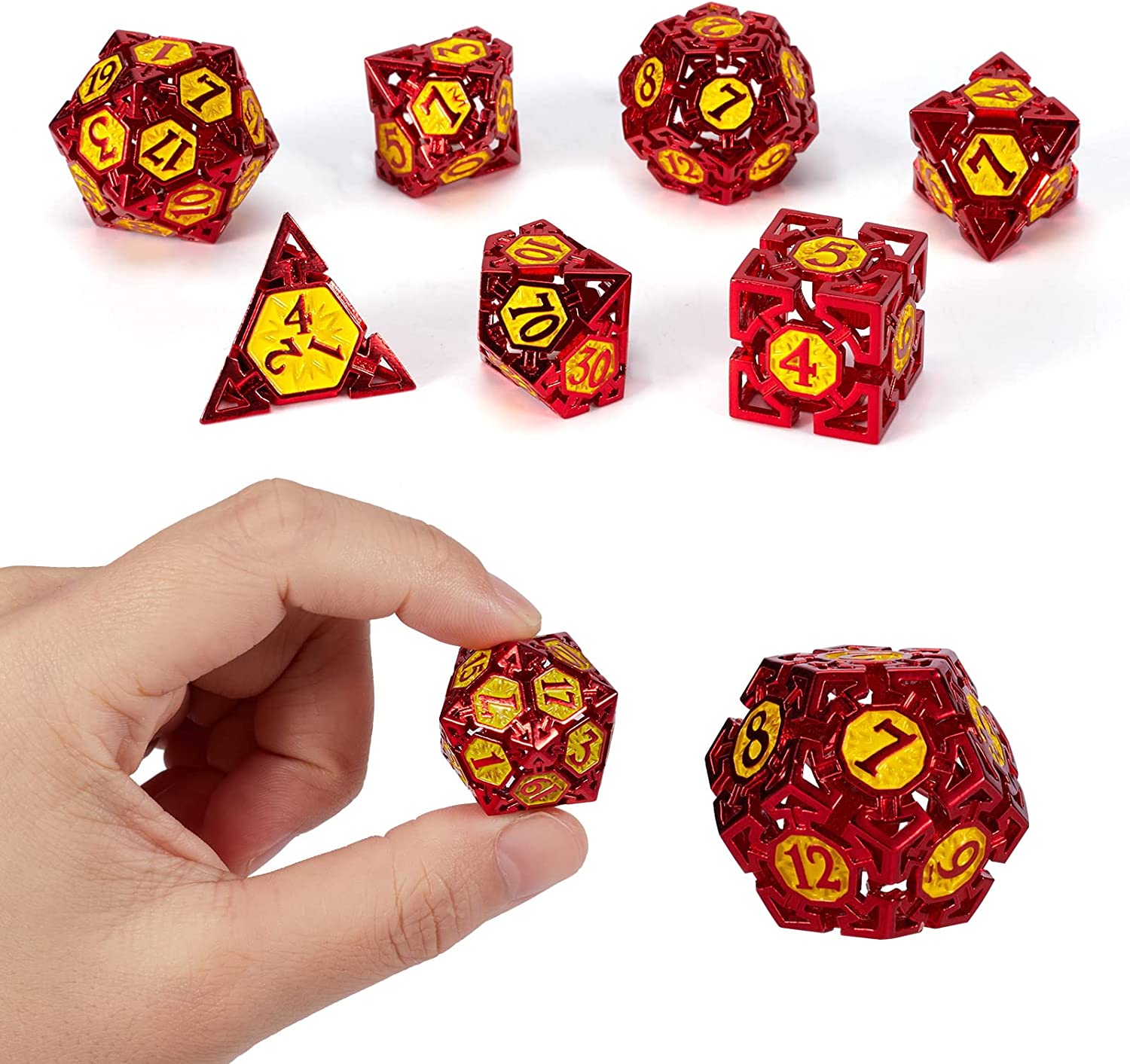 I'm always on the lookout of legible metal dice. I never thought I'd be shopping for my cats though. Turns out my cats love to roll dice, and this set in particular has enough hooks for their claws to grab and toss it. We then conduct roll-offs (this happens several times throughout the day at my home office). More importantly, when the cats (inevitably) roll the dice out of the dice tray, these brightly-colored dice are easy to spot. Also, probably good for Shadowrun games.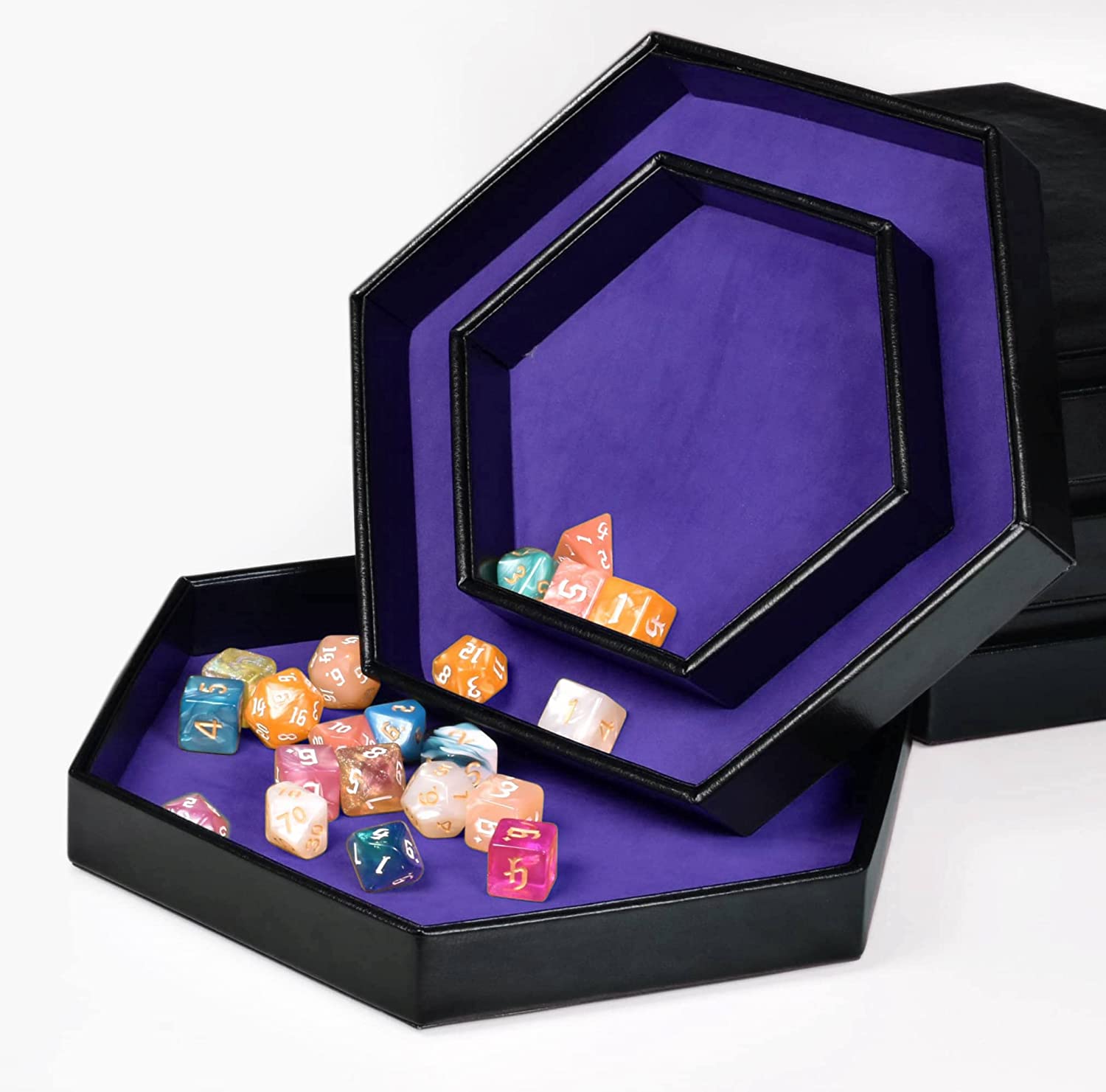 A compromise between a dice tower and a dice bag, dice trays are more utilitarian solutions for game masters and players who have limited space and need their dice to stay in one place. I often use dice trays when playing with kids, who tend to roll dice in all directions (including off the table, onto the floor, etc.). A portable dice tray like this also makes it easy to determine each player's turn, as they pass it around. This set is sturdy, portable, and comes in a variety of colors.
With so many dice, it only makes sense to carry a dice bag large enough to carry them all. In theory, this is a simple concept: a large bag with smaller compartments to hold each set of dice. In practice, several different dice bags have been released that are not connected at the bottom, so while the dice look great in pictures they all jumble together in a big mess as soon as you pick up the bag. Fortunately, game company Mythrjoan knows what they're doing, and this handsome bag is sturdy enough to keep all the dice separated with a central compartment for miniatures or other accessories. It folds open nicely for the whole group to pick and choose dice as needed.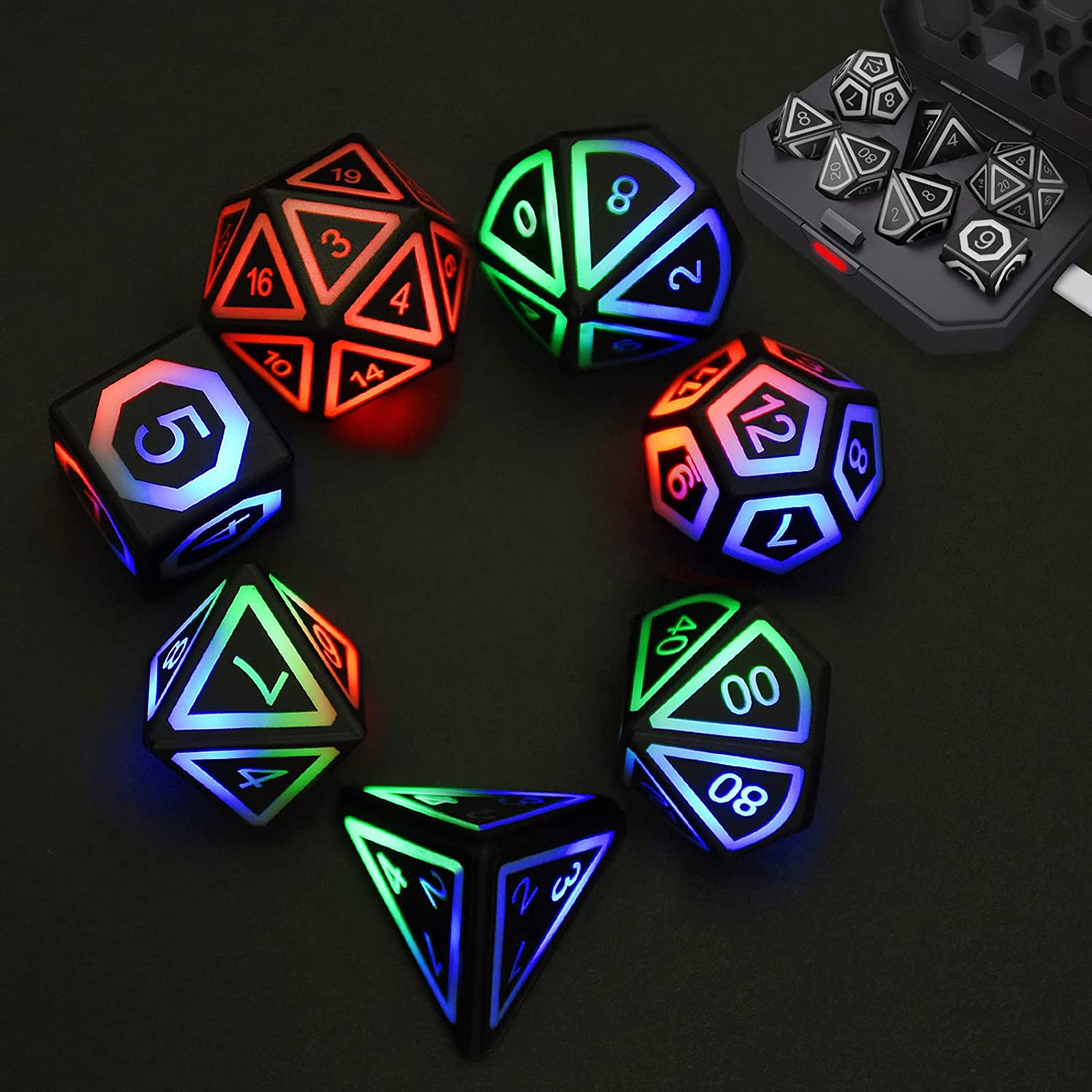 I've had light-up dice in the past and they don't last very long. This set lights up when you roll it. The dice don't flash on critical rolls or fumbles, they flash just by rolling them. These new versions recharge in their base like earbuds, which vastly improves their replay value. That said, dice like this tend to be used in only very specific circumstances, and the flashing can be a bit distracting. Fun for cyberpunk style games, but it will obviously work best when it's dark (and then good look to the game master trying to read their notes!).
This handsome set features dragon-themed metal dice in bright purple with white numbering. But just as compelling is the beautiful leather dice pouch that comes with it. The only thing that would make it more perfect is if the lion head was a dragon.
If you're going to put a beholder in your game, it's only fitting that you use the right dice for it. Although these dice are technically termed "Eyes of Truth" and could just as easily act as portent dice for divination wizards, I think of them as beholder dice. They're not cheap, presumably due to how they're manufactured.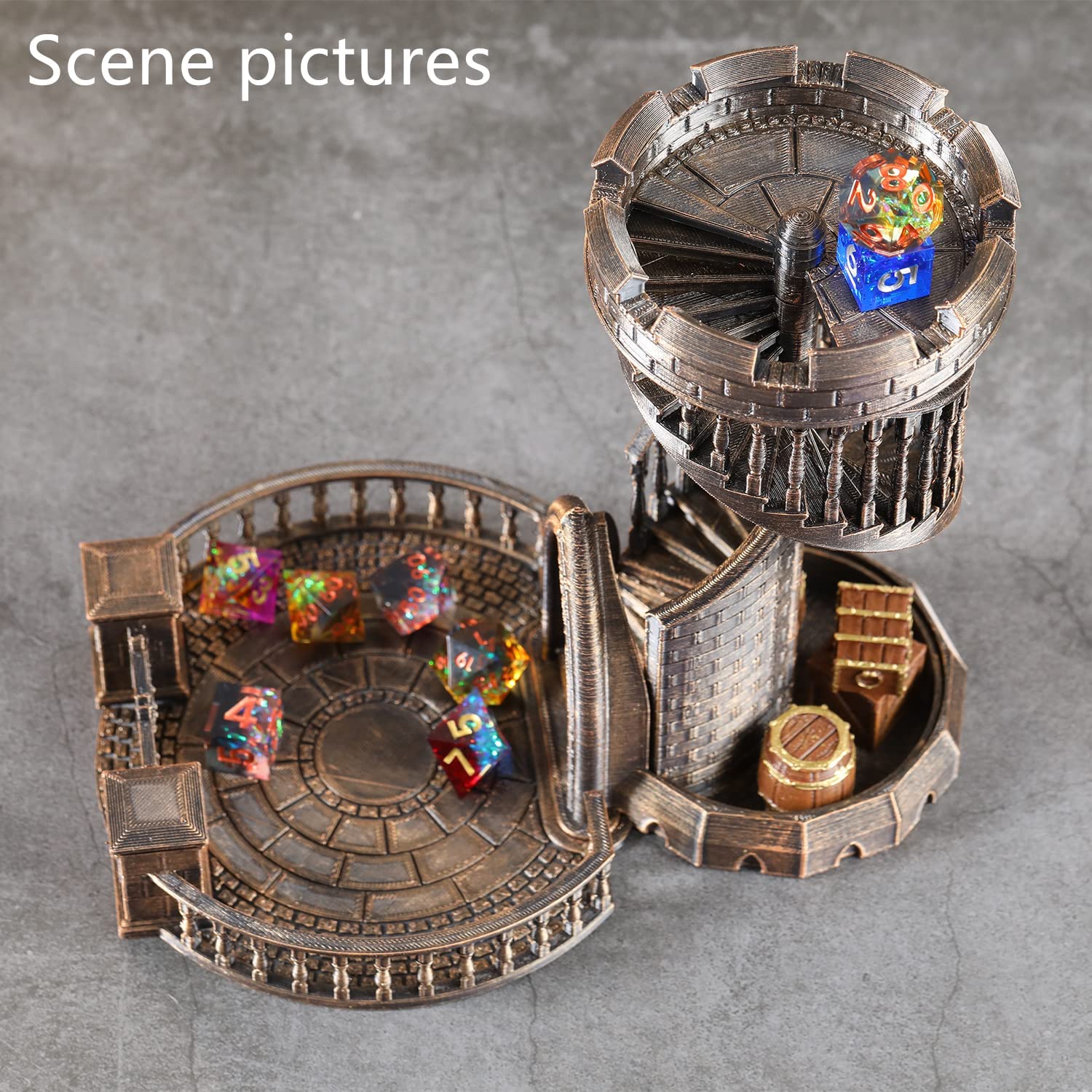 I own two 3D printers so I'm hesitant to recommend anything I could potentially print myself. And let there be no doubt that this tower is indeed 3D printed. But it's a print you can't easily download from the Internet, and the distinguishing feature is the guard rails that keep the dice visible and on track as they bounce down into the courtyard. It comes in two pieces, and the additional barrels and crates to fill the empty space of the tower is something you won't find anywhere else. It comes in a variety of colors, but I'm partial to bronze.
Last edited: